Garmin Quatix 7 PRO watch band are compatible with 22mm Quickfit® straps, this is the same to Quatix 7 standard Edition, while Quatix 7X Solar Edition is compatible with 26mm Quickfit® straps.
Last article, we write about Garmin D2 March 1 PRO for aviator, today we are going to introduce a new Garmin Watch for Marine, that is Garmin Quatix 7 PRO, Marine GPS Smartwatch with AMOLED Display. It features a stunning 1.3" AMOLED display with a premium, scratch-resistant sapphire lens. Up to a 16 days battery life, which enable customers explore longer time without worry smartwatch battery, and built with a LED flashlight, Garmin Quatix 7 PRO allow customers to extend adventure after dark by variable intensities and strobe modes.
"Our new quatix 7 Pro is designed with a marine lifestyle in mind. With these new, innovative features that are purpose-built for mariners, sailors and anglers alike, the quatix 7 Pro can make a day on the water more enjoyable. While it also brings a level of style and sophistication to your life on shore as well." –Dan Bartel, Garmin Vice President of Global Consumer Sales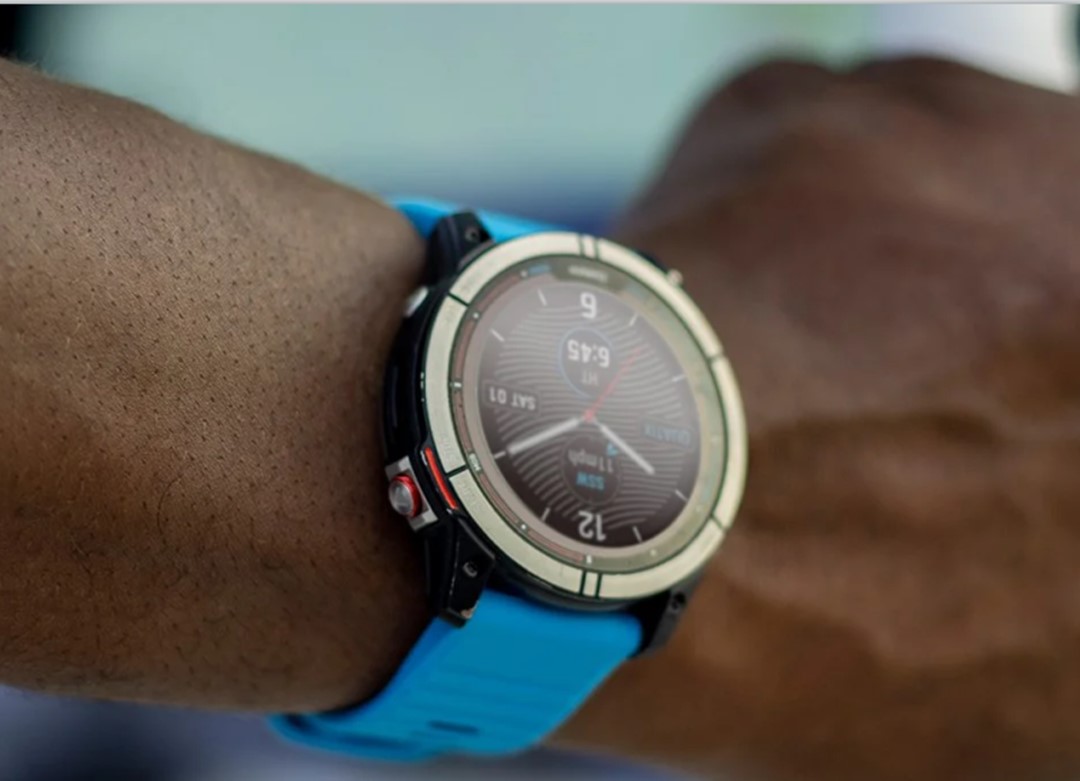 What make Garmin Quatix 7 a marine master?
To be honestly, the Quatix 7 supports all of the same activities and other software found on the Epix and Fenix 7 series, in addition to all of the boating features, which has a same price as the similar Epix and Fenix 7 devices. But if you ever want to go out on to play in the water, then the Quatix 7 should be considered to be prior to the Epix or Fenix 7.
Boating features included on a Quatix 7 series watch include:
Autopilot control: If you are elsewhere on your boat, you can still control the helm via your Quatix 7

Fusion-link audio system: You can control your Fusion Entertainment system from the watch

View boat data: With compatible marine equipment, you can view water depth, engine RPM, wind, and more right from your watch

Waypoint marking: Use your watch to place waypoints on your chart

Sailassist support: Create a virtual starting line, use tack assist to determine your condition, and more sailing support

Multi-function display (MFD) control: Quickly access common interactions, like chart zoom, backlight adjustment and layout shortcuts at the touch of a button

Anchor drag alarm: Get quick alerts to the watch when the anchor is dragging

Tide alerts: Remain mindful of the water's ebbs and flows with integrated tide data and alerts – now viewable on the watch face

Multi-continent Topo Maps: Explore detailed contour mapping around the globe that is easily loaded and updated via built-in Wi-Fi
Like you do any activities with Garmin Watch, you can also setup the data fields according to your selected water activity. Data field options include nautical distance, nautical speed over ground, average speed over ground, lat/long, velocity made good, and much more. The data file for the water activity is different than other function when you are doing other activities with Garmin Watch, so if you want to make the Garmin Quatix 7 series better control your activities, Make sure you have fully explore the available data fields.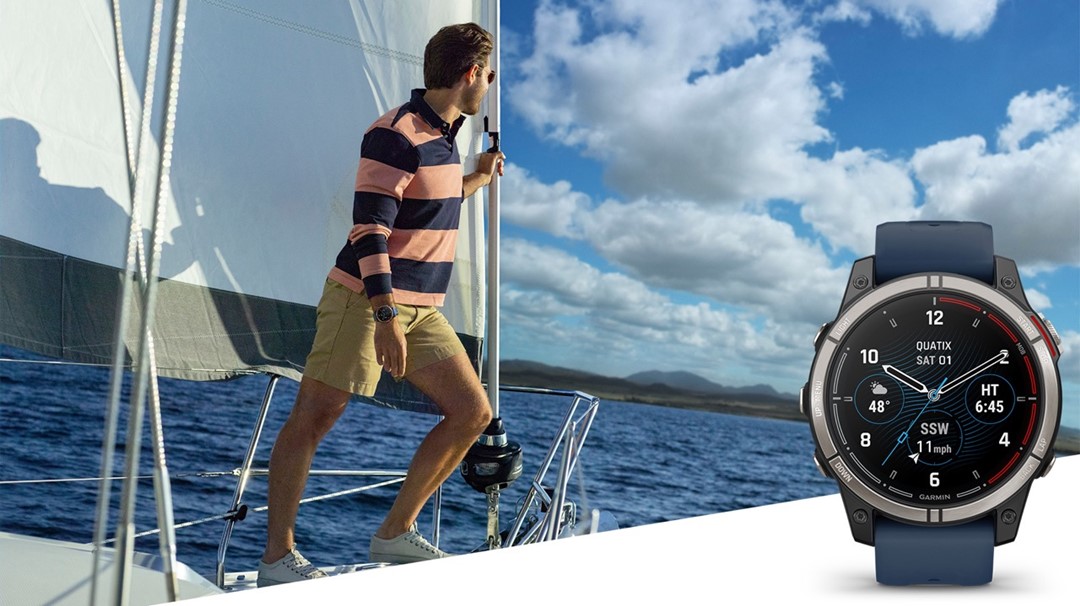 How to select a good replace Garmin Quatix 7 PRO Watch Bands?
No matter what strap you intend to replace to, first, you have to make sure what strap is compatible with your Garmin Quatix. While Garmin Quatix only provides two lug size for the whole Quatix series, 47mm Garmin Quatix Standard edition and AMOLED edition are compatible with 22mm Quickfit Watch band, and 51mm Garmin Quatix solar editions are compatible with 26mm Quickfit Watch bands. Click here to learn more about how to choose Garmin Quickfit Straps? Hemsut strap designs many Quickfit straps for Garmin watch fans, check our top 5 high recommended Quickfit watch bands for Garmin Quatix 7 pro and Quatix 7X solar.
1,Unity Trail Loop Garmin Watch Bands | Hemsut
Trail Loop Garmin watch bands is inspired by the Apple Watch trail loop. The ultrathin, lightweight Trail Loop is made from a nylon weave creating a soft band with increased elasticity for a comfortable fit. The band is infinitely adjustable with a convenient pull tab for quick adjustments on the go. This band is carbon neutral. The Trail Loop contains 32% recycled content by weight, 100% of manufacturing electricity is covered by clean energy, and 50% or more of all carbon neutral. With Garmin Quickfit® equipment, these models are available in 26mm, 22mm, and 20mm, which allow you to apply to Garmin Quatix, Fenix, Tactix, Golf, Instinct, and other models that are compatible with Quickfit® straps.  Try one if you like the style.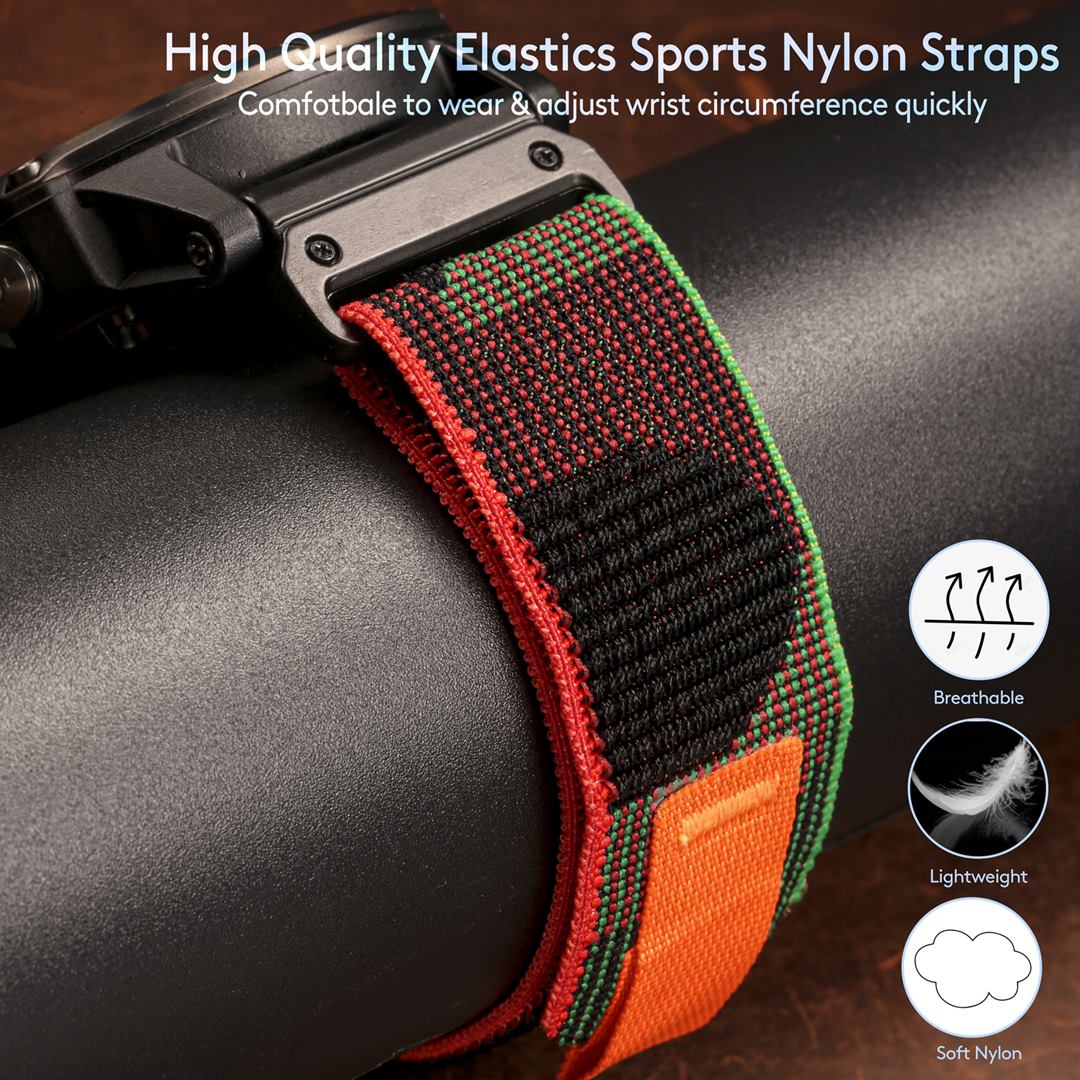 Unity Trail Loop Garmin Watch Bands | Hemsut
2.Leather Quickfit Garmin Watch Band 
Leather Quickfit Garmin Watch bands are designed for Garmin Quatix 7X solar, Quatix 7 PRO 47mm, which are compatible with Quickfit straps, these watches also include Garmin Forerunner 965, Garmin Enduro, Garmin MARQ, Garmin Instinct, and Garmin Tactrix, Epix. This strap is a good option for customers who like leather patterns and velcro designs. Our leather Garmin Watch bands have 3 sizes available, 20mm, 22mm, and 26mm, so all Garmin models that are with Quickfit equipment are compatible with it, this would be a great strap alternative for our Quatix 7 marine fans when they are not going out for water activities.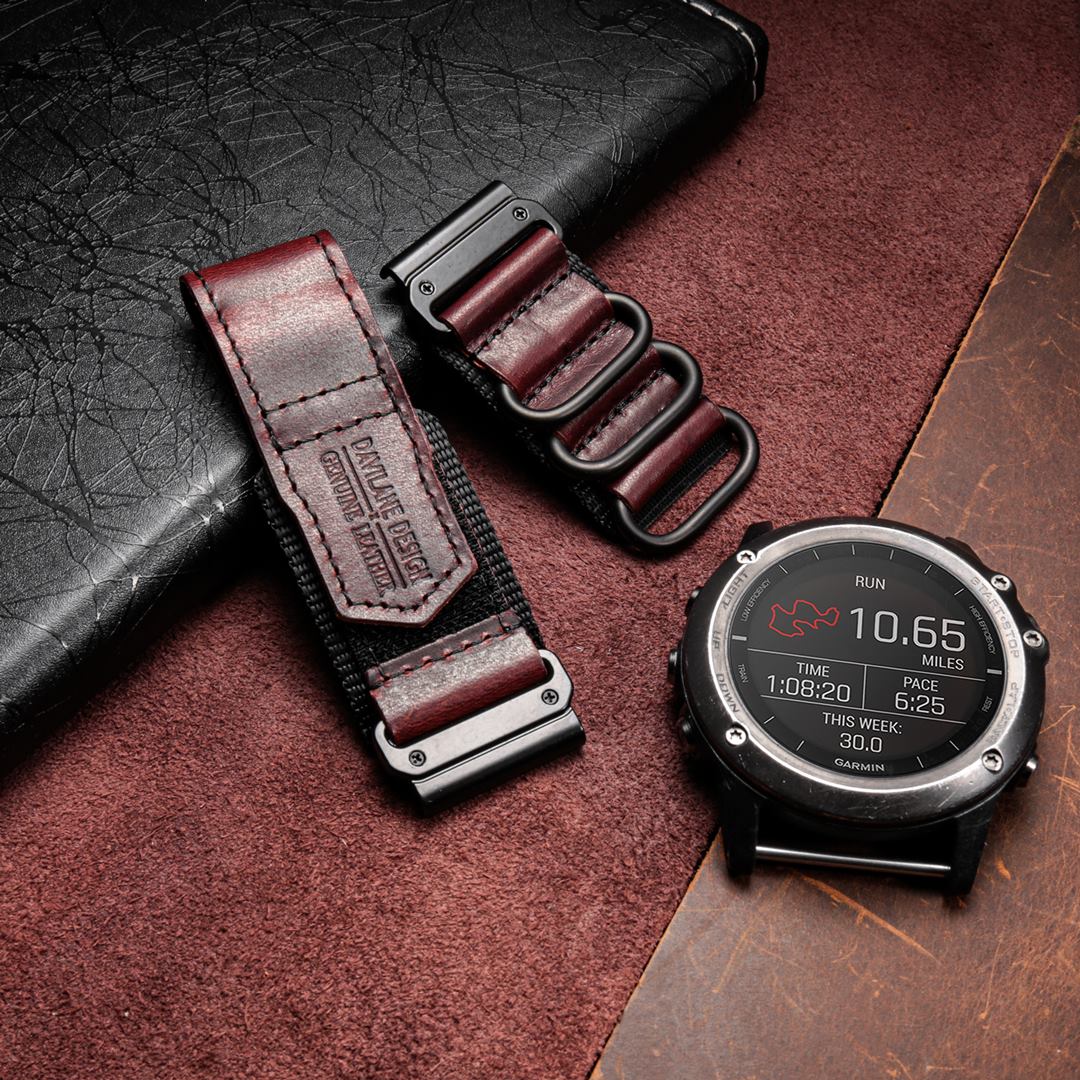 Leather Quickfit Garmin Watch Band | Hemsut
3.Military Garmin Watch Band Loop | Hemsut
Garmin Quatix 7 Pro carries the same features as Garmin Fenix when you are doing other activities not in the water, so a military-style replaced watch band collection for Quatix watch series is necessary. Our military Garmin loops are for military enthusiast customers, this one should be their most loved. These straps have 4 colors,  dark Camouflage, Forest camouflage, desert camouflage, and snow camouflage, and 3 sizes are available, 20mm, 22mm, and 26mm,so it would fit perfectly for Garmin Quatix 47mm edition and 51mm Quatix edition. Try one if you like the style.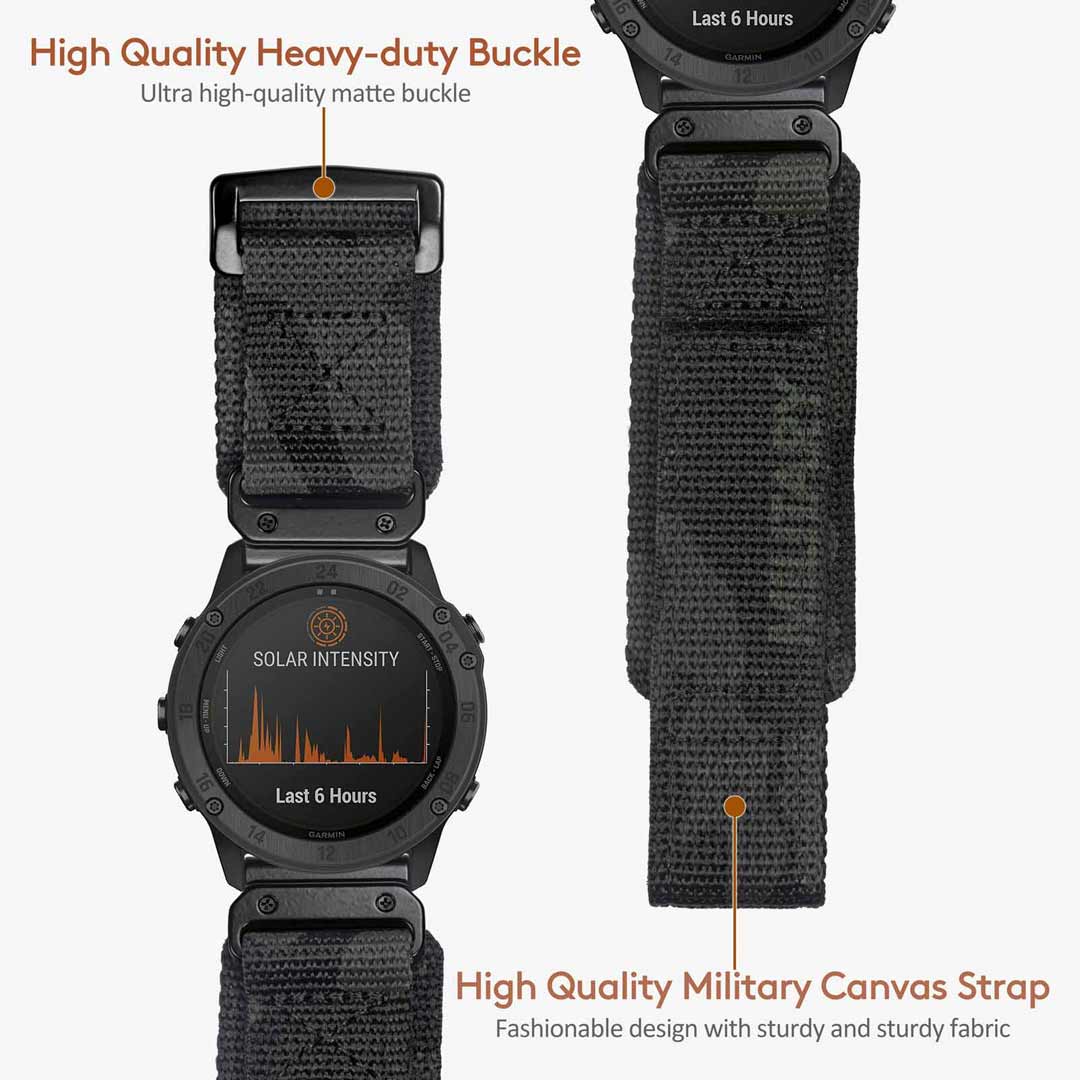 Military Garmin Watch Band Loop | Hemsut
4.Alpine Loop Garmin Watch Bands 
Alpine Loop Garmin watch bands are inspired by the Apple Watch Alpine loop. These straps become one of Apple watch owner's best collections very quickly after it launched together with Apple Ultra. Alpine Loops are also very welcome for sport and outdoor watches because its comfortable, quick-dry features, so we make Quickfit feature Alpine Loops for Garmin watches available for our customers. Garmin Watch Alpine Loops are available in 20mm, 22mm, and 26mm, which would be perfectly fit for Garmin Quatix 47mm standard edition, Quatix 7 AMOLED PRO edition, and Quatix 7X Solar Edition.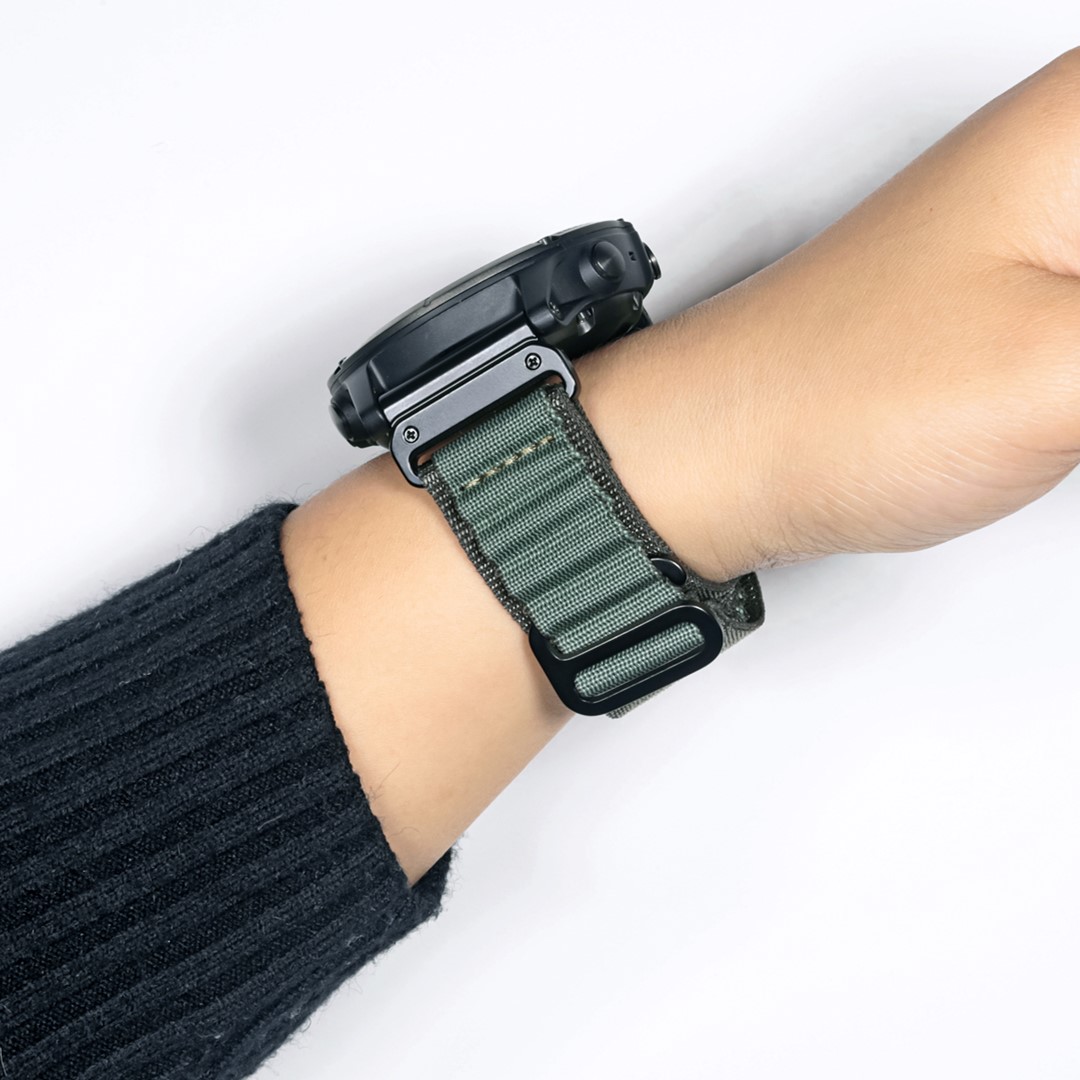 Alpine Loop Garmin Watch Bands | Hemsut
5.Best-selling Quickfit Garmin Watch Bands 
As long as we recommend a watch strap for the Garmin watch, we would not leave alone our best-selling rugged Quickfit watch band. This rugged Quickfit strap is our first design for the Garmin watch, turns out that it become the favorite one for our customers, and it's still the same even though we have 10 more Quickfit strap designs now. This straps are built with selected nylon and durable velcro, together with the rugged label design, this straps offer an exclusive outdoor style for Garmin watch, and we offer 3 length size available, including small size straps for women customers and extra long straps size for men customers. You would never go wrong with this straps.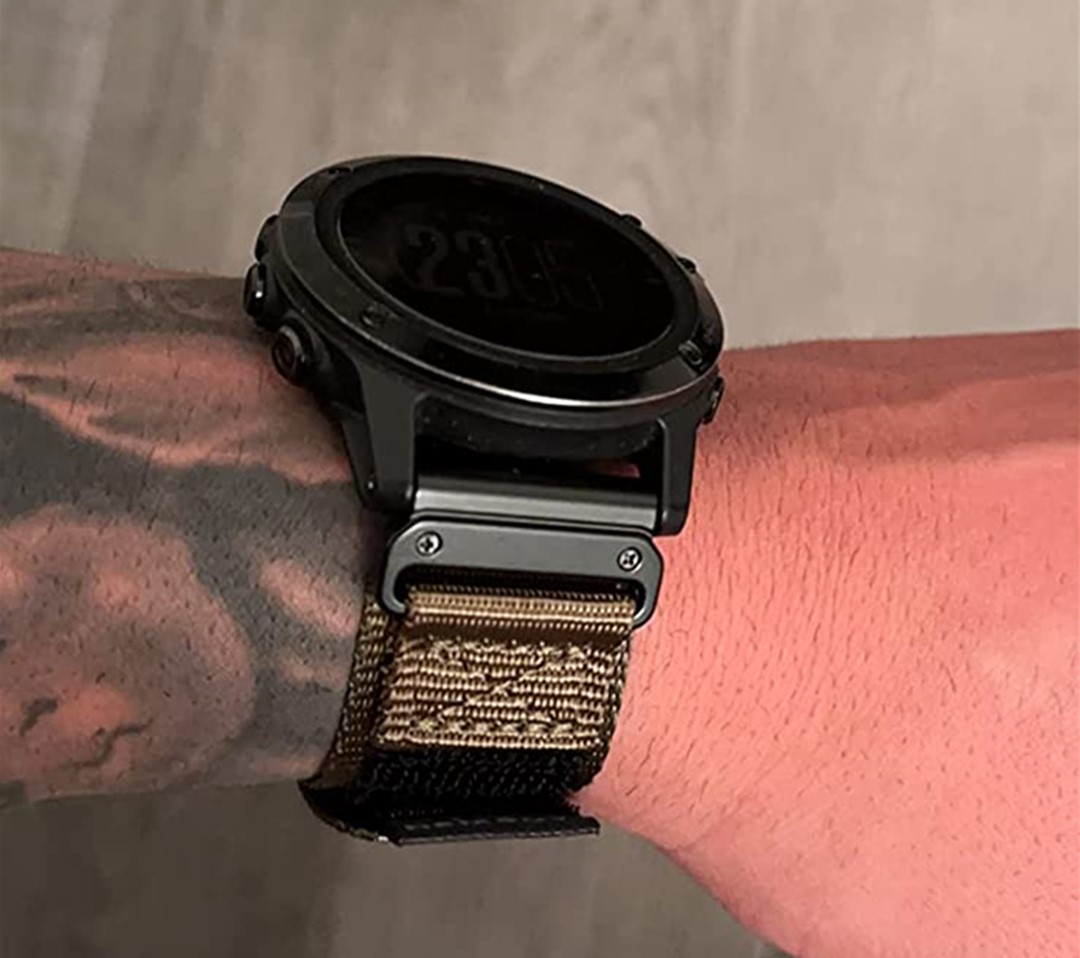 Super Rugged Garmin Watch Bands | Hemsut