20 years ago, people needed a computer on their lap, hence the invention of laptops; 10 years ago, people wanted a computer that fitted into their pockets, hence the explosion of smartphone users; today, people are looking for a computer on their wrists, and the Apple watch has a lot to offer!
Instead of digging into your pocket to pull out your smartphone for simple things like telling the time, reading text notifications, or paying for a morning coffee with your electronic credit card, with the Apple watch, all these functions are literally at your fingertips. You no longer have to torture your neck by bending over a small smartphone screen to avoid missing any emails from work. Now you can enjoy a refreshing work-out while keeping track of messages from your boss. Indeed, as advertised by Tim Cook, this is the "most personal device" that you will find indispensable to everyday life.
With the Apple watch fastened around your wrist almost 24/7, why not consider purchasing a personalized watch band to complement your outfit?
From a simple silicone rubber solo loop band to a classy calfskin leather band, the Apple store has large selection of watch bands that feature different designs. You can find themed designs such as the Black Unity wrist band that supports racial equity and justice. You might find one of your favourite brands in the store too. Nike sport band and Hermes leather band are available in many different colours. There are stainless-steel alloy wrist bands with magnetic or butterfly closures for those who enjoy flashy designs. You can visit the online store and filter watch bands based on case size, model, band type and band colour.
Not satisfied with the Apple store? Perhaps you are looking for something special, something different from everyone else. We have 5 brand new watch bands styles that will definitely set you apart from other Apple watch users.
1, Horween leather (thin-style) 
(Interested in? Click here and check detail : new horween leather watch band)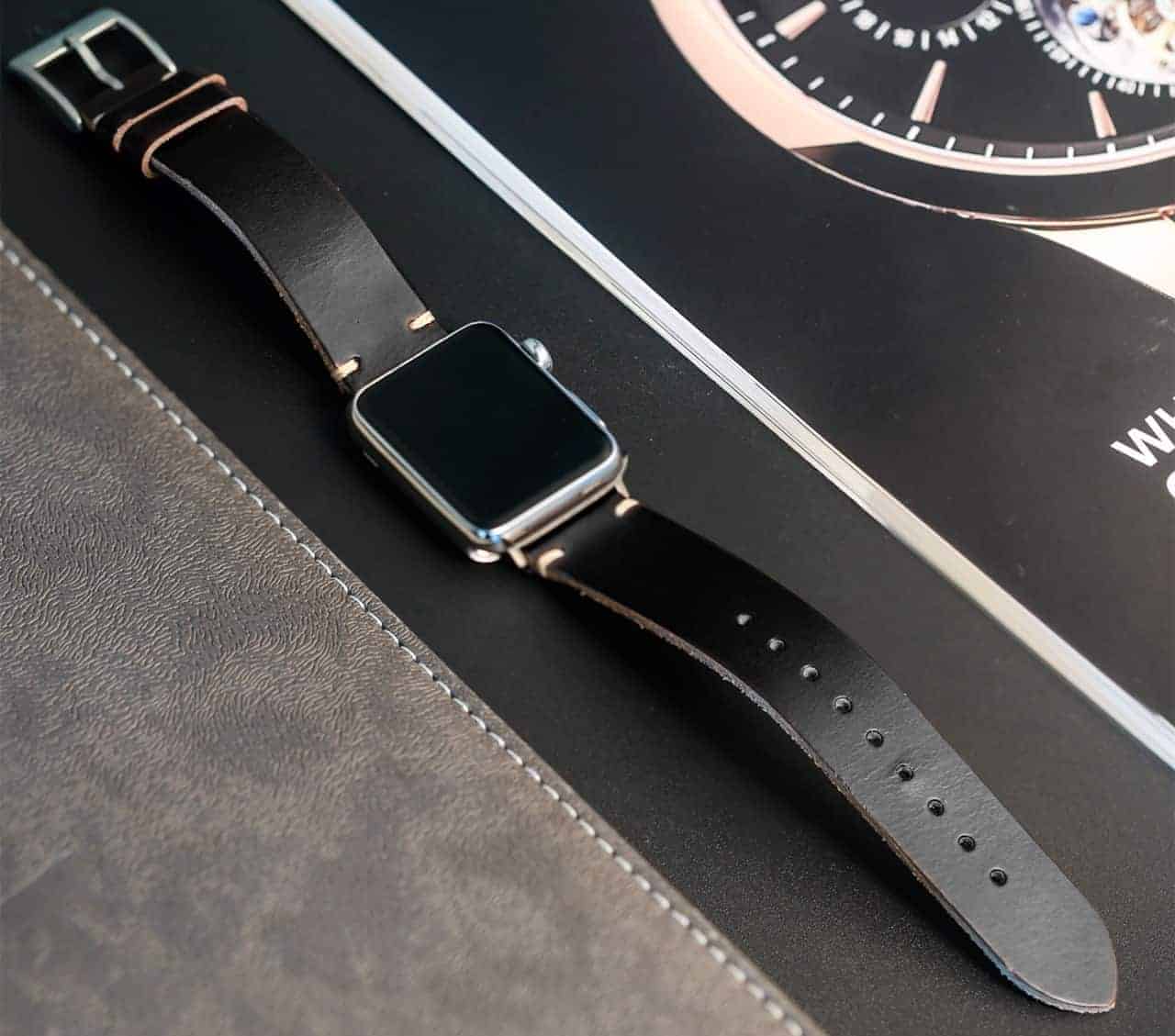 Apple Watch Bands | Black Horween Leather Straps | Hemsut
The first style is a timeless classic. It is made of Horween leather, which is produced by Horween Leather Company in the US. Horween leather is a soft and supple type of leather with a smooth texture finish. It takes very little time to break-in and is known to give off a special aroma from its tanning process. Different leathers have different tanning process that affect their smells, and many customers are fascinated with their unique scents. There are four colours to choose from: natural, olive green, dark brown and black. White colour stiches add a touch of sophistication to the simplistic design and goes well with all three colours. The band is easily adjustable and can fit wrists with circumferences between 5.4'' to 8.0'', allowing both men and women to enjoy the watch band without worrying about loose straps. The polished stainless-steel buckle is light but durable, keeping your expensive watch firmly in place. This thin-style Horween leather band will subtly perfect any type of business look you are going for.
2, Horween leather (thick style)
( Interested in? Check here : Thick-Style horween leathe watch band )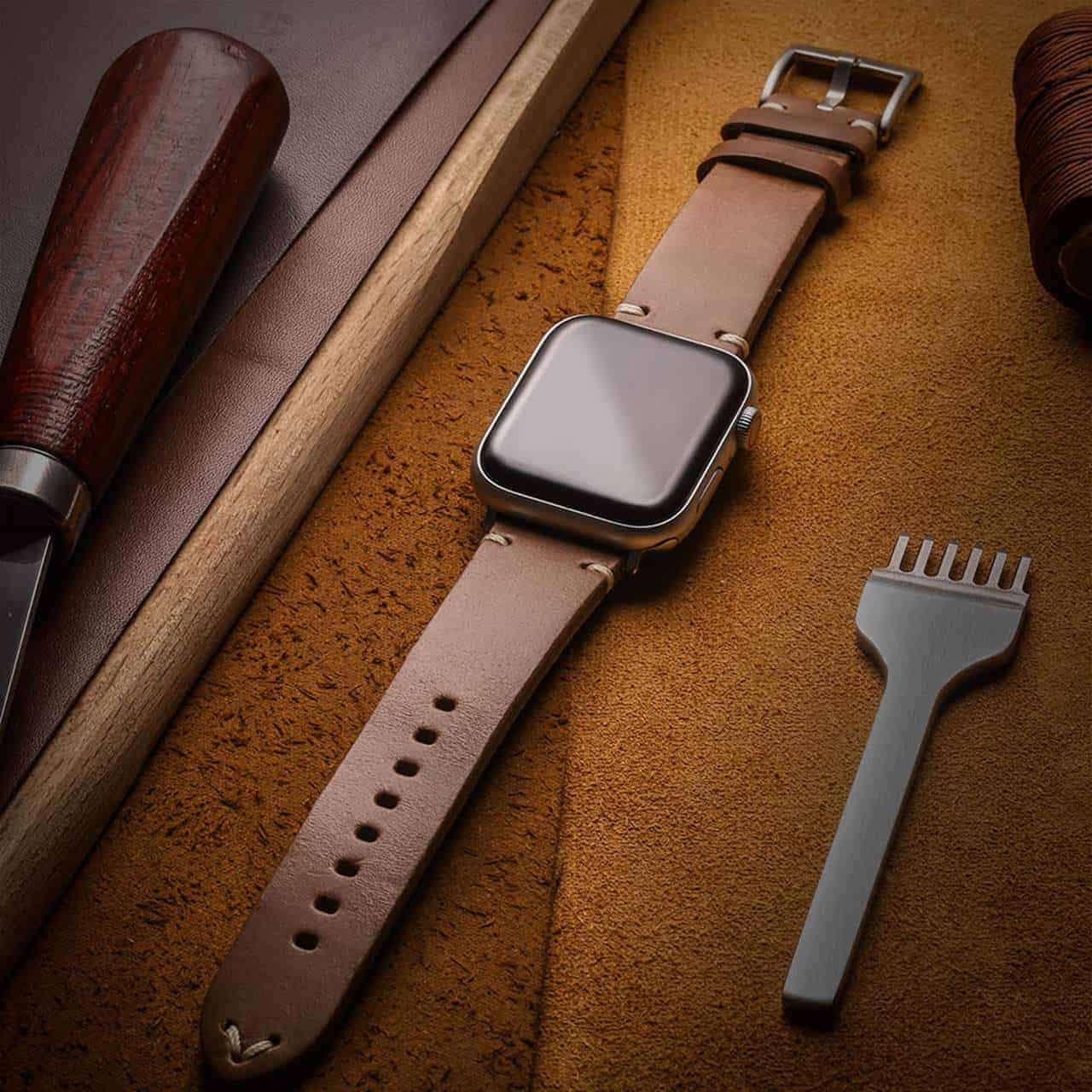 Apple Watch Bands | Horween Leather Watch Straps | Natural
The second style is also made of Horween leather and features a natural look, but there are a couple of distinctive details that differentiate it from the first style. The band itself is thicker, making it match a more elegant and reserved fashion style. It only comes in neutral colours, which include black, dark brown and brown. White stiches come together to form an angle and accents the tip of the band. The juxtaposition of white against dark, heavy leather material adds to the tastefulness of the design. The band is adjustable to fit wrist circumferences between 6.5'' to 8.5''. If you are looking for a band to wear to formal occasions, this would be a great choice.
3, Mastrotto leather watch band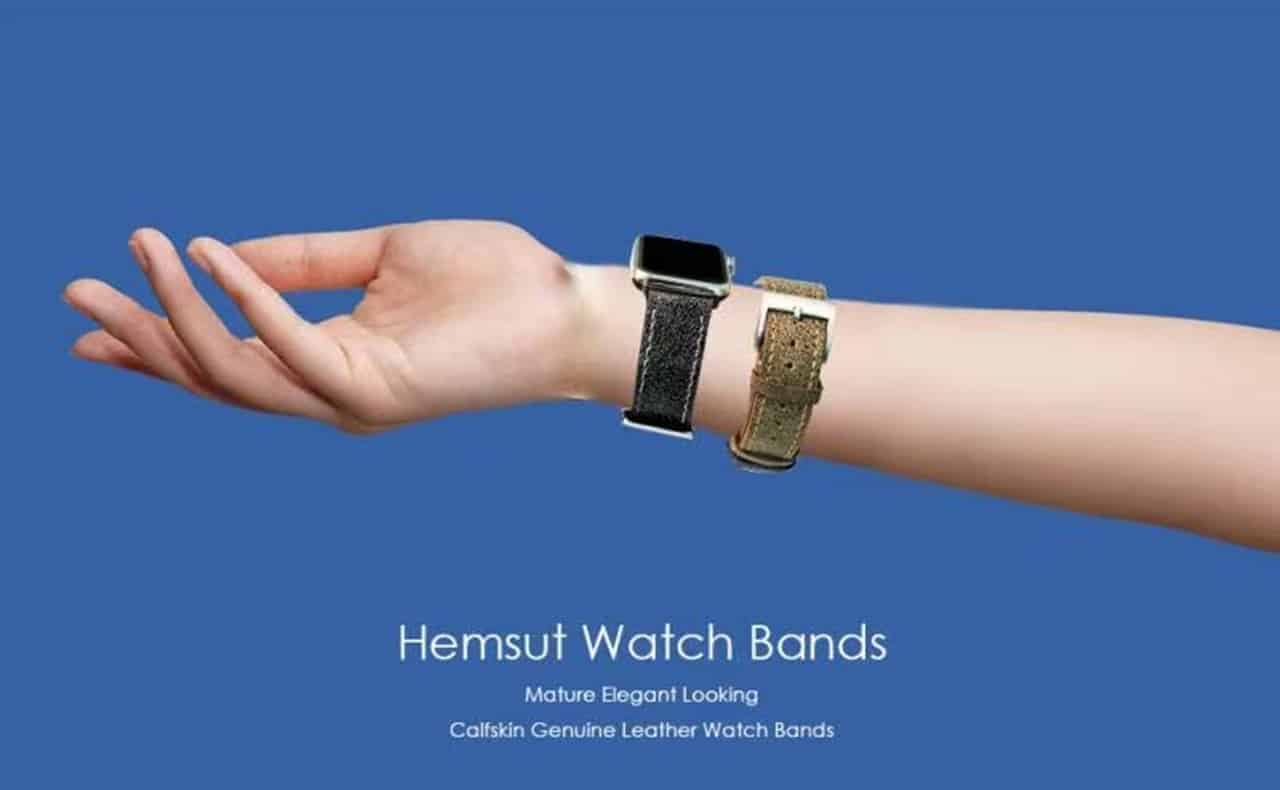 Apple Watch Bands | Dark Brown Leather | Hemsut
If you prefer more textured leather, don't miss out on this wrist band. Produced by the Italian Gruppo Mastrotto company, each piece of high-quality matt leather material has its own unique pattern and will develop a beautiful patina over time. This makes each wrist band design irreplicable. You have a choice of three colours: brown, dark brown and black. Different colours of stiches that run along the edges of the band match different colours of leather, forming a harmonious colour scheme together. This shows how the designer paid great attention to the finest of details. The band can be adjusted to fit wrist circumferences between 6.5'' to 8.5''. The contrast between the smooth stainless-steel buckle and the textured leather adds another layer of design. This wrist band style can go with almost any outfit and therefore is a good choice if you want something for everyday wear.
4, Denim fabric apple watch band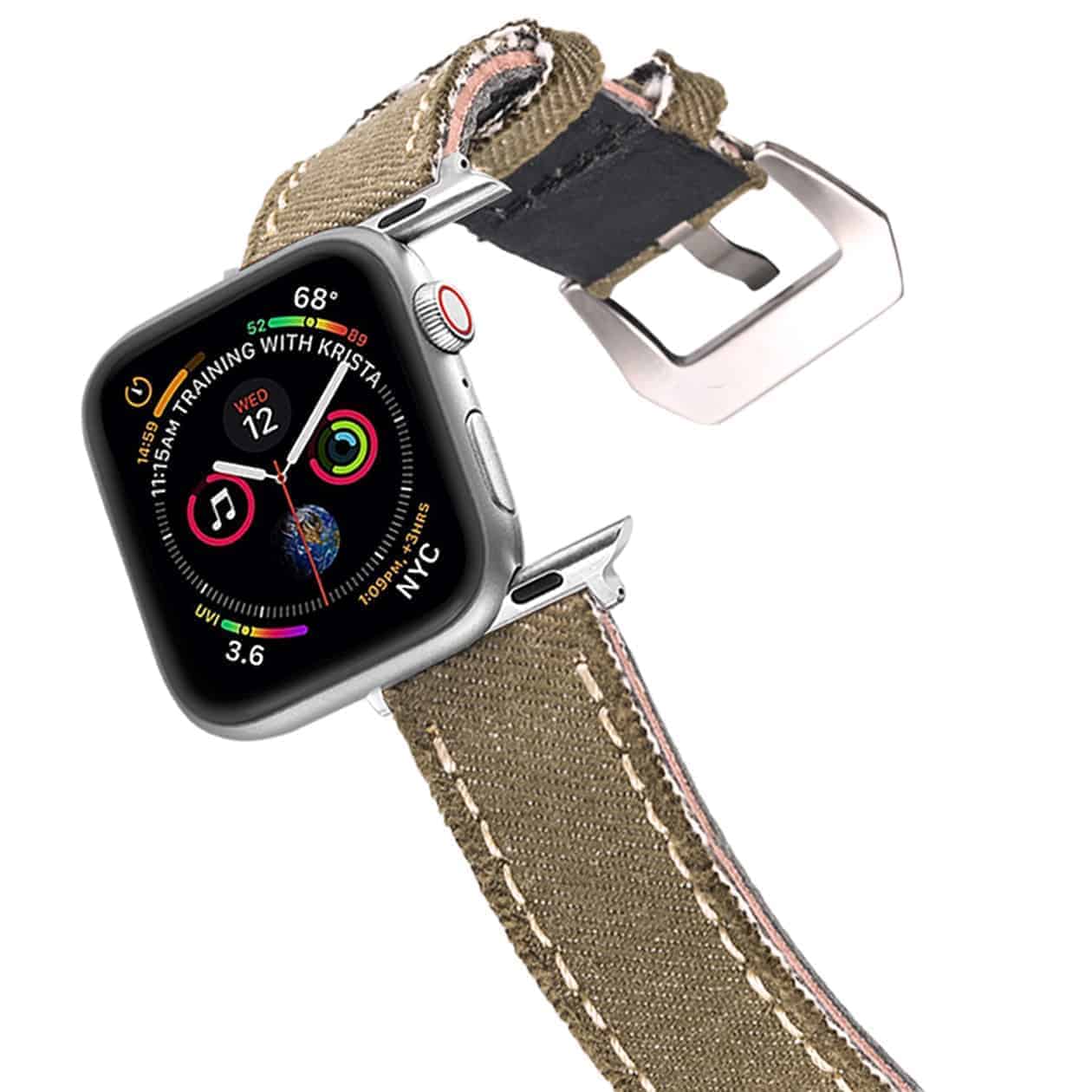 Apple Watch Bands | Canvas Watch Straps | Green
Looking for something more casual? This band style features denim fabric straps and can be the accessory you need to go with a denim jacket or a pair of white-washed jeans. Denim fabric is sturdy, durable, and easy to clean. It can be dyed into many bright colours. We offer four main colours: blue, coffee, dark brown and black. What makes this design stand out is its colourful details. Creamy ivory stiches form dotted lines along both edges of the strap, while a light pink layer peeks out between the two layers of denim. If you like fun and playful designs, then this is the one for you.
5, New canvas Leather hybird Apple watch band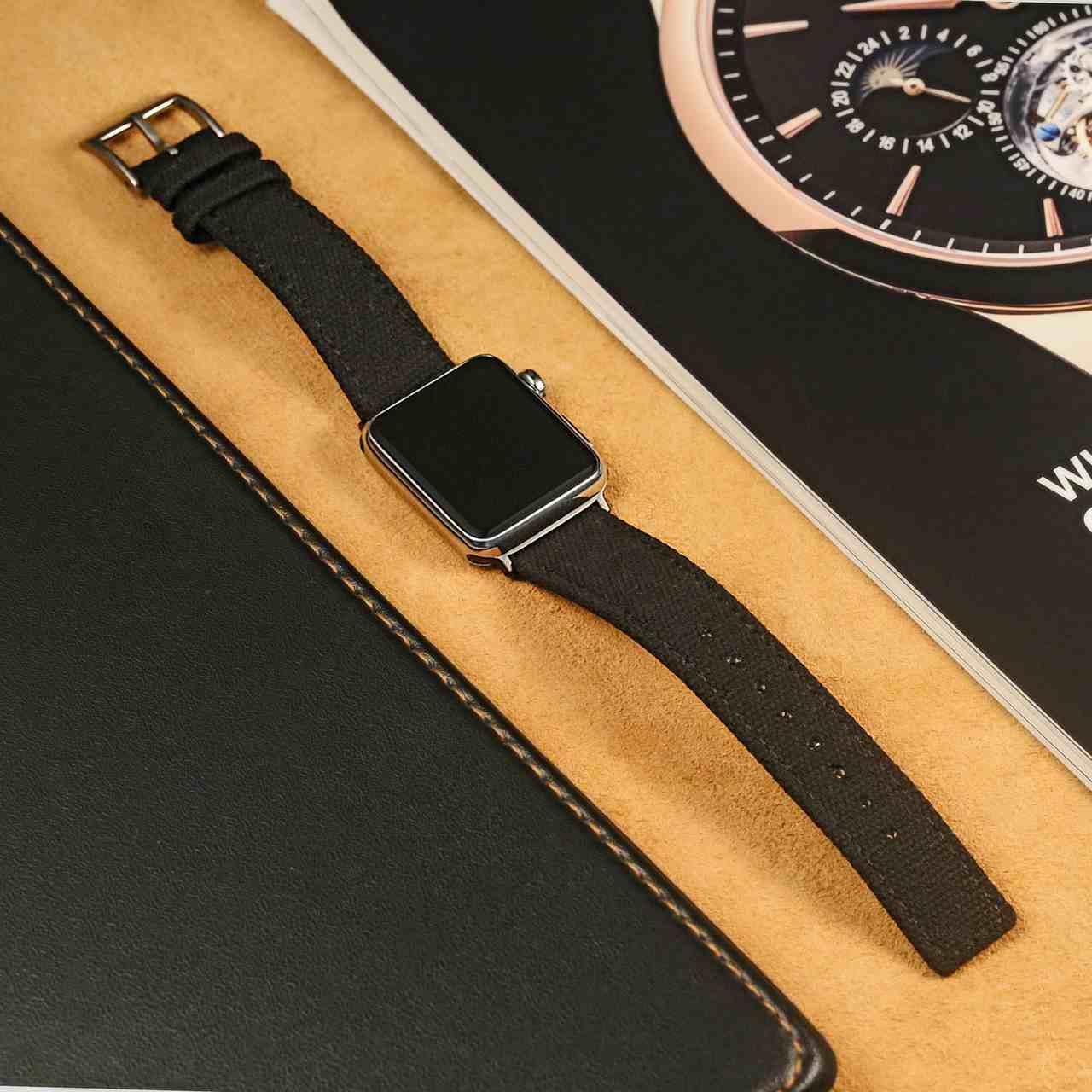 Apple Watch Bands | Black Weaved Canvas | Hemsut
This is another casual style wrist band made out of new canvas fabric. Similar to denim, it is durable and easy to clean. Its design is more simplistic as each variation maintains one colour throughout the band, even the stiches along the edges are sown into the fabric with same colour thread. There is a small piece of leather surrounding the holes in the middle of the band, making the middle piece more resistant to wear and tear. It also serves as an intricate design element, elevating the design from casual to business casual. This wrist band can be adjusted to fit wrist circumferences between 6.3'' to 8.3''. If you are looking to buy a wrist band that can be worn to any occasion, this should be one of the tops on your list.
Having a hard time deciding which one to get? Don't worry. You can always mix-and-match different wrist bands with different outfits. Think about what type of fashion look you like most and buy the designs that go well with your style!