Introduction:
Dear readers, today I want to take you into the wonderful world of Garmin Fenix series! This series of outdoor sports watches has been highly praised from the listing to the present, and the latest Fenix7 series is fascinating and has been warmly sought after by everyone. In this article, we uncover the secrets of the Fenix7 series and explore their positioning, functionality and elegance. In addition, I will also highlight the most important highlight of the Fenix7 series for you - the choice of suitable watch bands.
Whether you are an outdoor enthusiast, explorer or fitness seeker, I believe this article will bring you valuable information and inspiration. Let's enter the world of Fenix7 series and explore the endless possibilities!
Ⅰ Garmin Fenix 7 Overview
Garmin's watch use scenario is very rich, designed for different needs of the crowd of watches with different performance, and in addition to the common types, there are more professional sports watches, such as running watches, mountaineering watches, outdoor sports watches, as well as fitness, swimming, golf and other sports watches. However, the specific functions vary depending on the focus of each series. So when we choose products, we should focus on our own needs.
Garmin Fenix7 series has always been the classic products of Garmin's outdoor watches, as well as the flagship products, representing the latest technology and strongest strength of Garmin in the field of outdoor sports, it is still one of the best choices in smart watches, low-power screen coupled with solar battery life, so that users are more assured to wear it for long-term outdoor sports. As Garmin's position for the Fenix series is "push the limits of multi-sport performance".
The Fenix7 series watch introduced in this article focuses more on professional sports, has rich functions and strong comprehensive performance, and has a variety of built-in sports modes, such as running, cycling, swimming, mountaineering, hiking, HIT, skiing, rowing, indoor rock climbing, outdoor sports and other more than 40 modes.
Ⅱ The Difference Between Fenix7/7X/7S
The Garmin Fenix7 series is also subdivided into three different size sub-models, namely the Fenix7, Fenix7X, and Fenix7S. They are not only the dial size is not the same, there are also great differences in function and configuration, the following will be detailed about the difference between these three sub-models: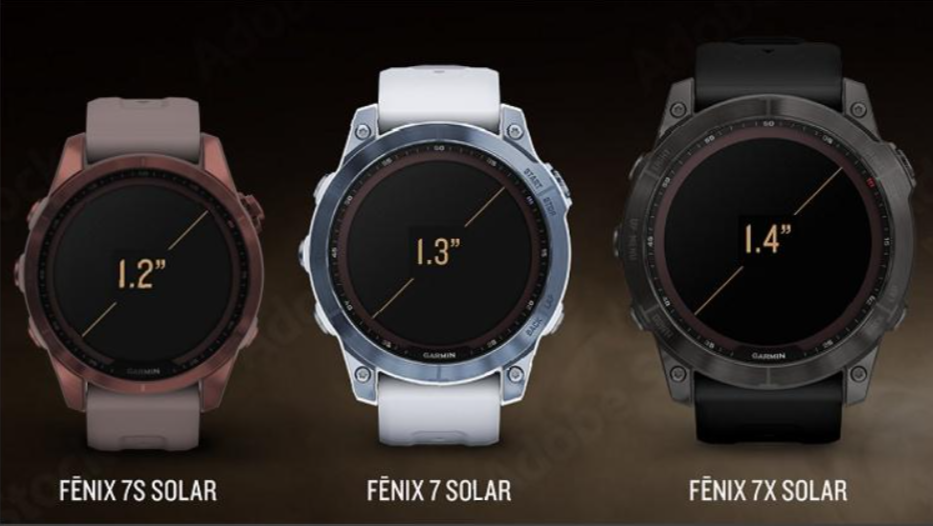 Physical Size And Dial Screen Size: Fenix 7S/7/7X The most obvious difference between the three sub-models is the dial size, Fenix7 size is 47X47X14.5mm, dial screen size is 1.3 inches; The Fenix7X measures 51x51x14.9mm, with a 1.4-inch dial screen. The Fenix7S measures 42x42x14.1mm with a 1.2-inch dial screen, which Garmin designed for smaller wrists. The larger the screen size, the better the user experience, this is beyond doubt, especially in outdoor sports can reflect the importance of large screen size, but this also according to the size of their wrist to choose the screen size.
 Screen Resolution: Fenix7 is 260x260 pixels, Fenix7X is 280x280 pixels, Fenix7S is 240x240 pixels.
Battery Life Difference: Fenix 7S/7/7X size is different, so the battery life will be different. In different modes, the larger the size, the longer the battery life. Fenix7 series has solar charging, and has been upgraded to version 2.0, for example, the conductive material is replaced by pure aluminum alloy, the internal integrated line optimization, increased the watch to receive solar energy area by 22%, in the case of outdoor sunlight, solar energy will take effect.

LED Lighting: only Fenix7X has this function, Fenix7 and Fenix7S do not have. There are two kinds of white and red light source, white light has 4 levels of brightness can be adjusted, red light can not adjust the brightness, in addition to the ordinary lighting of the steady on, the light source can be customized to set a variety of flashing ways, such as long flash, short flash, SOS signal, etc., for outdoor sports more than a layer of security. When you run at night, the Fenix7X will automatically switch between white light and red light with your swing arm, flash red light when your arm moves back, and flash white light when your arm moves forward, which greatly improves the safety of night sports.
The Strap Size: Fenix7S is 20mm, Fenix7 is 22mm, Fenix7X is 26mm, so you need to pay attention to the size of the strap when buying your Garmin watch.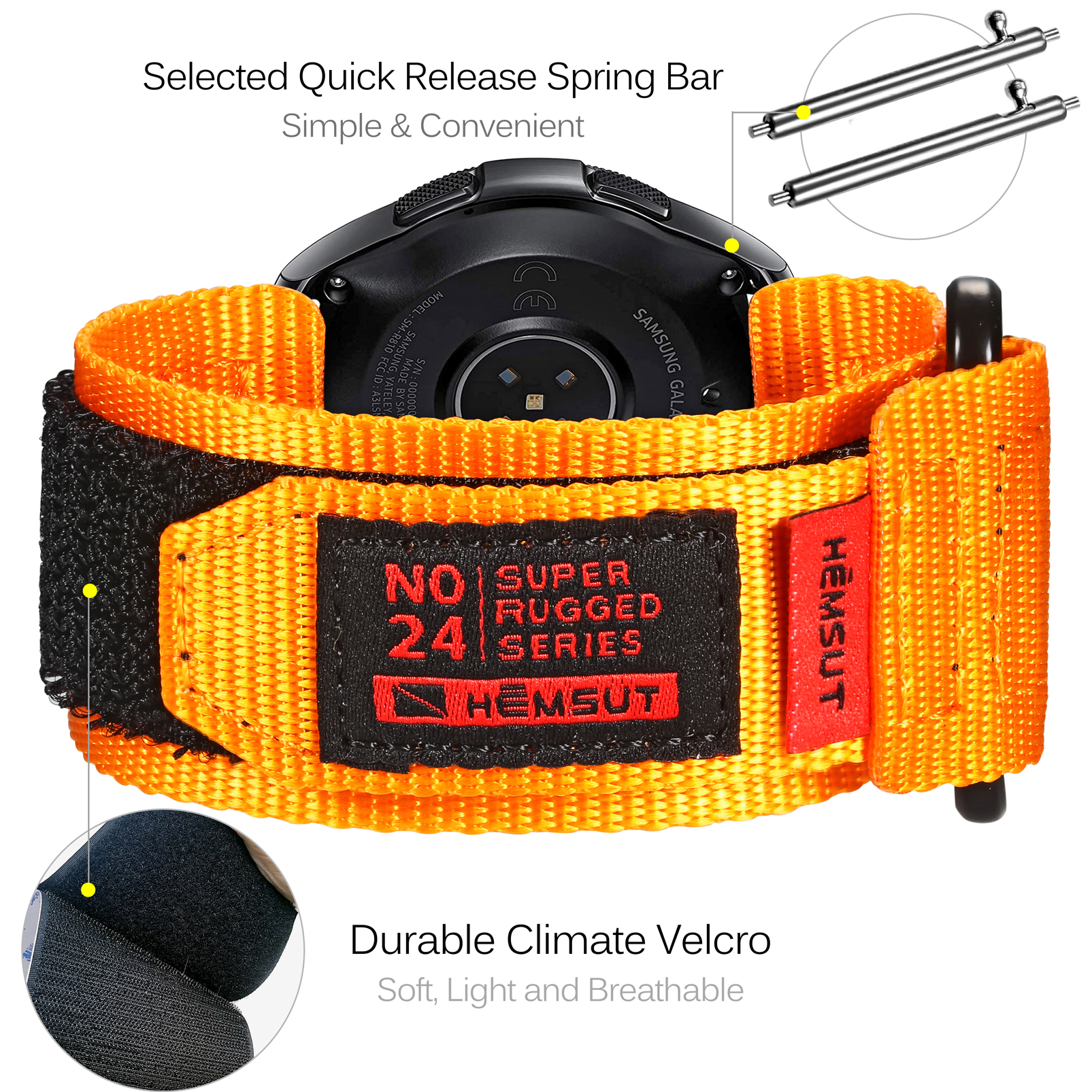 HEMSUT | Garmin Fenix7 Super Rugged Nylon Sports Strap , 20mm, 22mm, 26mm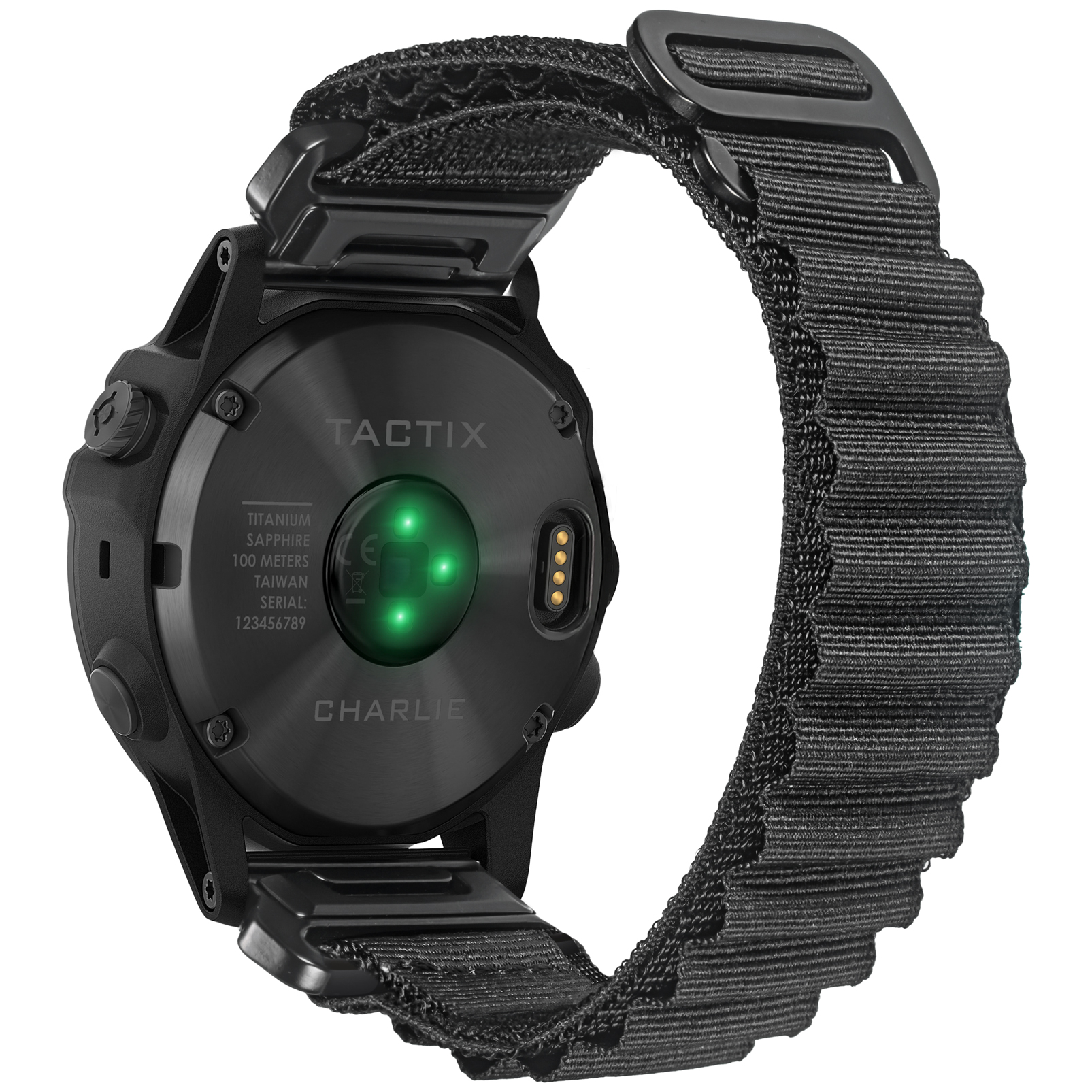 HEMSUT | Garmin Fenix7 Rugged Woven Nylon Sport Band with G-hook Watch Band, 20mm, 22mm, 26mm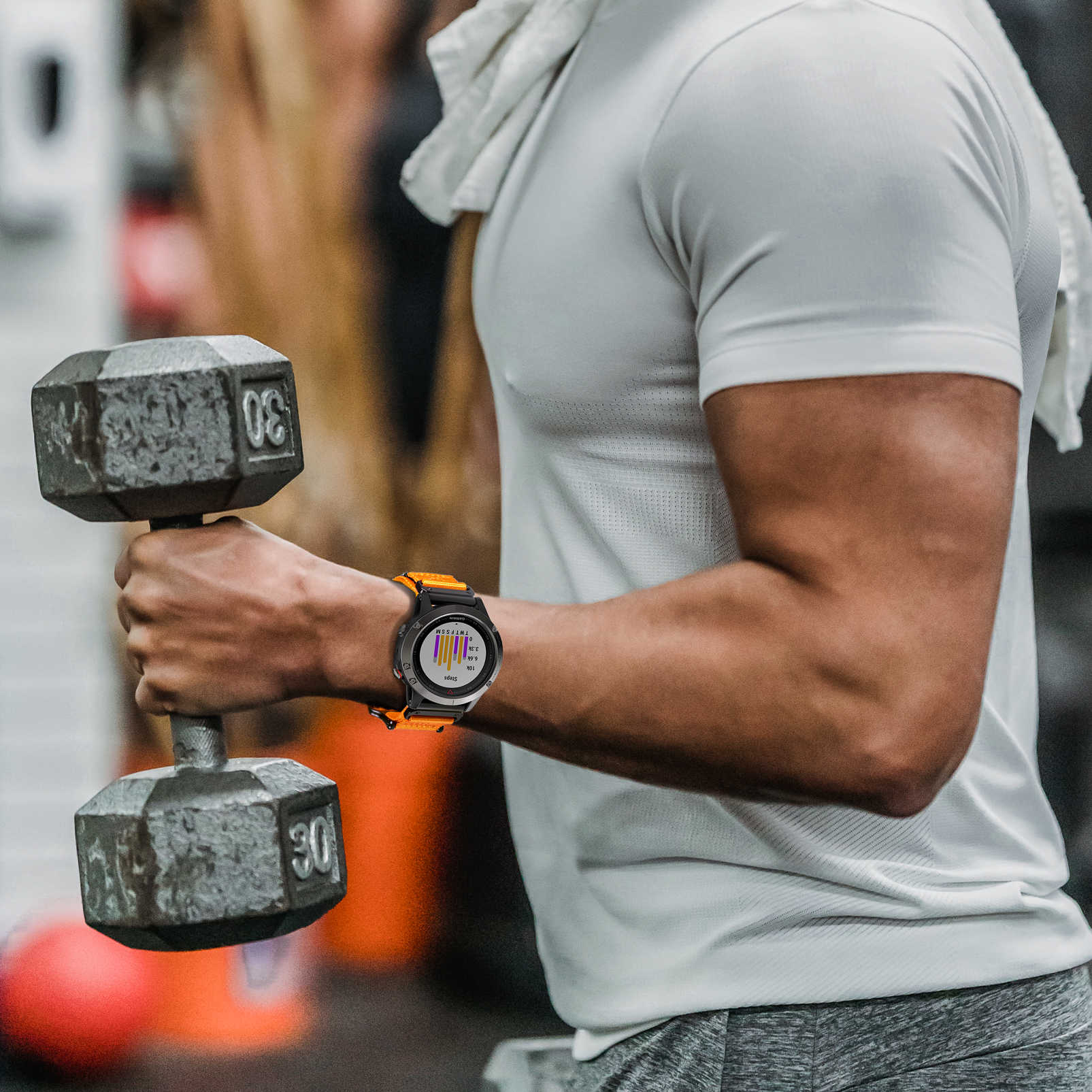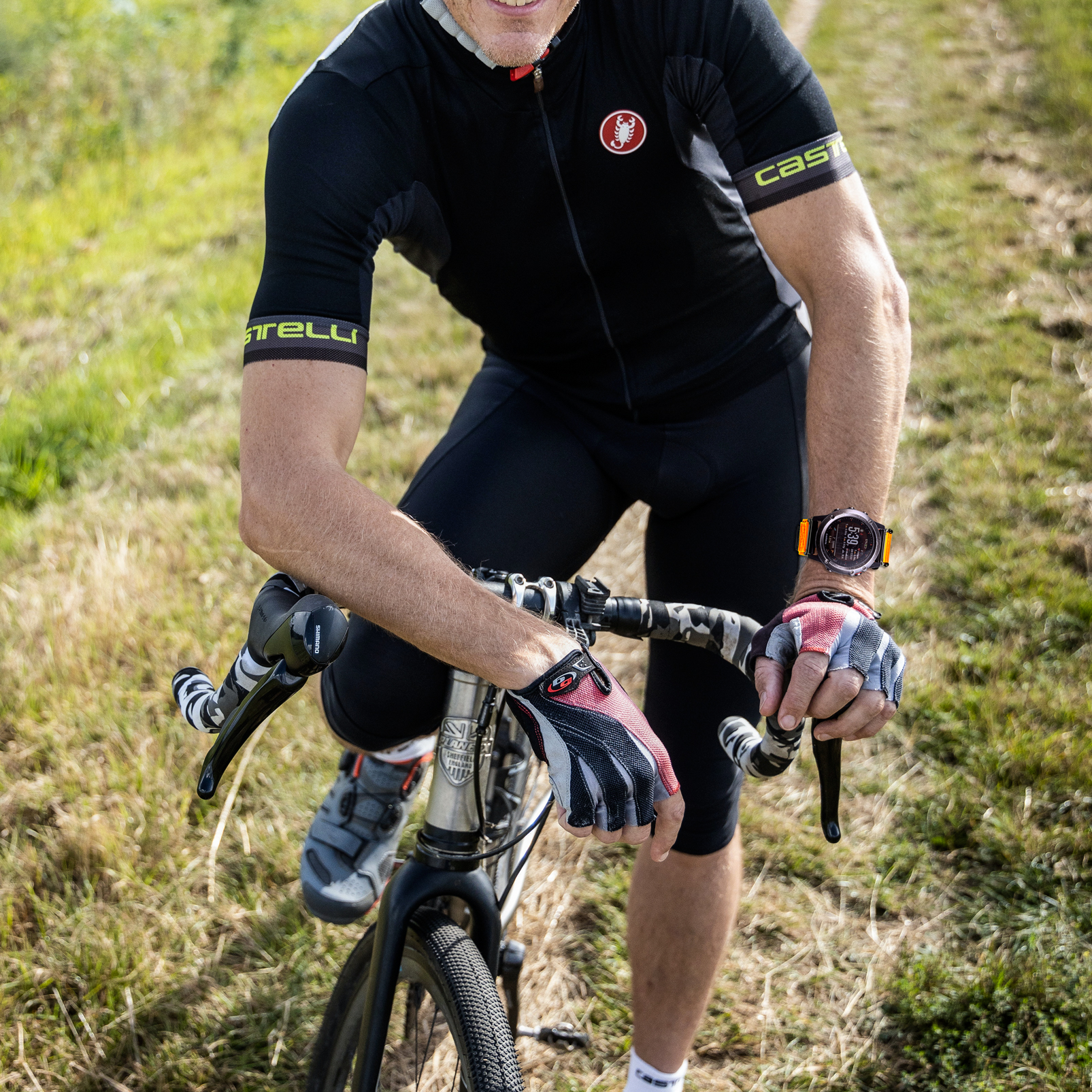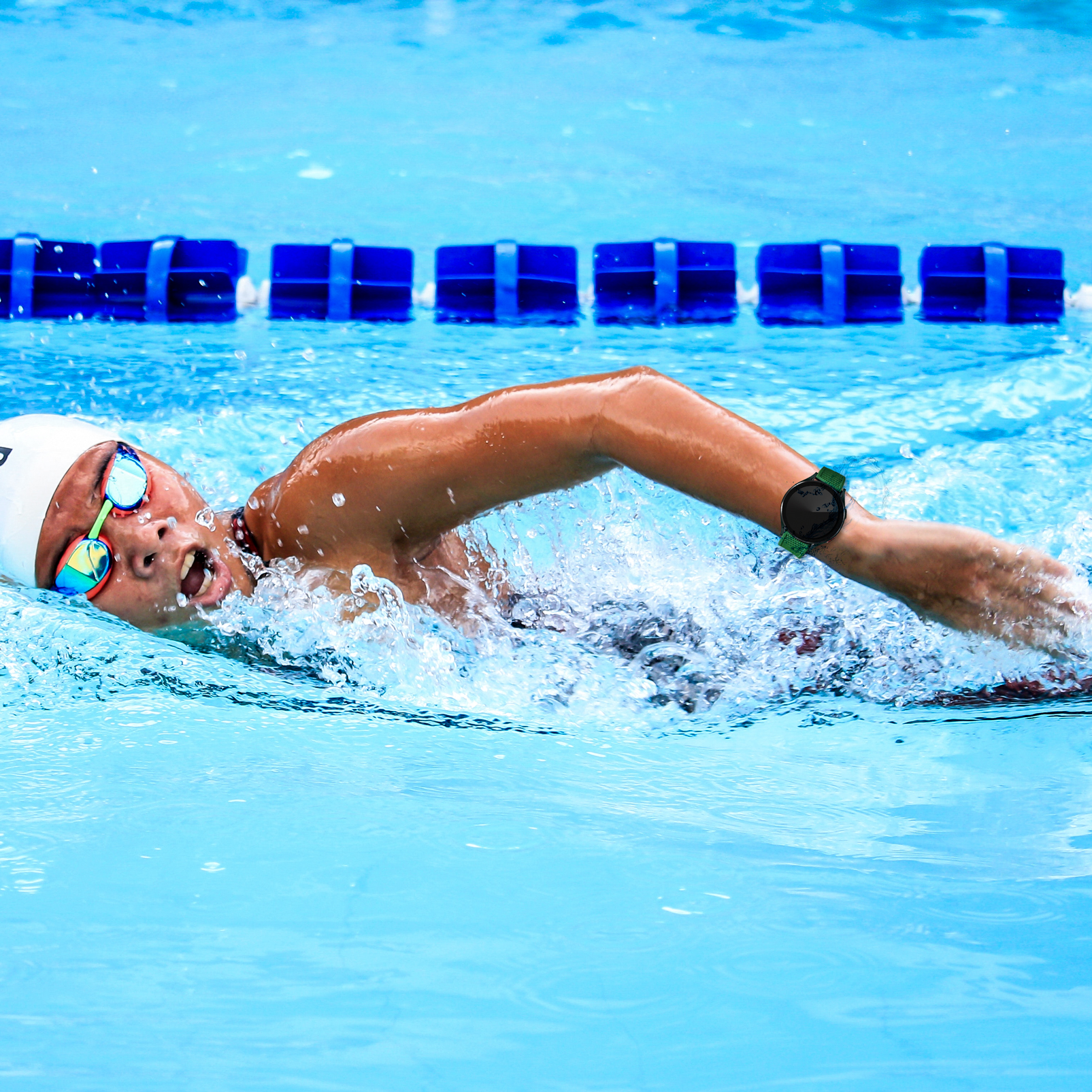 Ⅲ The Difference Between Standard Edition, Solar Edition, Sapphire Solar Edition
Fenix 7S/7/7X come in three different versions under each sub-model: Standard Edition, Solar Edition, and Sapphire Solar Edition. The main differences between the three versions are reflected in the mirror material, rear shell material, bezel material, memory, and dual-band satellite.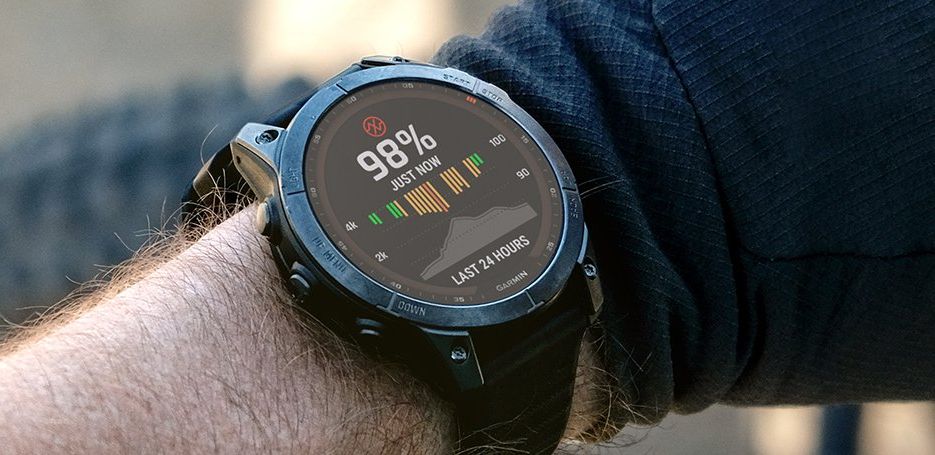 Material: standard edition bezel and back case material are PVD+ stainless steel, mirror material is Corning gorilla glass DX; The solar edition bezel is made of DLC, the back shell is made of PVD+ titanium alloy, and the mirror is made of synthetic sapphire. The Sapphire Solar Edition bezel and back case are made of PVD+ titanium alloy, and the mirror is made of synthetic sapphire.
Memory and Weight: and because of the different manufacturing materials of these three versions, there is also a little difference in their weight, and there is also a difference in memory. The standard edition of the Fenix7S/7/7X is 63/79/96g and has 16GB of RAM; The Fenix7S/7/7X solar edition and Sapphire Solar Edition are both 58/73/89g and have 32GB of RAM.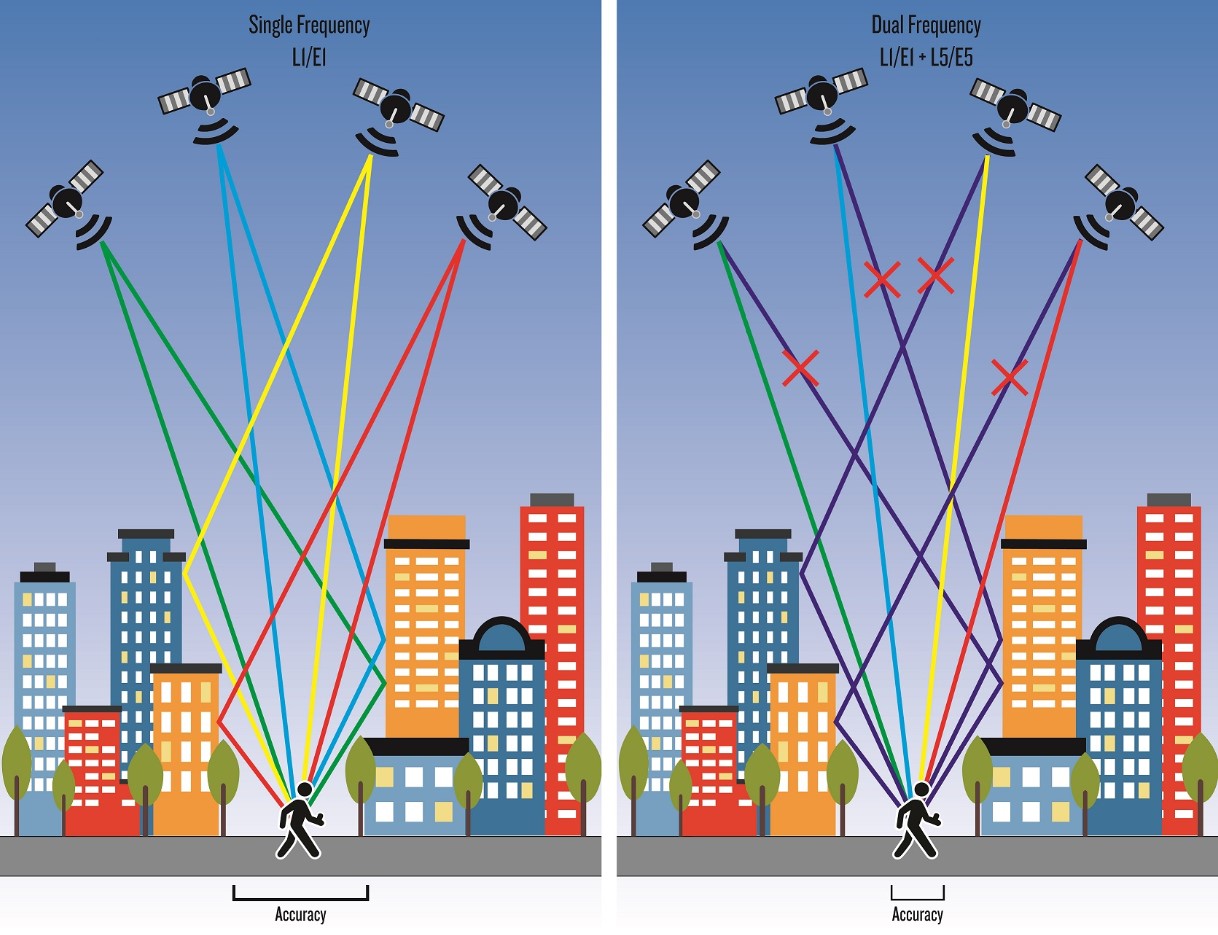 Multi-Frequency Positioning:Not only that, the standard edition has no multi-band GPS; solar edition and sapphire solar edition are dual-frequency five-star positioning, namely GPS, BEIDOU, GLONASS, GALILEO, QZSS, which can improve positioning accuracy and reduce the impact of signal drift on positioning. It can also be connected in outdoor shade trees, next to urban tall buildings, short tunnels and other places, and the GPS track will be more accurate, suitable for tracking and positioning in harsh environments.
Ⅳ Specific Features Of The Fenix 7 Series
They all feature classic five-button + new touch screen operation, and MIP reflective screens. The reflective screen is characterized by low power consumption, steady on, no backlight, and the stronger the light, the clearer the screen, which is the first choice for most professional sports watches. For outdoor sports users, touch screen may be a burden, because there is a wrong touch will affect the training, so Garmin watch will automatically turn off the touch screen mode, just long press START&DOWN at the same time to quickly open/close the touch screen; The keys are also equipped with shoulder guards to protect the keys from mis-touch.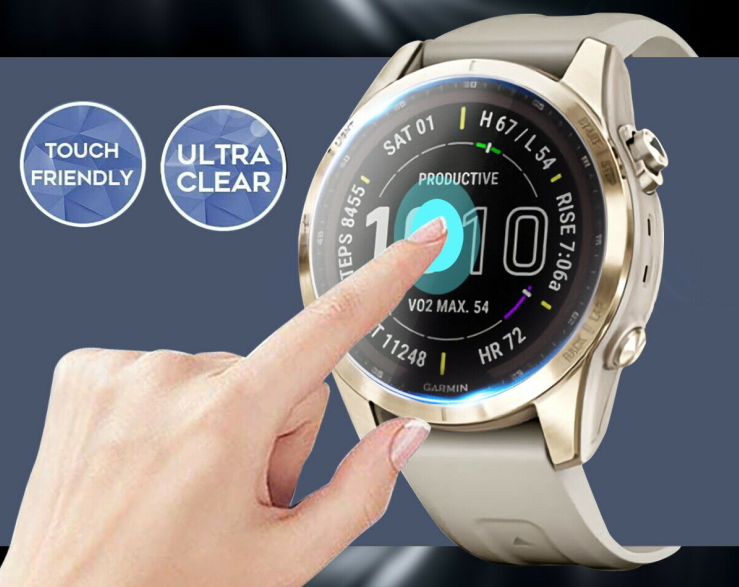 GEN4.0 Fourth Generation Heart Rate Sensor: improve the accuracy of heart rate under shorter heart rate feedback time and intense exercise.
Real-Time Stamina:  The technology, which is powered by Firstbeat Analytics with comprehensive data, shows your energy level based on your current exercise intensity and past assessed abilities, such as how many miles you run, how much energy you have left, and how much you can recover if you pause now. It will also adjust the pace according to your actual situation. The watch calculates real-time physical strength through HRV, lactic acid threshold, oxygen uptake and other data, which is more suitable for running and cycling. The real-time physical value fully evaluates your current sports status, helps you grasp the physical reserves at any time, and helps you rationally arrange your physical strength to better challenge yourself and complete the game.

Built-In Electronic Navigation Map: Routes can be created through Garmin connect, and third-party routes can also be imported.
Up Ahead: you can import the route of the race in advance in the hand watch, and pre-marked route points, in the course of the race you can quickly know the supply station, first aid station, drinking point and other route points from your current position how far, this function for cross-country and marathon has a great role.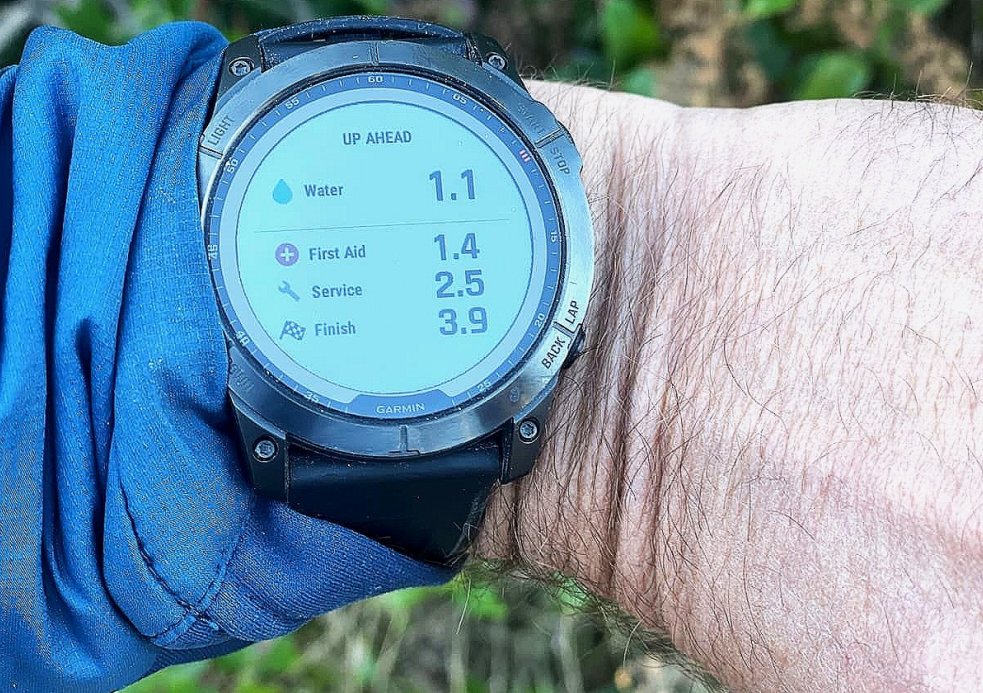 Contour Map: help you predict the terrain in the outdoors, adjust the route in time and navigate through the watch.
ABC Navigation Sensor: represents Altimeter (Altimeter), Barometer and electronic Compass (Compass). Because it is easy to encounter sudden changes in air pressure in outdoor activities, weather changes have a great impact on activities, at this time it will trigger the wind and rain warning function and remind you in advance, helping you to judge the weather conditions.
Garmin Exclusive Algorithm: sleep monitoring score and advanced sleep monitoring, maximal oxygen uptake, all-weather pressure tracking, body electricity, all-day heart rate monitoring, women's health tracking, hydration tracking, respiratory monitoring, PULSE OX pulse blood oxygen sensor.
Garmin App One-Stop Service: Fenix7 series has Garmin's strong sports ecology, which can provide a health and fitness data management platform in the app, built-in rich training course guidance, official online competition.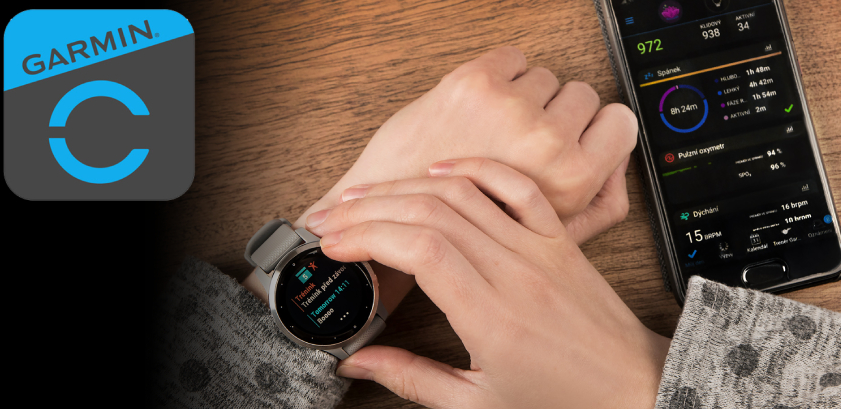 Ⅴ The Choice Of Watch Straps
Garmin Fenix7 series is a smart watch designed for outdoor enthusiasts and adventurers, so the choice of straps should be breathable, light and strong, and water resistance is good. I think the nylon and material straps are the best for positioning the fenix7. Hemsut has a lot of nylon material strap, the following to introduce the characteristics of Hemsut nylon strap:

Light and Comfortable: Hemsut's nylon strap is very lightweight, compared to metal or leather strap, more suitable for long wear. It is soft and elastic, which can better adapt to the curve of the wrist and provide a comfortable wearing experience.
Durable and Water Resistance: usually made of high-strength nylon fiber, with excellent durability and water resistance. They can withstand friction, pulling and wear in outdoor activities, while preventing sweat and moisture from causing damage to the watch.
Air Permeability and Fast Drying: has good air permeability, can keep the wrist dry. During intense exercise or high temperatures, the nylon strap can quickly absorb and expel sweat, making you feel more comfortable.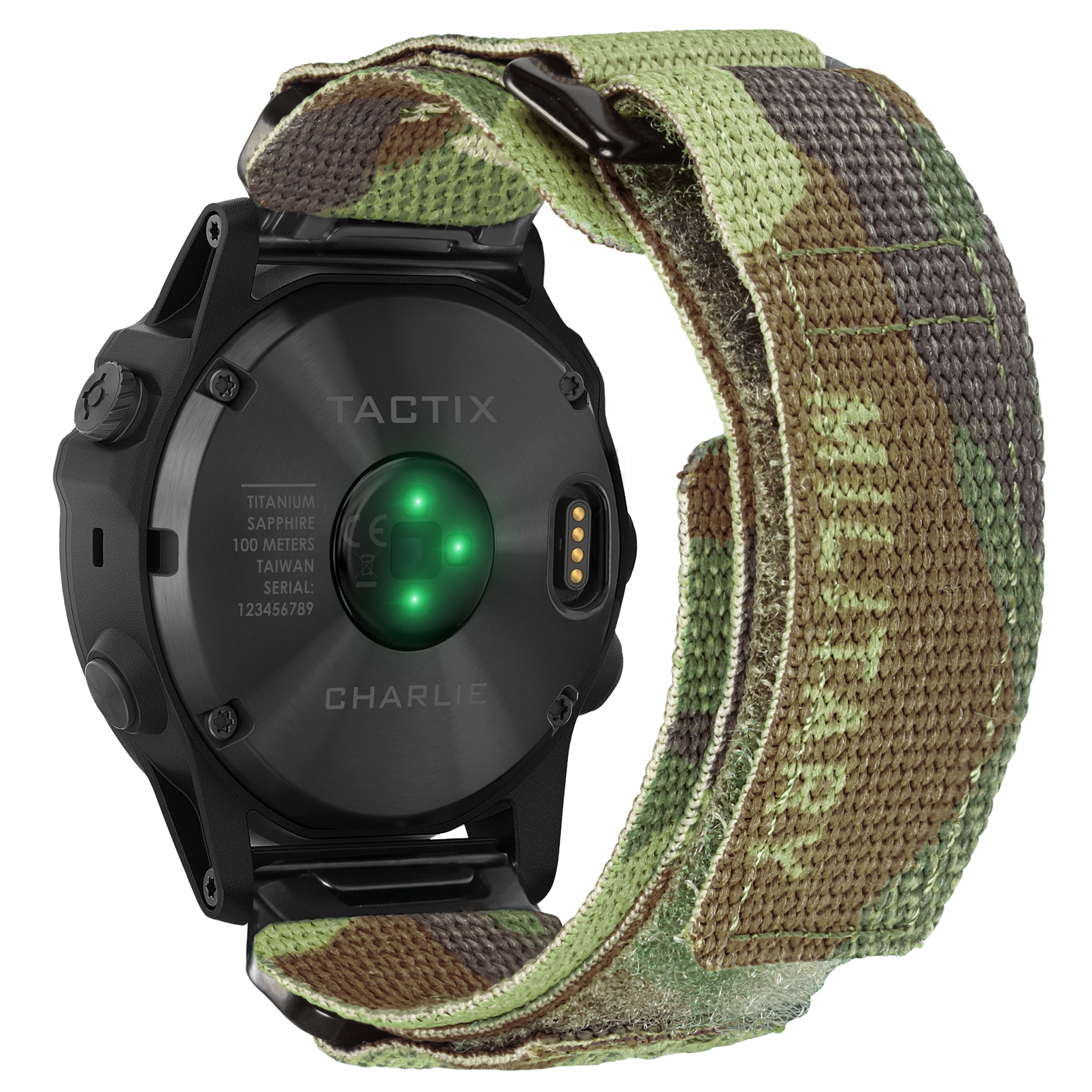 HEMSUT | Garmin Fenix7 Military Nylon Watch Band Loop, 20mm, 22mm, 26mm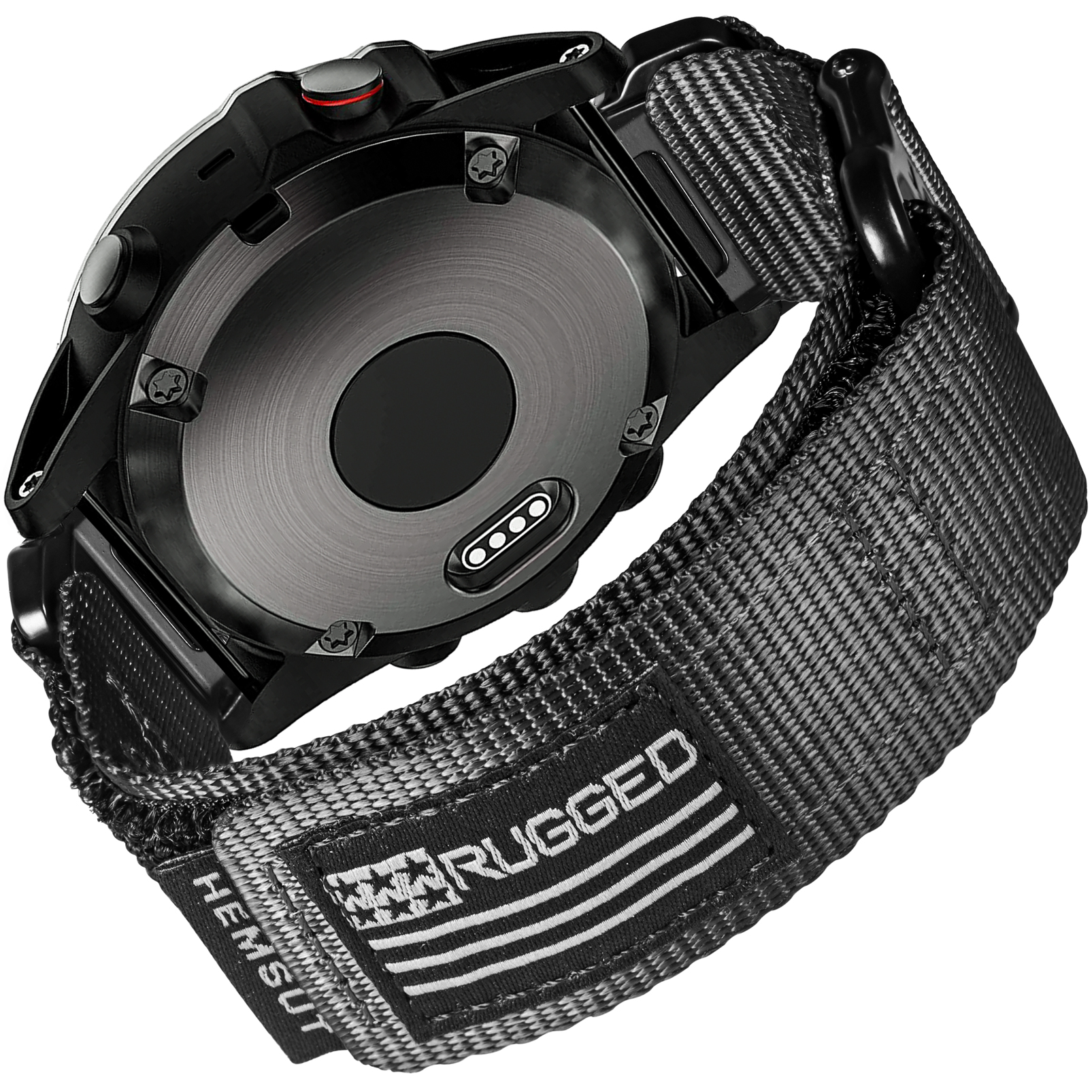 HEMSUT | Garmin Fenix7 Super Rugged Nylon Sports Strap With Woven Loop Design, 20mm, 22mm, 26mm
Ⅵ Dial And Band Color Matching
Classic Color Scheme: If you prefer a classic, understated style, you can choose to pair a black dial with a black strap, as black, white or silver dials usually work well with almost any color strap. These neutral tone dials are suitable with black, grey, white, silver or dark bands. These combinations usually give a simple, elegant and stylish feel, suitable for everyday wear or formal occasions.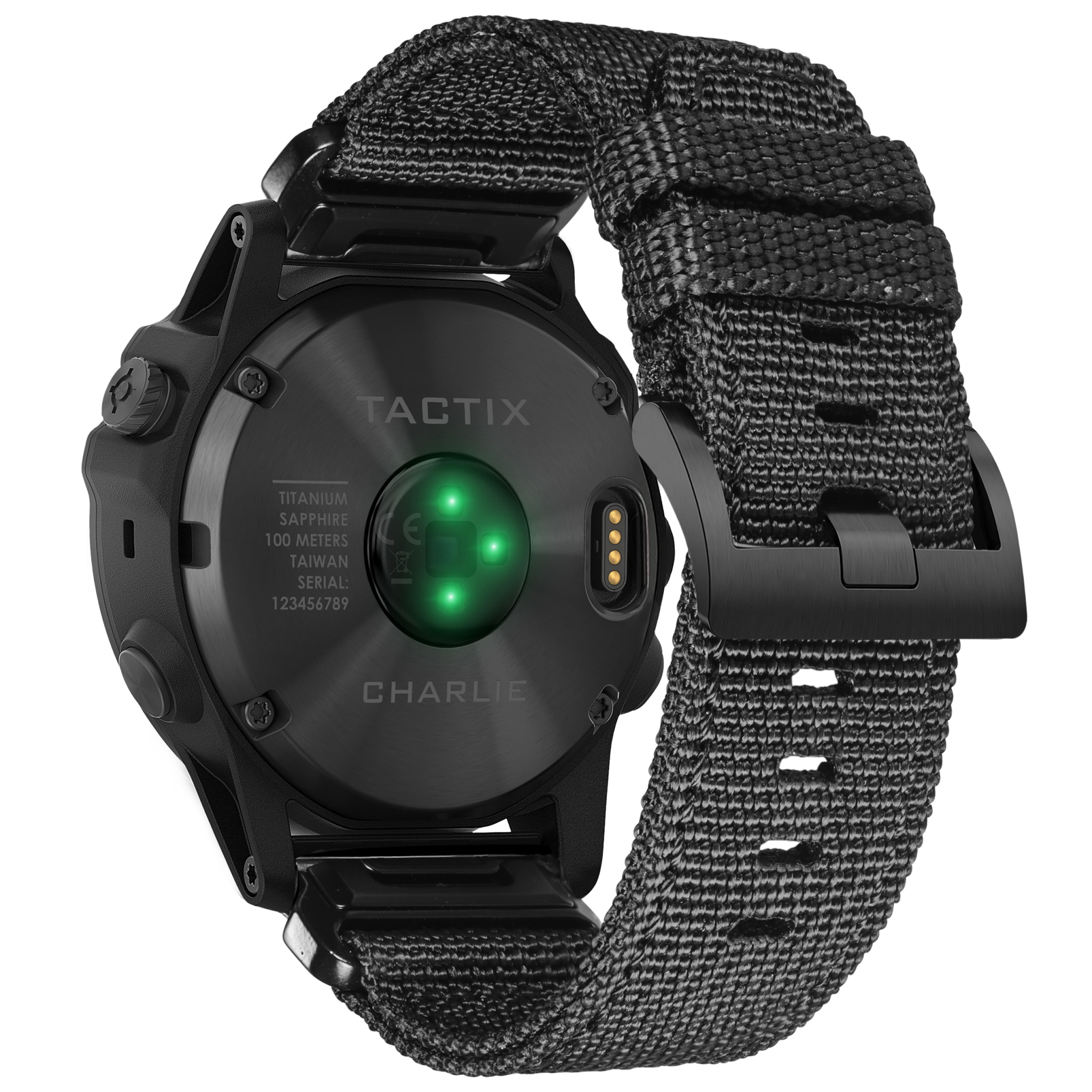 HEMSUT | Garmin Fenix7 Classic Color Nylon Watch Bands, 20mm, 22mm, 26mm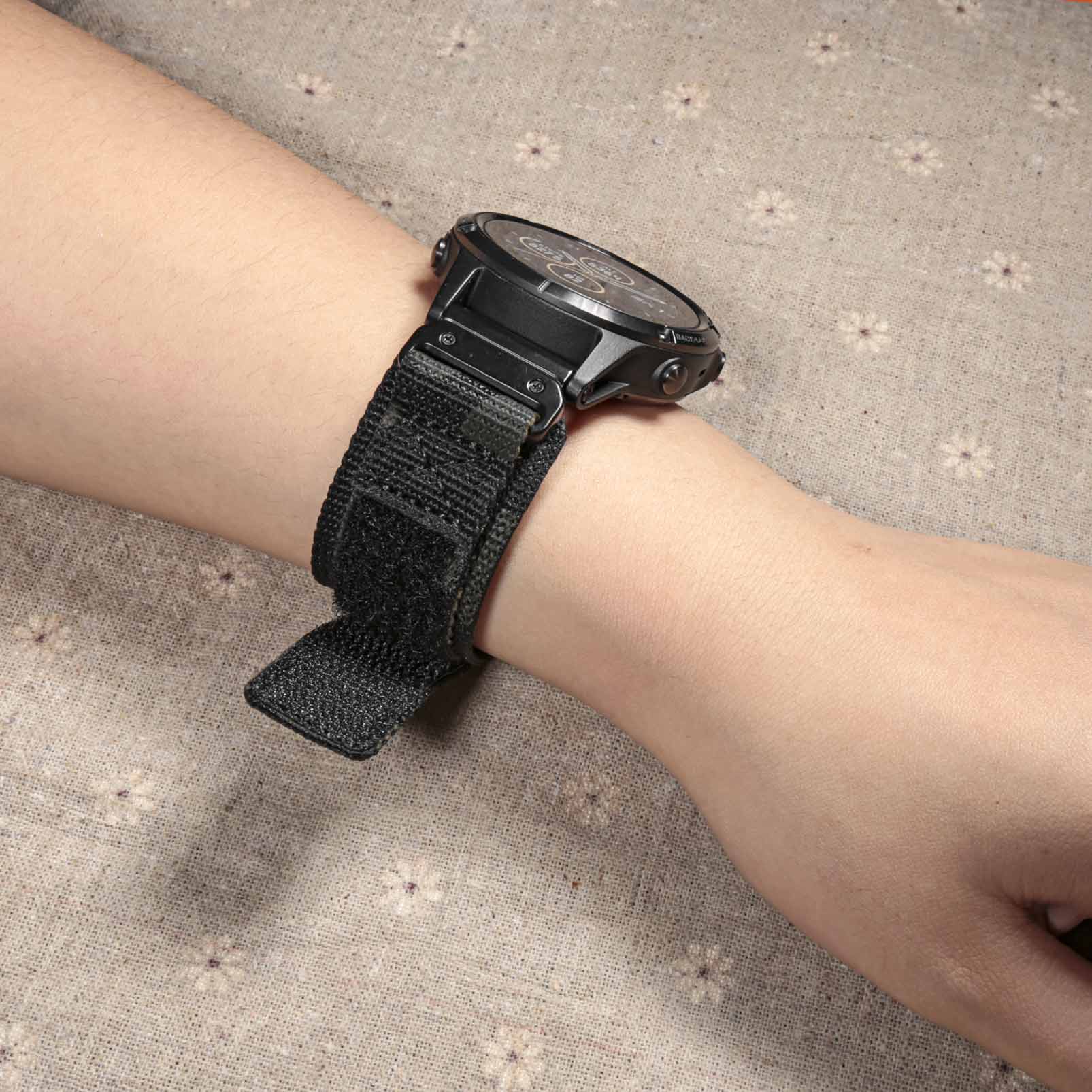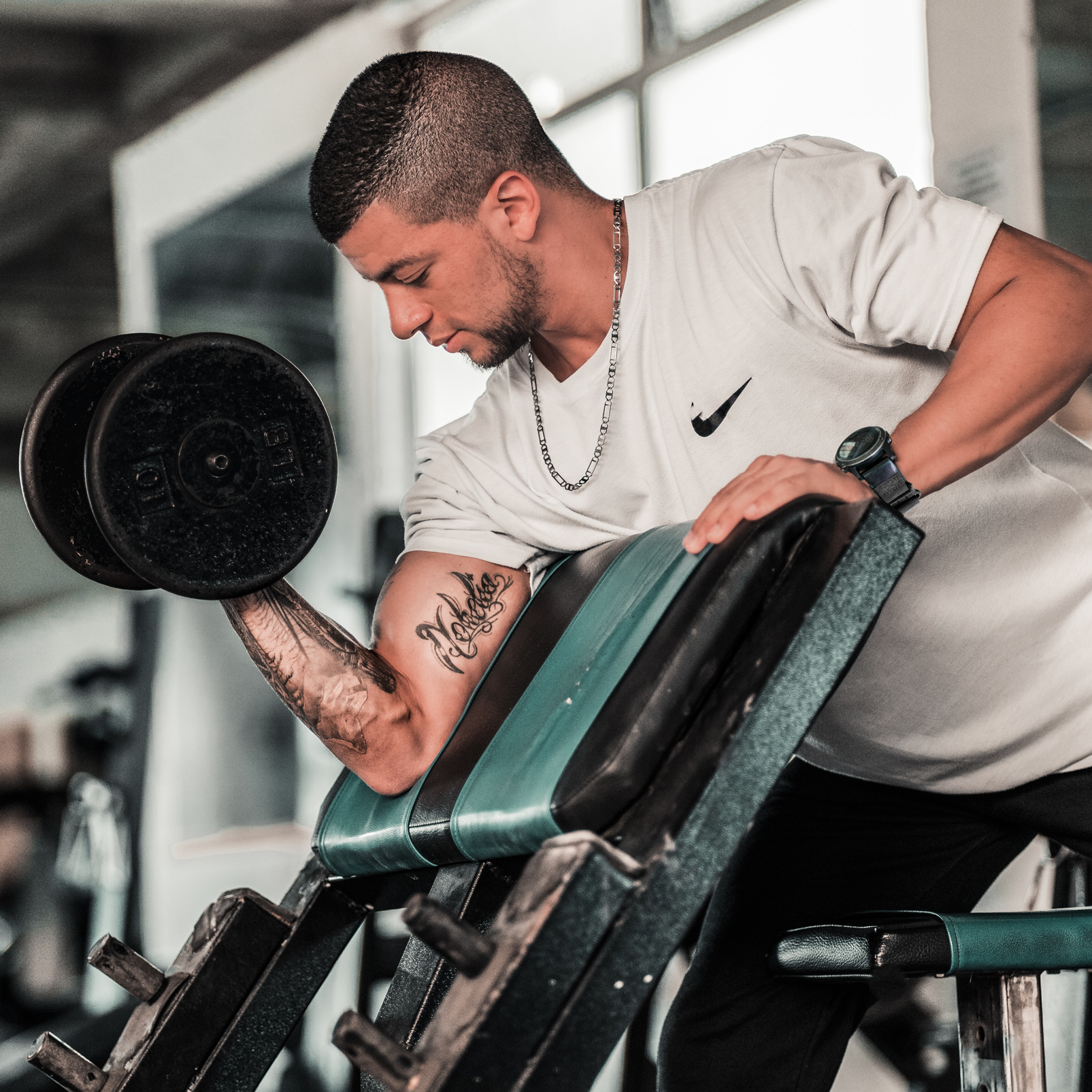 Contrast and match: If you want a more distinctive and personalized effect, you can choose a contrasting color. For example, a black dial with a bright strap (such as red, orange, blue, yellow, etc.), or a white dial with a dark strap (such as brown, dark blue, black, etc.). This combination attracts attention and shows a sense of style with energy and personality.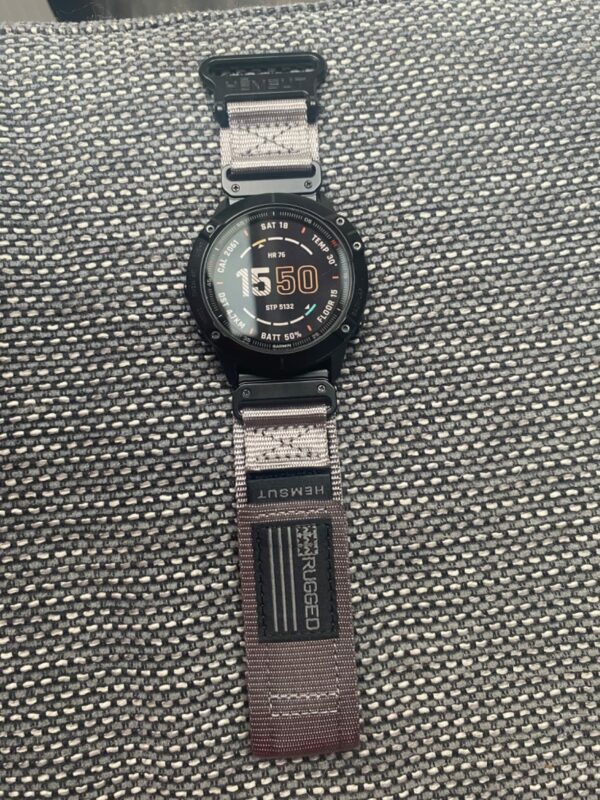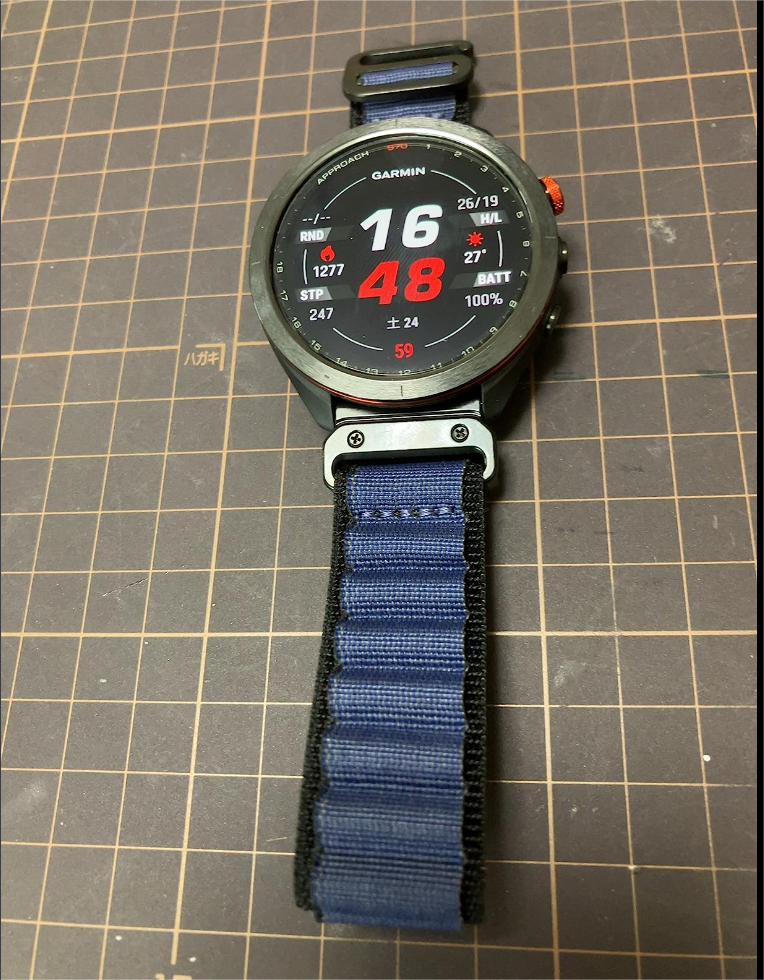 Coordination: Choose a strap that is close to or the same color as the dial to create a coordinated and harmonious effect. For example, the blue dial is paired with a dark blue strap, a gray dial, and a silver-gray strap. This combination can highlight the journey tone of the watch and present a visual unity effect.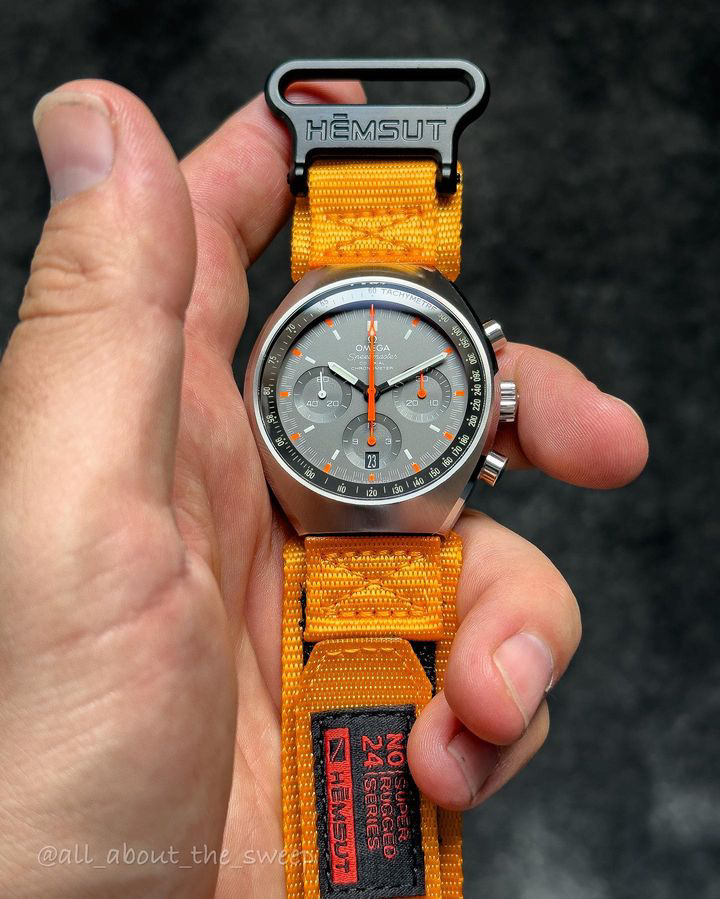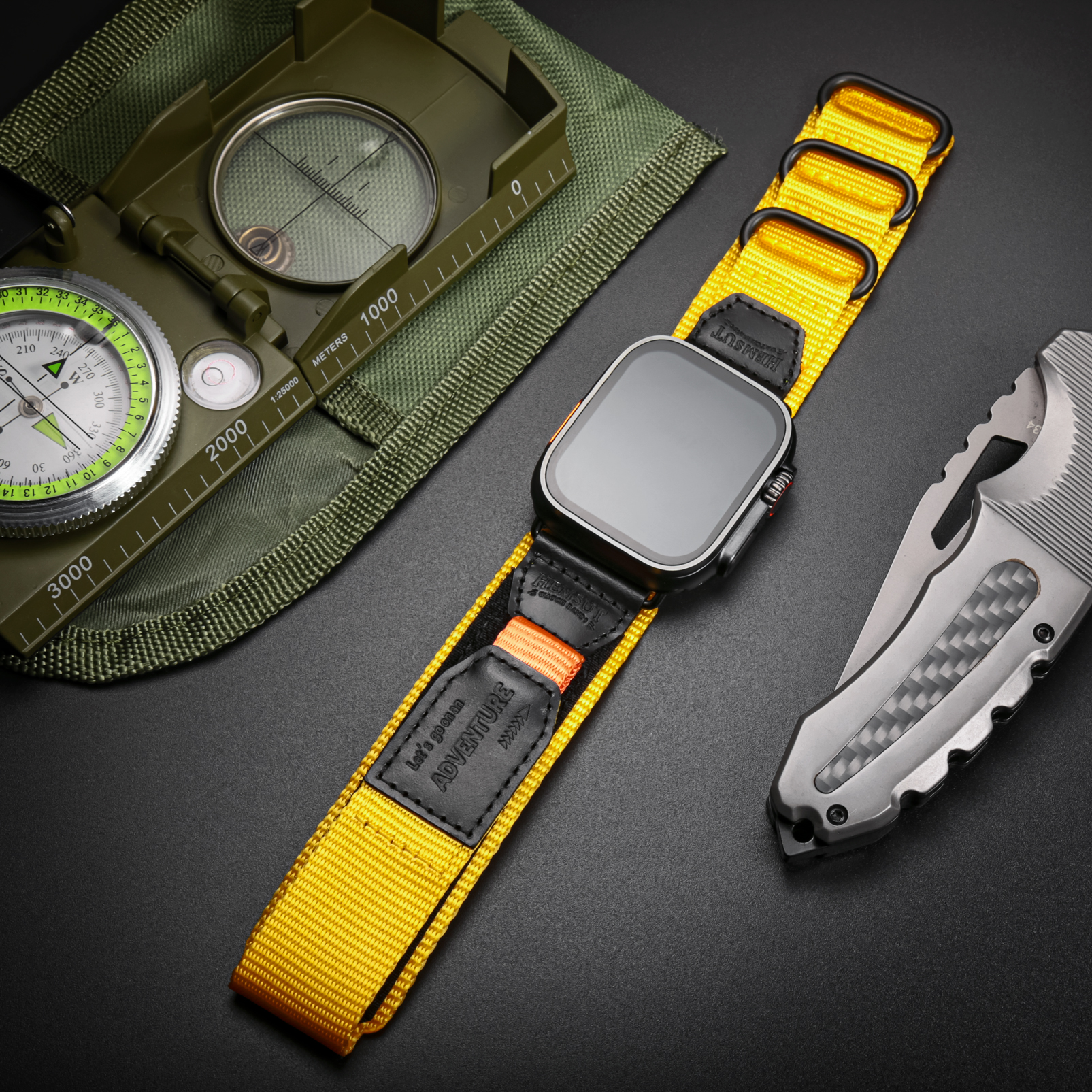 Seasonal Matching: You can choose colors that match the atmosphere of different seasons. For example, choose bright, vibrant colors such as orange, yellow, or grass green in the summer; In winter, you can choose dark or warm colors, such as dark blue, brown or red. This seasonal combination can show a strong sense of atmosphere, reflecting your personal taste and enthusiasm for life.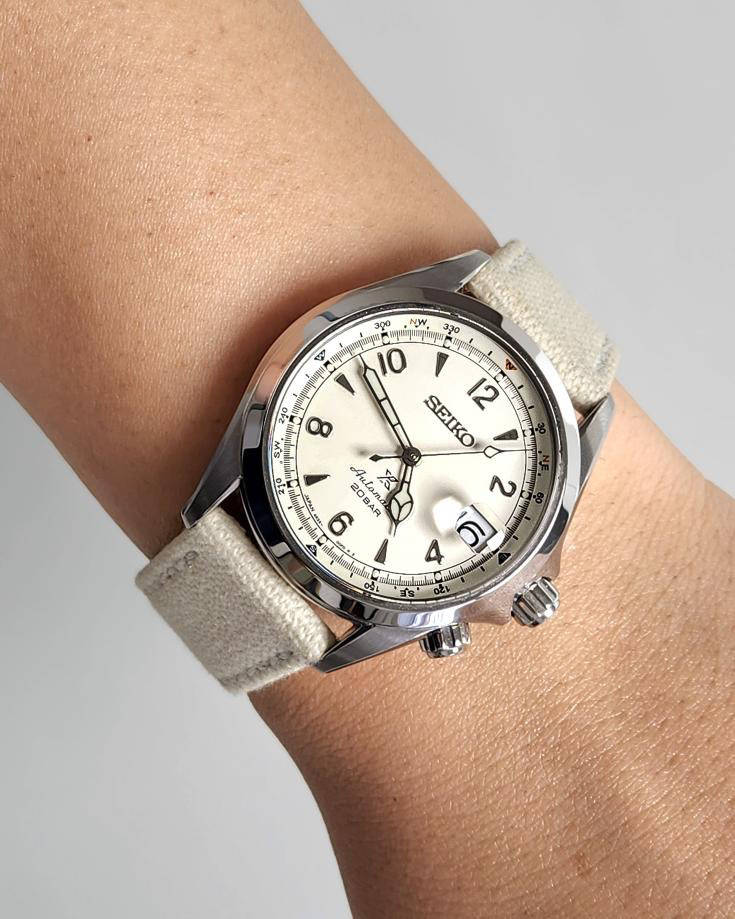 Conclusion:
Thank you for taking the time to read this article, we take you through the highlights of Garmin Fenix7 series watches, with a special focus on suitable strap choices.
Whether you love outdoor sports, pursue fitness goals, or pay attention to fashion and personality, Fenix7 series watches and Hemsut strap the best match, will meet your needs, your watch to become your fashion ID.
Let's put on the right strap and set out to explore the unknown and challenge the limits! Fenix7 series watches with you to start a wonderful and exciting journey. May they become your loyal companions and help you pursue a healthier and more active life!