Nick Jonas recently released the highly anticipated MV for his latest single , in which he finds himself on a deserted planet, struggling with loneliness and inhospitable conditions. The MV for has reached to more than a million views within 3 days on YouTube, which means a great success of Nick's new songs and a high expecting from his fans.
In the MV of , Nick Jonas plays a spaceman in the future world, his equipment to travel between planets does not need to rely on spaceship, but just by this space suit, but because of some reason, he was trapped on a planet and have to wait for being rescued.  Yeah, just Matt Damon in his movie ". Nick Jonas must survive on a strange planet by himself, while trying to troubleshoot the problem of the space suit and find a chance to return home.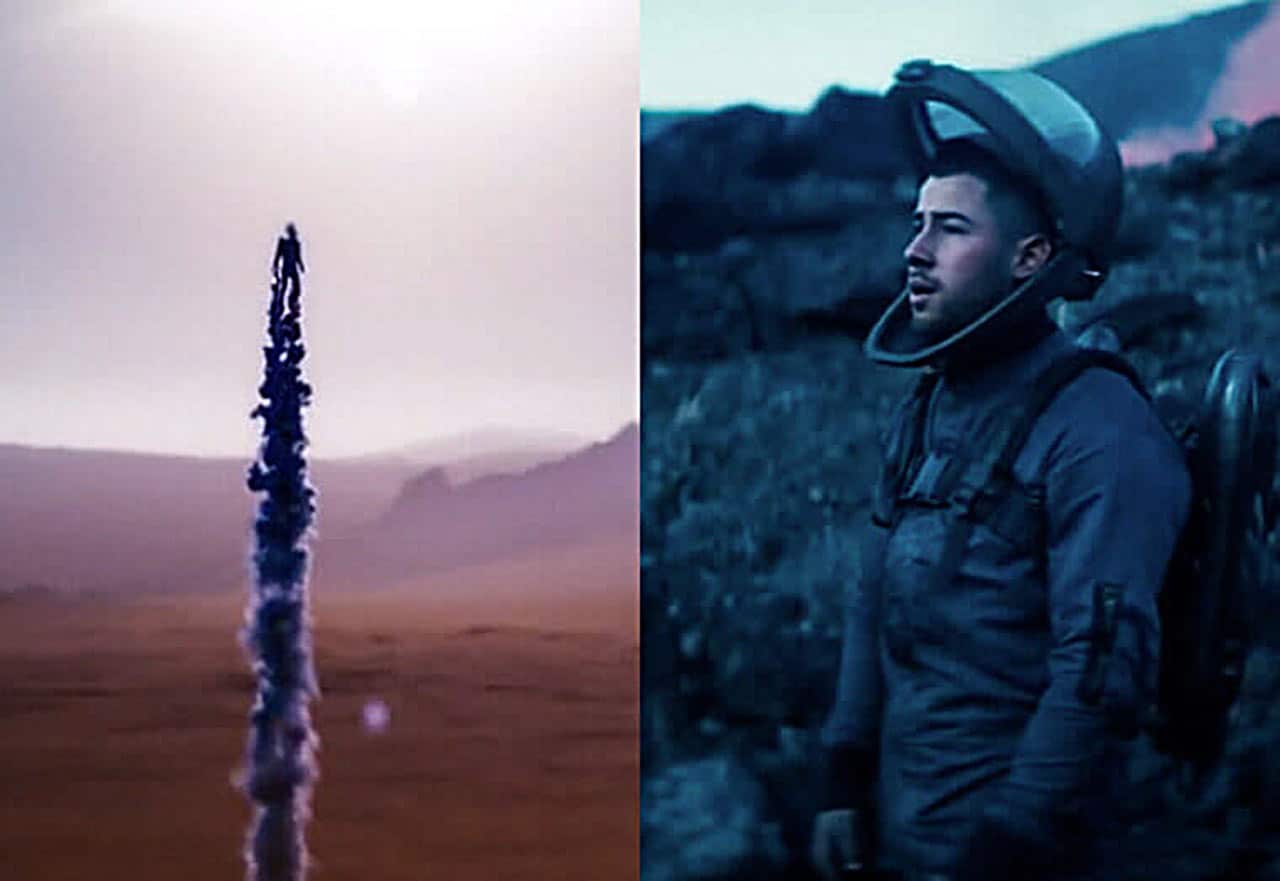 In the MV, Nick Jonas is wearing a White OMEGA Speedmaster moon watch. From some close shot of the watch in the MV, we can find out that the watch is the 2021 new collection of OMEGA moon watch. From the white dial and black bezel, we can see that is the latest, top version model— Canopus Gold™.
With its excellent performance, the OMEGA Speedmaster Chronograph timepiece was selected to be the official watch of NASA. The latest OMEGA Speedmaster 42mm Canopus™18K Chronograph (Ref. 310.60.42.50.02.001) show up by close-shots in Nick Jonas MV? "Spaceman" MV is definitely worth watching.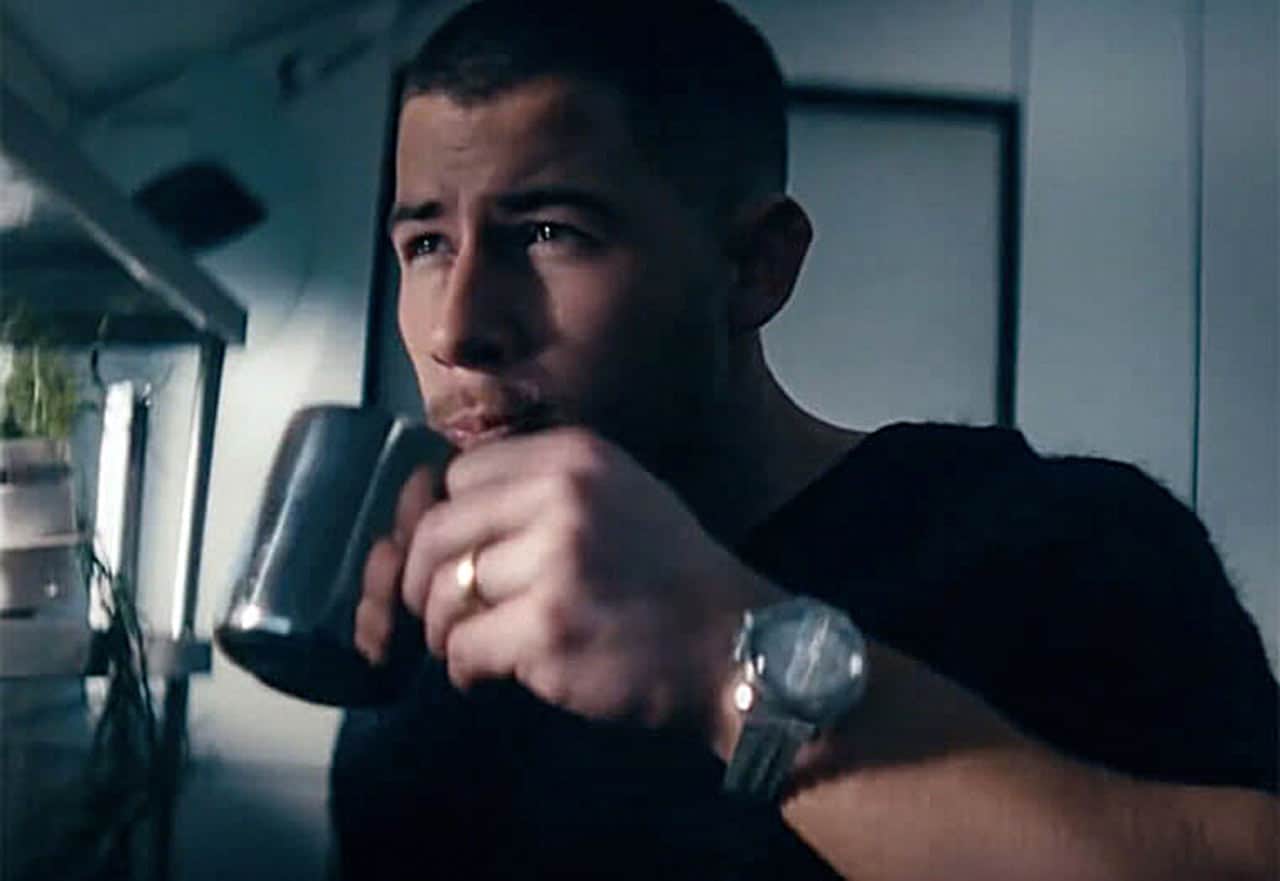 Where to watch the MV "Spaceman"? OMEGA fans check here:
The Canopus Gold™ is made of luxury Platinum gold material, with an anodized aluminum bezel, sapphire crystal glass and caseback. The whole design is perfect homage to their 4th Speedmaster ST 105.012, featured with their in-house movement Caliber.3861. Caliber.3861is an evolution of the 1861 caliber, which uses silicon and other antimagnetic materials to ensure more effective, durable and stable. Power serve is up to 50h.
The Canopus Gold™ version was replaced with a silver-white dial to various it from the stainless-steel version, so it's not hard to find out that the watch shows up in "Spaceman" MV is the Canopus Gold™.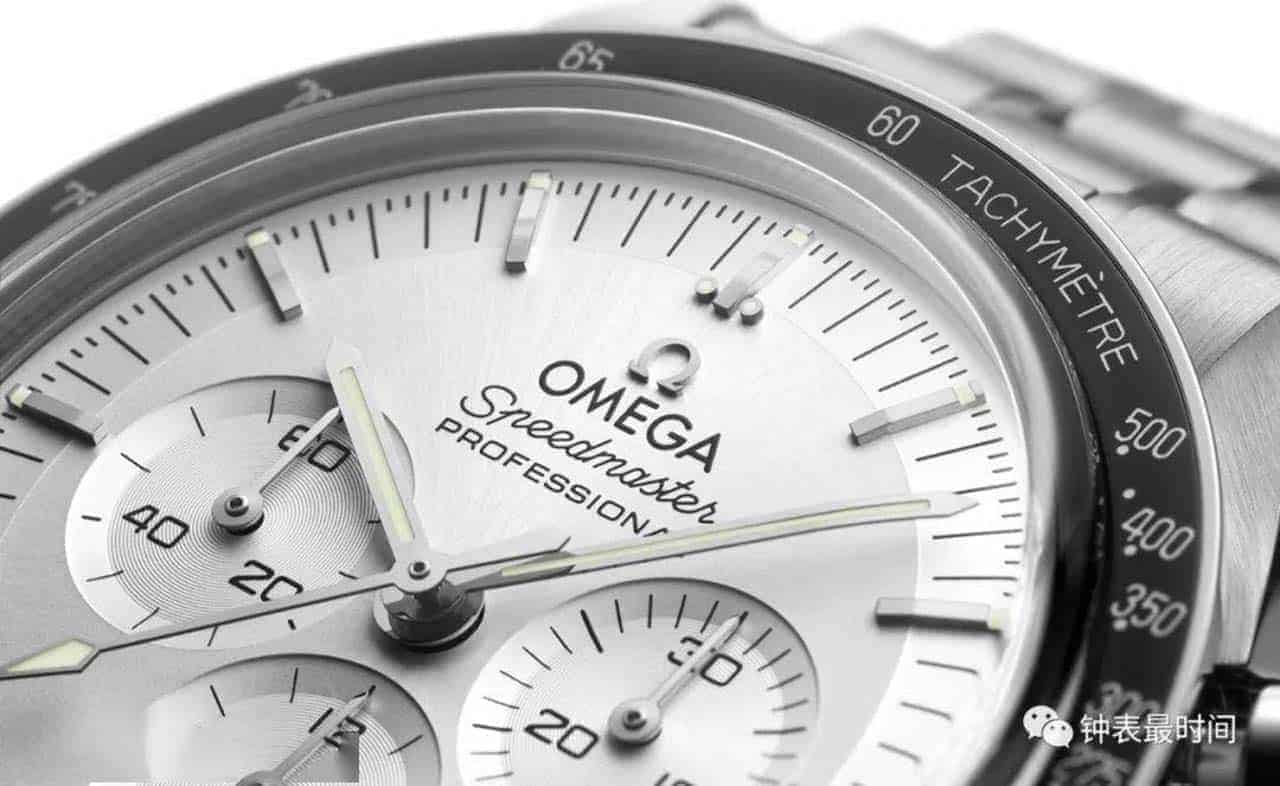 Back to the first week of 2021, OMEGA announced a new collection to Speedmaster Professional Moonwatch, which replacing tis movement with new, evolution in-house caliber 3681.  It's a good move to enable customers to choose the classic design with a new upgrade movement.
The 2021 new OMEGA Speedmaster Moonwatch comes with 8 versions, all have 42 mm cases and certified by chronometer. The different between them is in colors, watch bands and materials. Some versions are made of stainless steel, while two version of them are made of luxury material which is with OMEGA patented—Sedna® 18k rose gold and Canopus® 18K platinum gold. The whole design of 2021 new Speedmaster moonwatch remain the same as the 4th Speedmaster—ST 105.012, which had been accompanied the Apollo 11 astronauts to the moon in 1969. We can see many of the details of this new generation are also very similar to the 4th speedmaster, the asymmetrical case, "stepped" dial and the double beveled caseback can also prove that.
2021 New Speedmaster Professional Moonwatch comes in 8 versions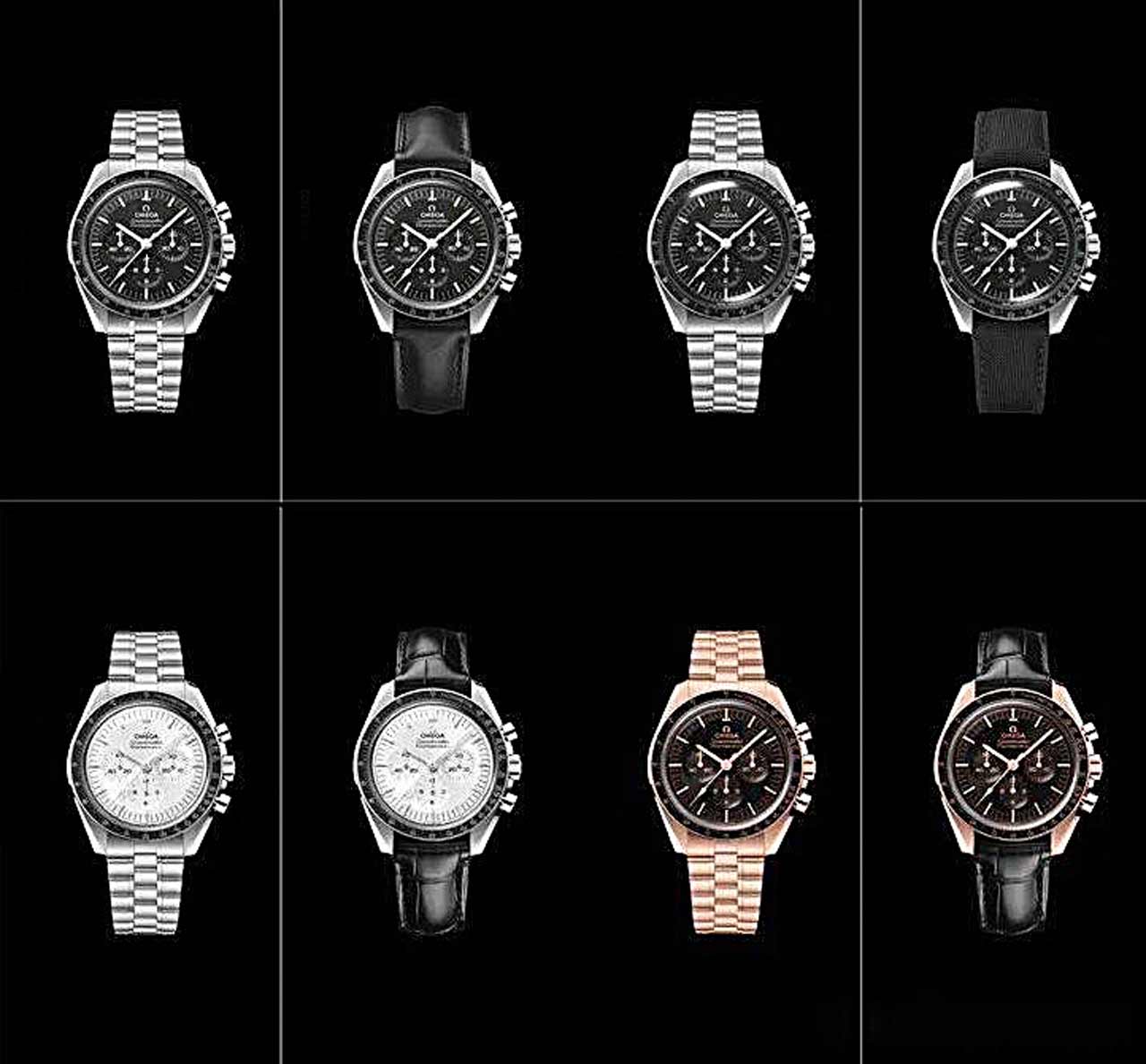 What is the OMEGA Cal.3861 movement?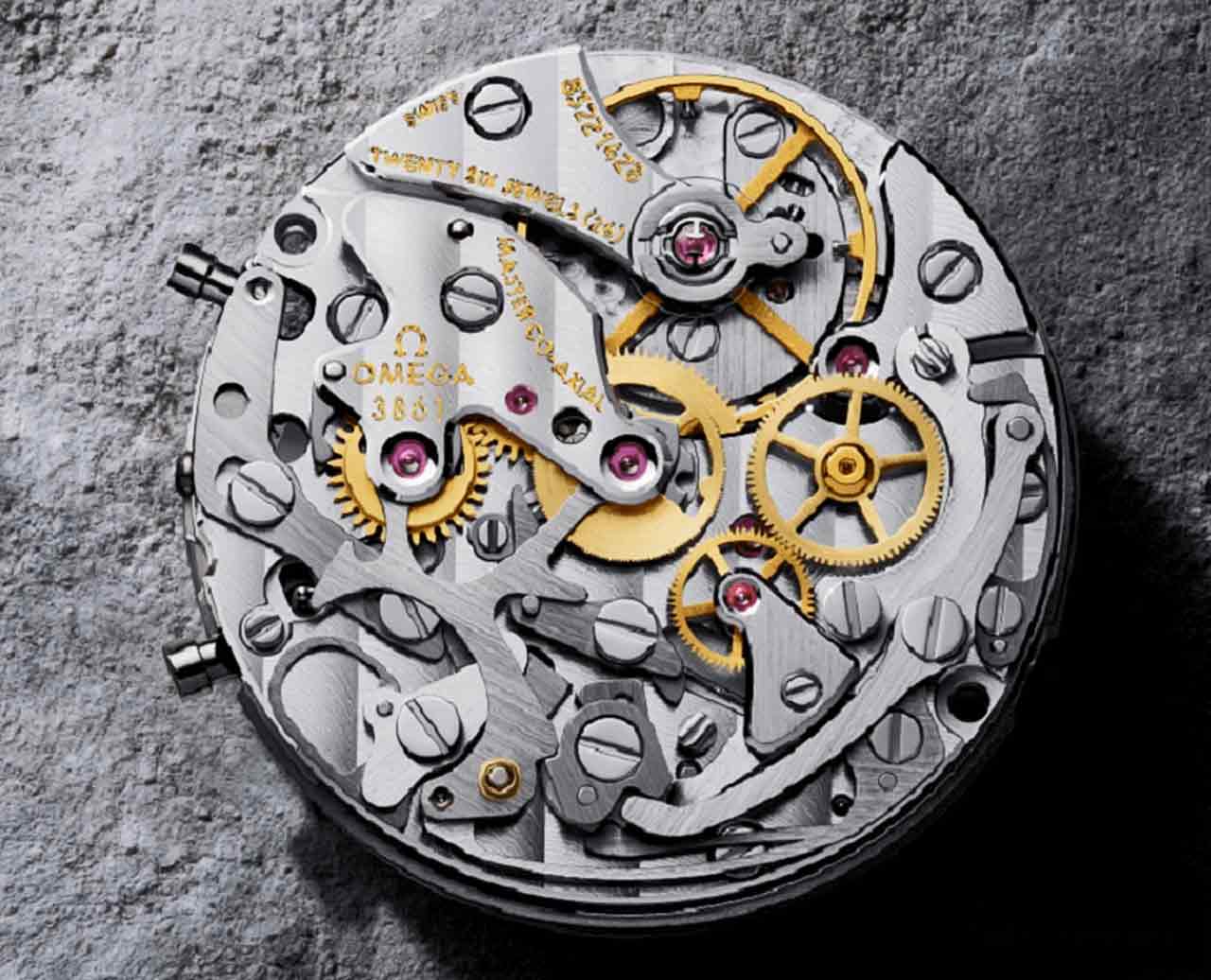 Cal.3861 is an upgrade movement based on Cal.1861. While, it's quite a great work to doing this, we know that all partials in the movement is very small, engineers have to Cal.3861 have to put all the 240 parts in the same room as Cal.1861, while Cal.1861 has only 234 parts. OMEGA engineers overcame the difficulties and succeeded in developing Cal.3861. In the other side, Cal.1861 is a great step forward in terms of antimagnetic performance because new movement is equipped with a silicon non-calculating balance wheel. With rhodium-plated, decorated with a linear Côtes de Genève in the bridges, Cal.3861 turn out to be a more precision, better anti-magnetic and power reserve performance OMEGA in-house movement, which has also been certified to the higher standards of chronometer. Daily timekeeping error is from -1/+11 seconds to 0/+5 seconds, and are able to resist strong magnetic fields of up to 15,000 gausses.
Cal.3861 also has a new stop-seconds function to stop the seconds hand when pull out the crown. In this way, we can adjust the time precisely. Tribute to the Cal.1861, Cal.3861 remains at 21,600 vibrations per hour, but add 8 jeweled bearings to ensure a better, upgraded performance.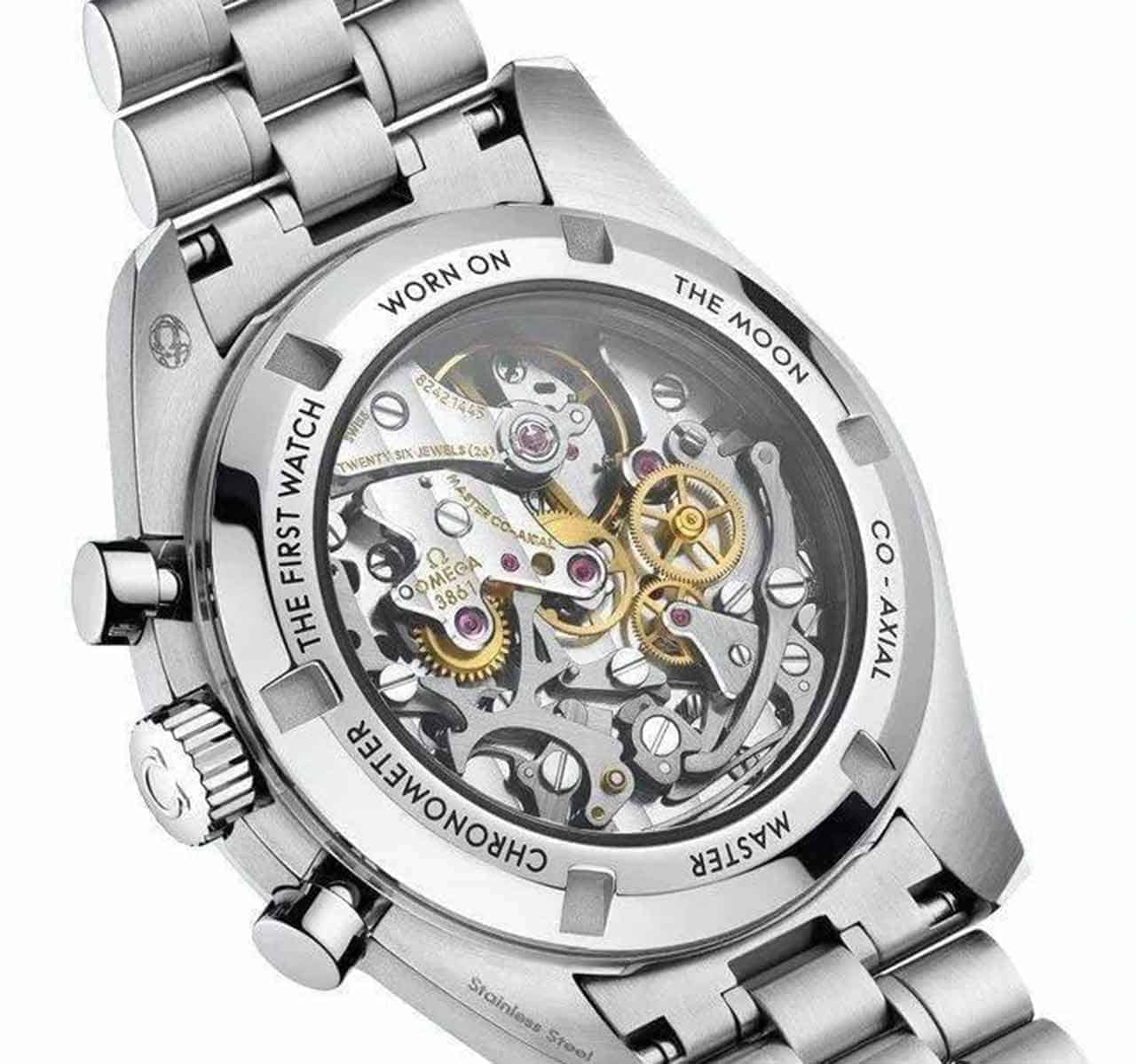 Some people may feel not very well to a manual mechanical movement, but it's kind of obsess to many watch fans. They like the history of the manual movement, and without the rotor, they have vision on how the mechanism workings beating inside, it's one of the most beautify part in the world to them.
while most of movement in the market are designed to be 28,800vpn, OMEGA has another in-house movement with vibration of 25,200vpn. The lower the frequency may result in the less accurate. In order to make the watch equipped with Cal.3861 a more accurate time, OMEGA has changed their minute scale from five equal parts to three equal parts, so that customer can read 1/6 seconds of chronograph seconds easy.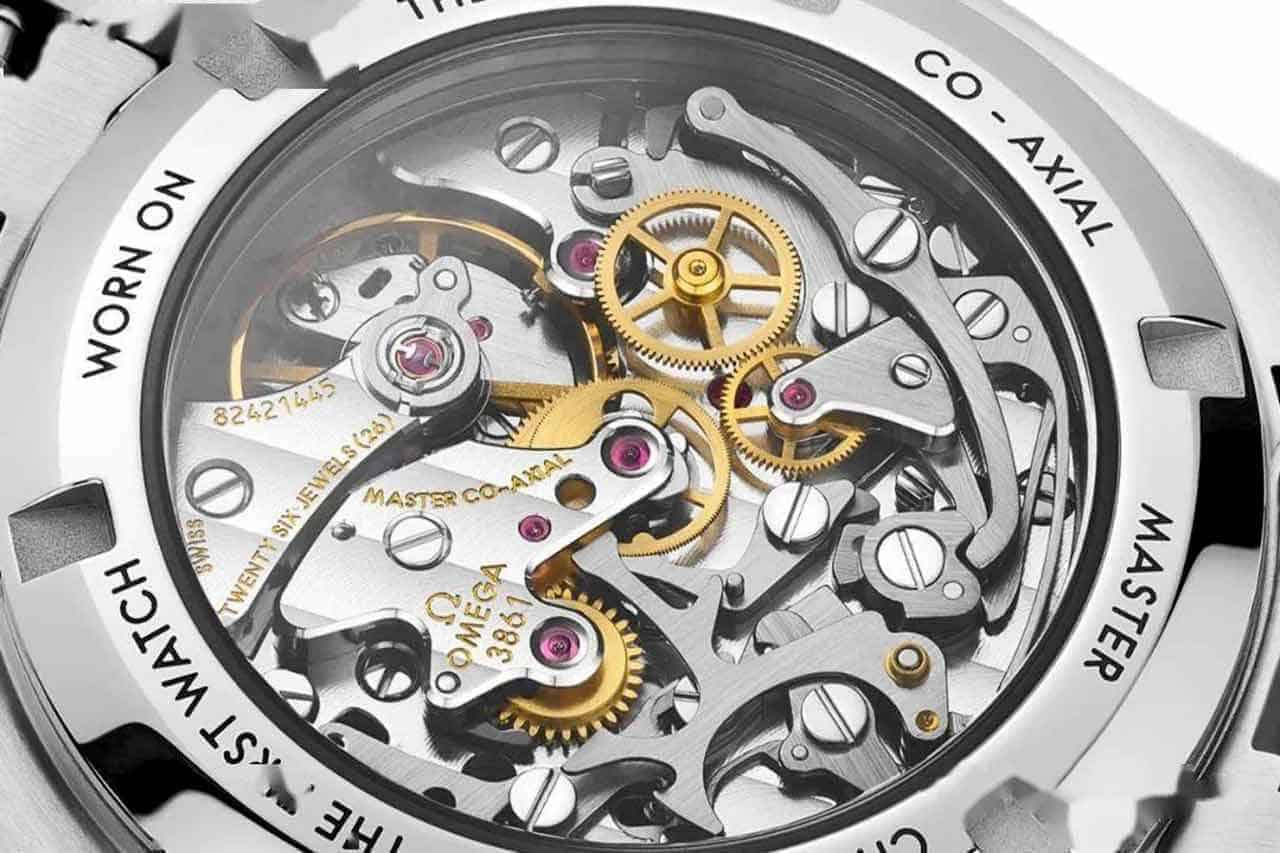 The two luxury versions, the Sedna™ rose gold model and the Canopus Gold™ platinum model, are made of a precious metal with patented technology developed by the OMEGA brand.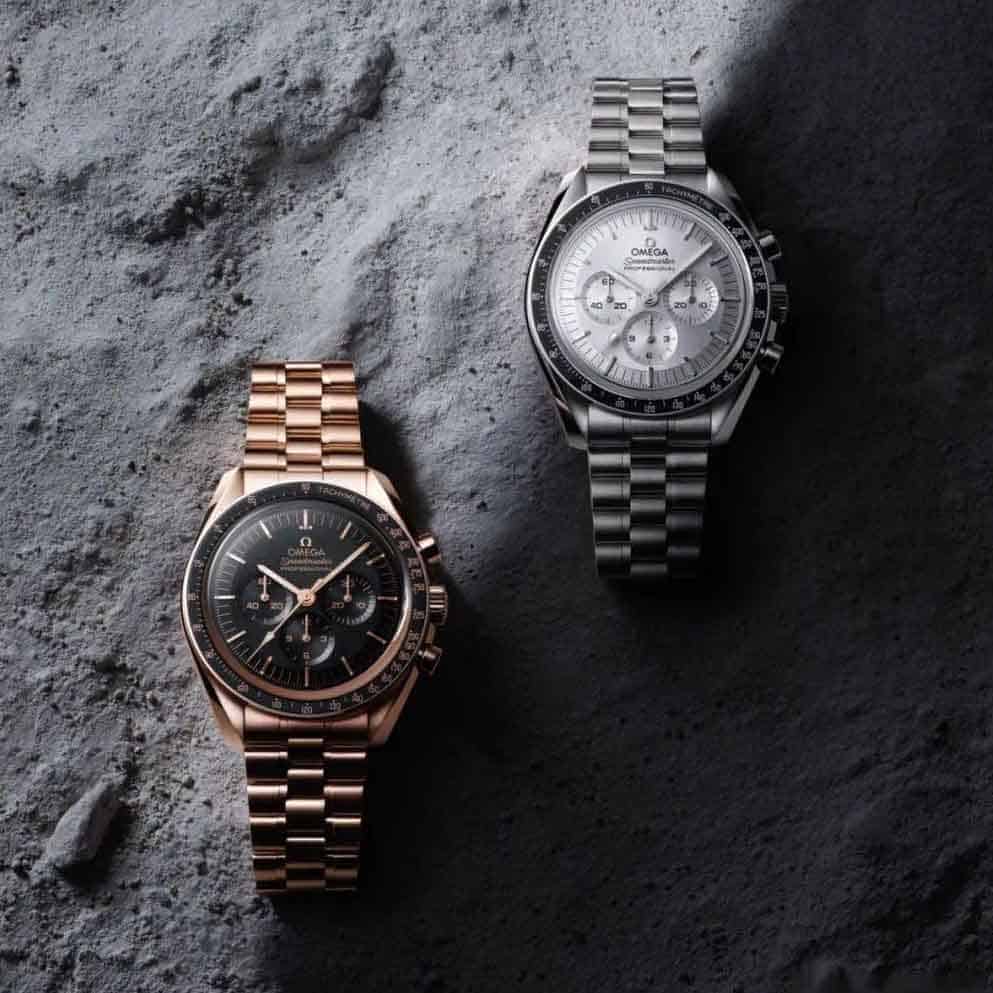 Most of the luxury metal will fade after sometime of use. Many factories invest a great fund on how to resolve this issue. Except Rolex's Eternal Rose Gold and Lange & Söhne's Honeybee Gold, only OMEGA's Sedna™ Gold can remain same color for a long time, which is more resistant to tarnishing than ordinary rose gold and has a more subdued color. Not only the case and watchbands, the indexes and hands on the dial, the new Sedna™ Gold model use same material, which ensure a perfectly sophisticated, homogeneous look.
The Canopus Gold™ platinum model is a special luxury platinum material developed by OMEGA. Regular 18k platinum is dark and gray, without the shiny texture of the metal, they also need to be rhodium-plated on the surface., so watch with regular 18k platinum cannot be polished after being worn for a long time, otherwise the coating will come off. The Canopus Gold™ developed by OMEGA is uniformly colored from the inside out, so there is no need to worry about the bottom showing after a long time.
2021 new Speedmaster equipped with 20mm watch band, available in stainless steel, calfskin leather, alligator grain and rubber. The buckle in the watchbands features a clear OMEGA logo. Fore more information, please visit OMEGA official website.
Click here and find NATO straps for OMEGA Speedmaster.
Click here and find other 20mm watch band for OMEGA Speedmaster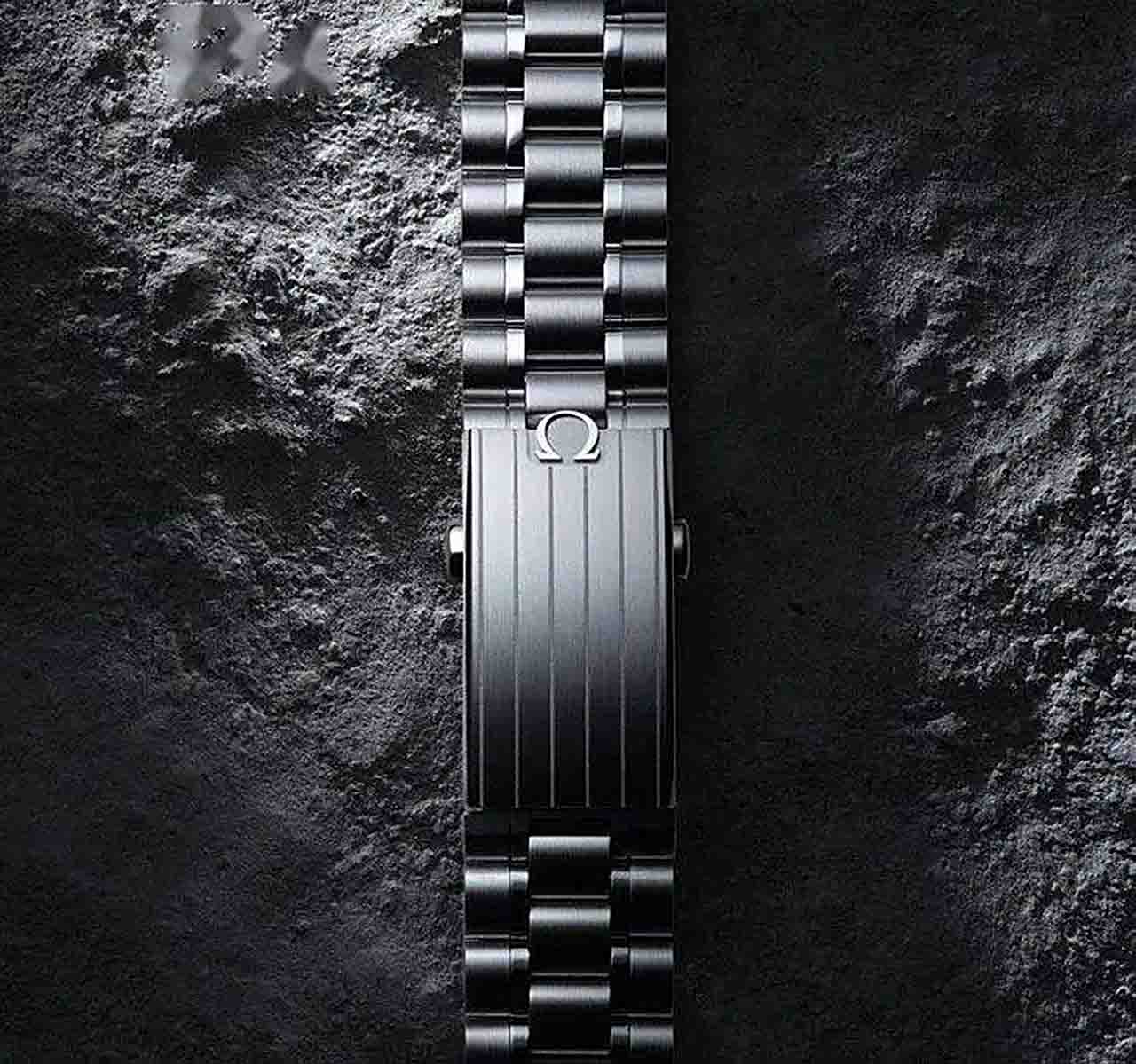 The detail information of 2021 New OMEGA SPEEDMASTER MOONWATCH.
Case size: 42 mm
Material: steel or 18k gold
Crystal: sapphire
Water resistance: 50 meters
Movement: Cal.3861
Functions: hours, minutes, seconds and chronograph
Frequency: 21,600vpn
Power reserve: 50 hours
Watch band size: 20mm