Rolex has always been a top watch brand to look out for. For tens of years, people think of Rolex as a quality, excellent, and superior watch brand to embellish your wrists. Talking about the Rolex Submariner, we can't leave the movement calibre3230, it's one of the great evolutions in watch history, it entirely developed and manufactured by Rolex, launched by the brand in 2020. At the forefront of watchmaking technology, this self-winding mechanical movement led to the filing of several patents, and offers fundamental gains in terms of precision, power reserve, resistance to shocks and magnetic fields, convenience and reliability. Calibre 3230 incorporates the Chronergy escapement patented by Rolex, which combines high energy efficiency with great dependability.
It's a watch specially designed for sports enthusiasts. Oyster Perpetual Submariner carry a black cerachrom bezel and a black dial with large luminescent hour markers as well as a solid-link oyster bracelet, provides a grand look. The bezel of the watch is mesmerizing and the platinum-coated ceramic looks absolutely amazing right from a distance! Plus, the sporty feel of the watch does justice to the time, energy, and money invested in it.
The classic timepiece carries many advantages over other waterproof watches available in the market!
The automatic movement of the watch allows you to have a power reserve of about two days as you wound it for once. So, it's absolutely perfect for you if you have less time to waste. You can rely on its movement on any day because it is reliable and efficient, to say the least.
It's beautifully made to resist water, thanks to the watertight case. So, it provides water-resistance of up to 300 meters. The lumed hands also make readability very easy even in pitch dark environments.
Rolex Submariner Automatic starts from the price of $8,000 to $15,000.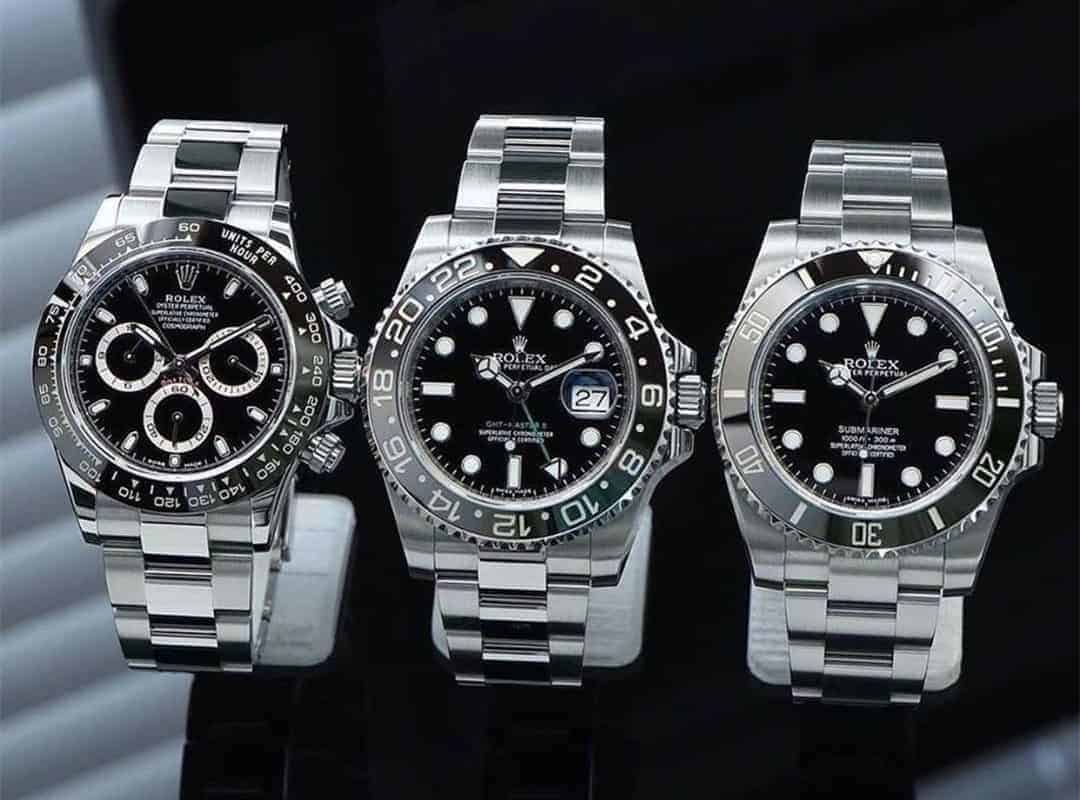 Original Watch Band Overview
Rolex original is equiped with a 20mm watch band.  The solid-link steel  watch band comes with Automatic is sturdy and appealing. Its glide lock adjustment system is extremely helpful and versatile in order to resize it according to the size of your wrists. It's build to enhance your diving suit as well as your tuxedo.
However, for some elegance and change, you would love to switch its bands and looking for a new look of your timepieces. In order to get the best watch bands for your Rolex Submariner Automatic, here we have a few option that outfit Rolex style a lot:
Natural | Horween Leather Watch Bands Quick Release | Hemsut
Horween leather watch bands by Hemsut are top-notch, high-quality, and super-soothing to wear on your wrists. The on-hand feel is soft and easygoing. The build of the band is from US-made HORWEEN Chromexcel Leather extracted from the finest tanneries. Hence, precision and quality go hand in hand.
It is an excellent choice as a band for your precious Rolex Submariner Automatic. It will increase the appeal and look of the watch.
The band looks even better on such watches that are built to showcase class. The 316L stainless steel buckle of the band comes with a quick-release mechanism. Therefore, wearing it is a breezy experience!
Black Nylon NATO Watch strap Silver Buckle | Hemsut
Here comes the band that goes with every other watch currently available. Yes, the Jetsons NATO straps from Hemsut are built to perfection in order to suit casual watches such as Rolex Submariner Automatic. For your Rolex Submariner Automatic, this watch band striking appearance and superlative material.
Each and every stitch of this band is made with pure love and affection. The seatbelt weaved nylon is premium and would be really easy on your writs. It will be undemanding while being extra soft!
The band is waterproof, washable, and excellent for all purposes. So, you can wear it to dive deep down the sea as well as flaunt it at a party. It will definitely look epic, no matter whatever the occasion is. (To know more about NATO straps from here: https://www.hemsutwatchbands.com/the-best-nato-watch-strap-recommend-and-how-to-wear-it/ )
A variety of colors are available on Hemsut's website. So, you can definitely check them out.
Black | Alligator Embossed Leather Watch Bands Quick Release | Hemsut
Another recommendation that we have in the store for you is the Alligator Embossed Grain leather watch band. It will definitely look amazing with your Rolex Submariner Automatic because of the kind of grace and aura that it offers. Therefore, this combination can't be missed at any cost.
It is one of the most versatile watch band that goes extremely well with every kind of watch. Plus, it enhances the look and feels of your timepiece. It is specially designed for Rolex watches. Hence, it looks great when attached to the Rolex Submariner Automatic.
It is created with different colored stitches which makes it unique and stands on its own! It's basically a 'red rose' for watches.
The most prominent feature of this watch band is its 2mm taper from watch head to all the way to buckle. Plus, it is padded to increase the appeal of the band. With the unique and hand-crafted leather, embossed with Alligator texture, this band is a sure shot winner!
Green | Canvas Watch Bands Quick Release | Hemsut
The premium denim watch straps are the best in the business right now! Their classy look goes really well with Rolex Submariner Automatic!
It is comfortable, stylish, and looks really well when paired with a pair of jeans or your suit. No matter whatever you wear, this band is only going to upsurge the class of that clothing! Also, it could be the best choice for a replacement band of the most famous Rolex Submariner Automatic.
It's a hassle-free, casual, and sturdy watch band that won't trouble you at all. There's little to no maintenance needed to conduct it in the best possible way!
Plus, the band is rough and tough, built to endure harsh environments. Hence, you dive into the sea hike above the mountain, no worries!
Camouflage | Silicone & Leather Hybrid Watch Straps | Hemsut
Silicone watch bands have always been the most favorite of sports enthusiasts. Sporty people always prefer to wear a silicone watch band with every of their watch. The same is the case with Rolex Submariner Automatic.
The Silicone watch band by Hemsut would be an excellent choice to redefine your wrist game. Hemsut has a range of silicone watch bands out of which you can pick the one that's most suited for your luxurious Rolex Submariner Automatic.
The rugged and robust look of the Silicone watch bands matches beautifully with Rolex Submariner Automatic. The stitches are perfect and the material is long-lasting and enduring. So, your money would be invested in a good place!
The Bottom Line
So, here are a few recommendations for watch bands for your marvelous Rolex Submariner Automatic. To buy your favorite watch band, check out Hemsut's website where you will get quality and superiority at a minimal price. Shop NOW!