It is not a surprise that the Seiko Alpinist has touched the heart of many Seiko fans – and non-fans – alike. This splendid piece of timekeeping machinery has the particular combination of coolness, vintage mood, and excellent specs that make it an instant classic.  And Seiko has not only doubled up on the bet: it has gone all-in.
The new Alpinist lineup that Seiko has released in 2021 is nothing but impressive. Seiko has released a Limited Edition (in 2021 units) of the original Alpinist (the ref. 14041 released in 1959), the reference SJE085, reproduced in meticulous detail, but obviously, fitted and refinished with contemporary technology.
While it is nothing short of beautiful, its price is a bit out of the typical budget of many, bordering the US$ 3,000 mark.
A clear strategy of Seiko
So, we want to focus on the other Alpinist models by Seiko, and precisely the Seiko Prospex 1959 Alpinist Modern Re-interpretation SPB241, SPB243, and SPB245, which come at a much more affordable sub-1,000 US$ threshold – indicatively around US$ 750, depending on the choice of strap - and are just as fascinating.
If we examine what Seiko has done in the past, it becomes evident that it is starting to up the antes on the game. It is leveraging its rich history of releases to produce limited-edition models sold at a steep price, and at the same time, complementing them with references that everyone could afford and look just as enticing.
And it has done it this time again, with the ultimate target of raising the list prices – but we already understood that, didn't we?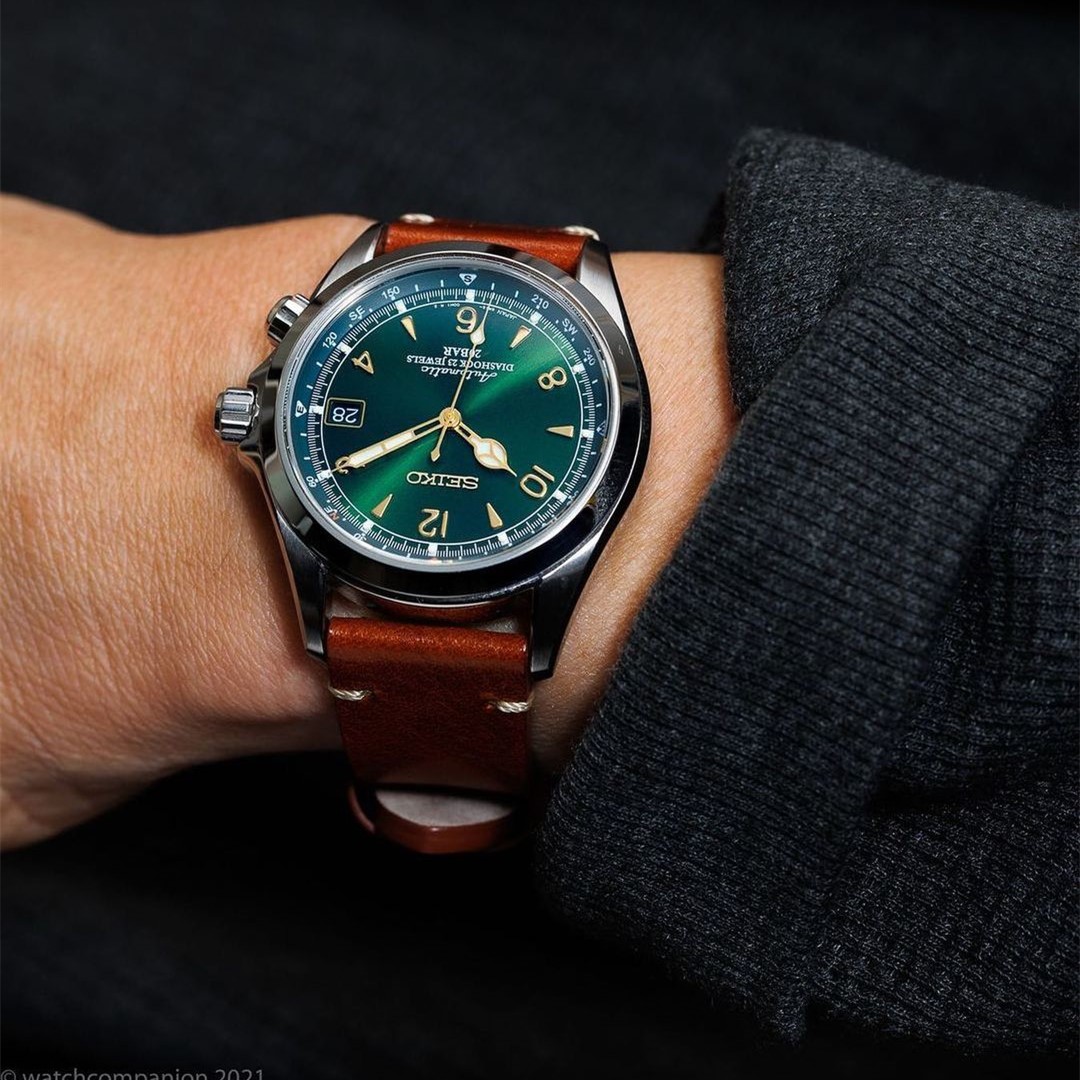 The Seiko Alpinist references
To return to the SPB series and the original Alpinist re-edition, they represent Seiko's rendition of a kind of watch that was very popular around the early 1960s: the Explorer. Back in the days, companies raced to manufacture watches for professional climbers: rugged tool watches made to go up and not down in the sea, of which the Rolex Explorer I is possibly the best-known.
The SPBs belong to the Prospex series – the "professional" watches by Seiko – which fill the same niche as their Rolex counterparts. That is, high-end tool watches, which are not particularly dressy, but they are tough and well-made and achieve a purpose.
And the SPBs are built for that. All offer a heavy-duty construction of stainless steel throughout, complemented with a matching metal bracelet – but if you want something dressier, there is the option of switching to a leather wristband – and offer you a 200-meter water resistance that is going to make them perfect for the occasional splash in the mountain lake – or sea, to that extent.
A sapphire crystal with an anti-reflective coating completes the package. It reveals a dial that seems to come directly from the Sixties, with its beautiful applied metal markers dotted with a generous amount of Lumibrite, a minute track tastefully embedded at the inner limits of the hour markers, and broad arrow hands that indicate the time. A date window is present at three o'clock.
There are three versions of the dial, making the three different references of this timepiece: dark green, deep brown, and eggshell – and they all look splendid. A nice finishing touch comes from the use of subdued retro-styled text to indicate the references on the dial. Also, the Prospex logo looks – if not beautiful – tastefully placed and sized.
This new Alpinist line mounts the trusted 6R35, an automatic movement that is part of what Seiko refers to as the high-performance 6R series caliber, and equips all the high-end professional Seiko models since 2019. It beats at a leisurely 21,800 bph and has an impressive power reserve of 70 hours, 20 more than the previous 6R15 model.
The Limited Edition SJE085 instead mounts a slimmer 6L35 derived from the Seiko Presage line, so the whole watch (which is offered with a cool leather bund strap) looks surprisingly thin, especially compared with these bulkier, heftier references.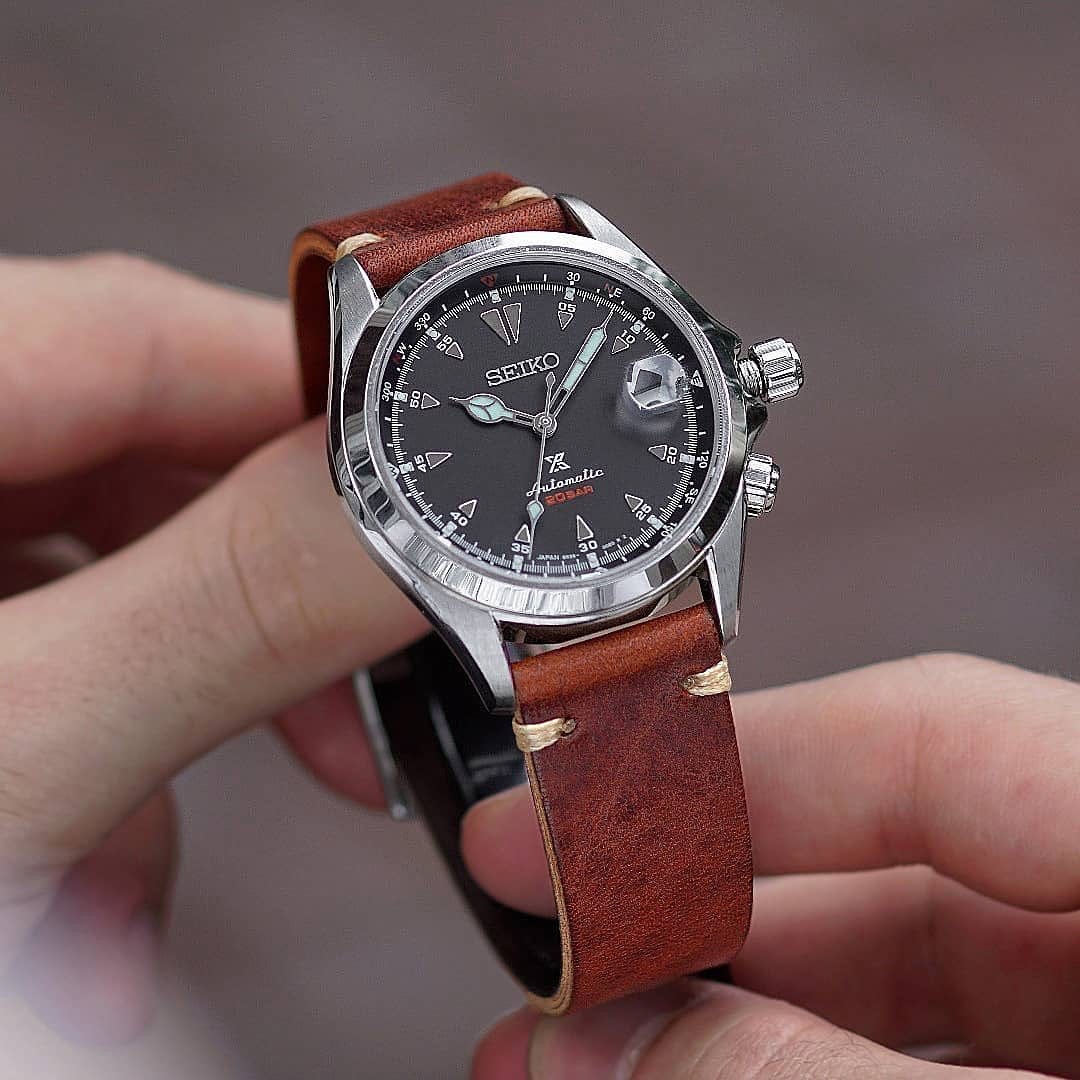 Recommend watch band for Seiko
1. Nylon NATO Straps for Seiko
James Bond NATO straps are well-known straps because of the movie '007' series. The actor Daniel Craig always wears a SEAMASTER with a black grey NATO strap. (Click here to read more about NATO strap)  These nylon NATO watch bands are crafted by premium nylon material, which are the same material as OMEGA NATOs, it's a big surprise to try it with a Seiko Alpinist. The length of this strap is 30mm which can fit 99% customer wrist size.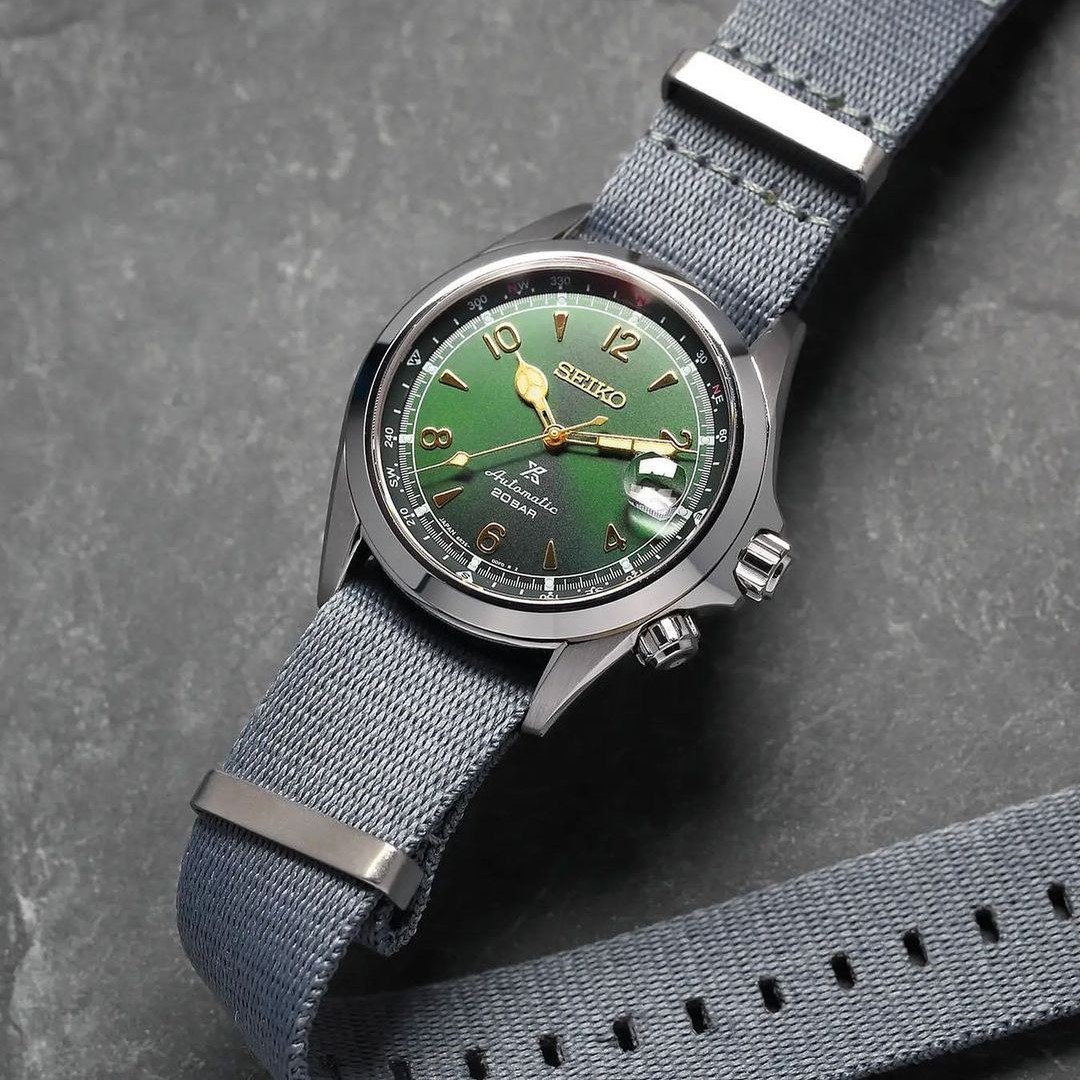 Premium Nylon NATO Watch Bands
2, Minerva Box Calfskin Leather Watch Straps
These Calfskin watch straps are made of tan pebble grain Minerva Box calfskin (Italy), there are 6 colors, and 18mm, 20mm, and 22mm width sizes available. Taper 4mm in body shape, make them some of our most dress, versatile straps. Their elegant look coupled with lightly marbled texture gives the straps a fantastic look on Seiko Alpinist, as well as on their wrist who wear them.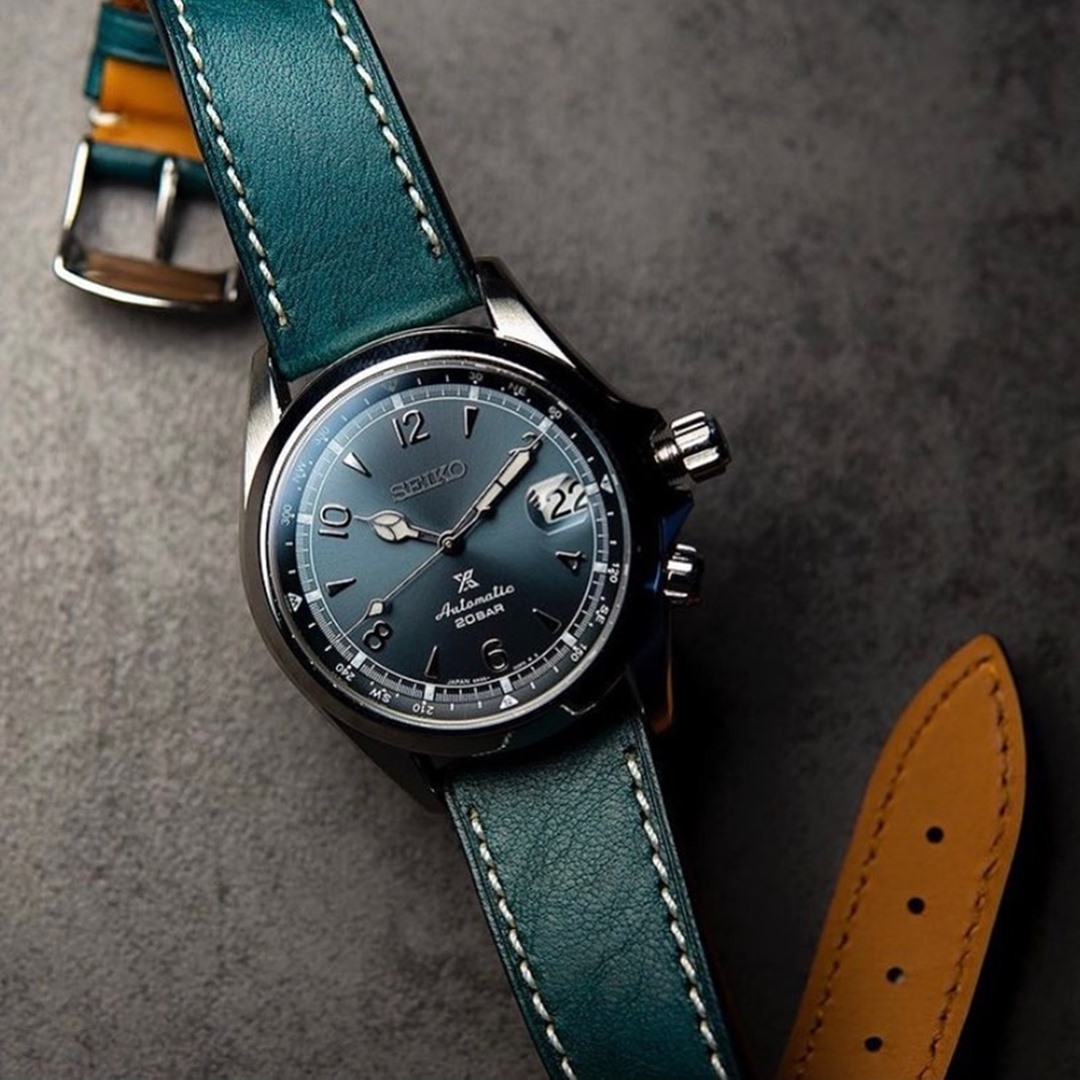 Calfskin Watch Straps | Hemsut
3, Horween Leather Watch Bands
These watch bands are made of US-made HORWEEN Chromexcel Leather. High-quality vegetable-tanned waxy pull-up leather Material. With a unique natural leather fragrance, these wraps would look better than some time was worn. The first time I used this watch, the grain fragrance you could never smell it in other leather. Check the special look on Seiko Alpinist
Together with 316L stainless steel matte buckles with quick release spring bar equipment, allow you to exchange the band very easy and no other tools are needed.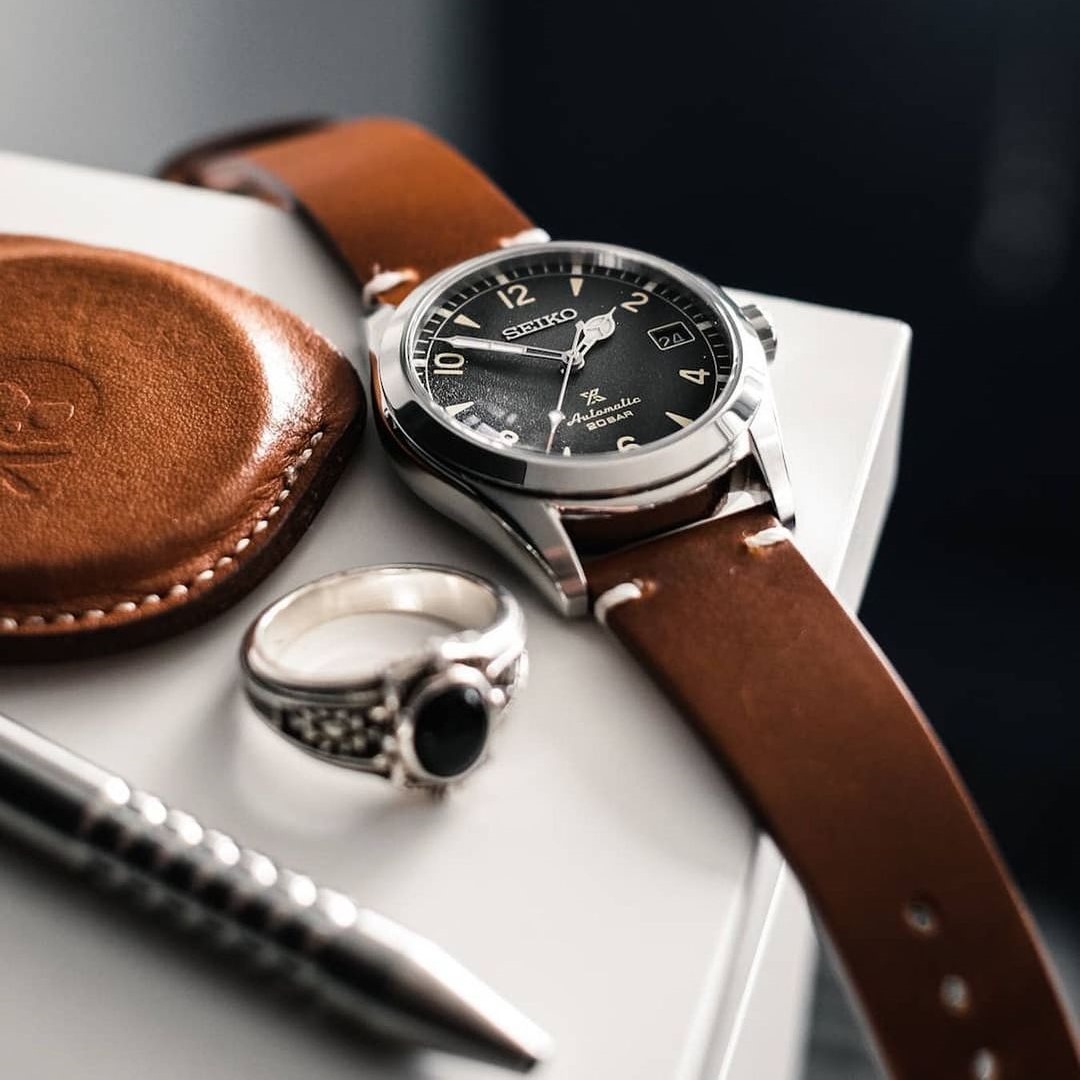 Horween Leather Watch Bands Quick Release | Hemsut
4. Canvas Watch Straps Quick Release
Our Canvas Quick Release watch bands are meticulously crafted from highly durable canvas and embroidered for style and strength. They come in 5 colors: black, green, grey, red and blue. The Grey canvas watchband adds character to any timepiece and can be swapped in and out without any tools! Pair this grey watch strap with Seiko Alpinist, it's a perfect option for outdoor activities.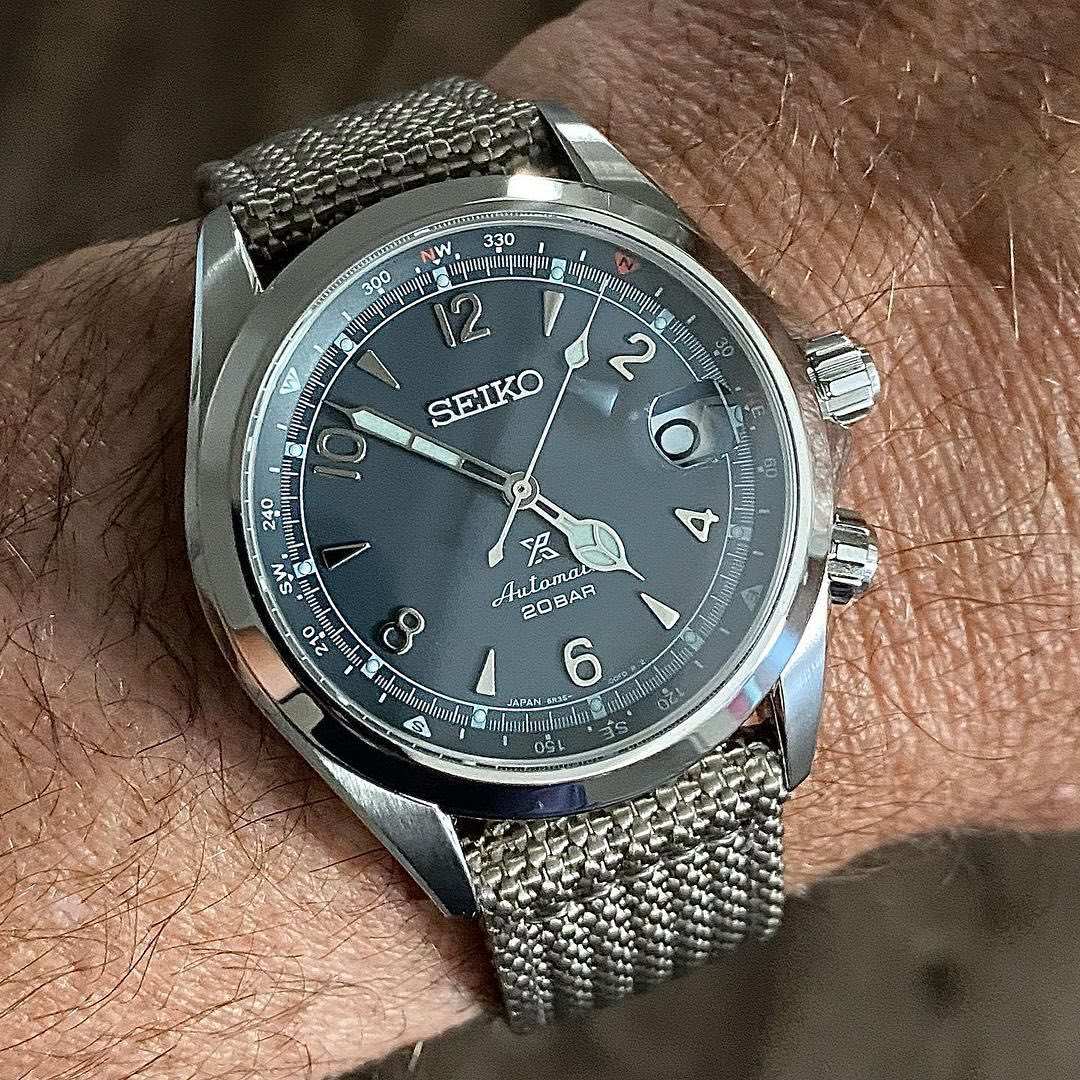 Grey | Canvas Watch Straps Quick Release
5, Cordura Fabric Nylon Watch Bands
These nylon watch bands are made of soft and flexible woven fabric, CORDURA®, which is a high-quality material from America. Pair with different color of Italian genuine leather in the bottom, this watch strap not only feature sporty and durable quality from the fabric strap but also a soft, classical character from leather straps. Taper 4mm in the strap body which means 22mm is 18mm in the clasp, 20mm is 16mm in the clasp, 18mm is 14mm in the clasp. This strap would be perfect for replacing Seiko watch bands, check the picture of the black color pair with Seiko Alpinist.
The quick-release equipment enables you to exchange the watch band in seconds without any tools.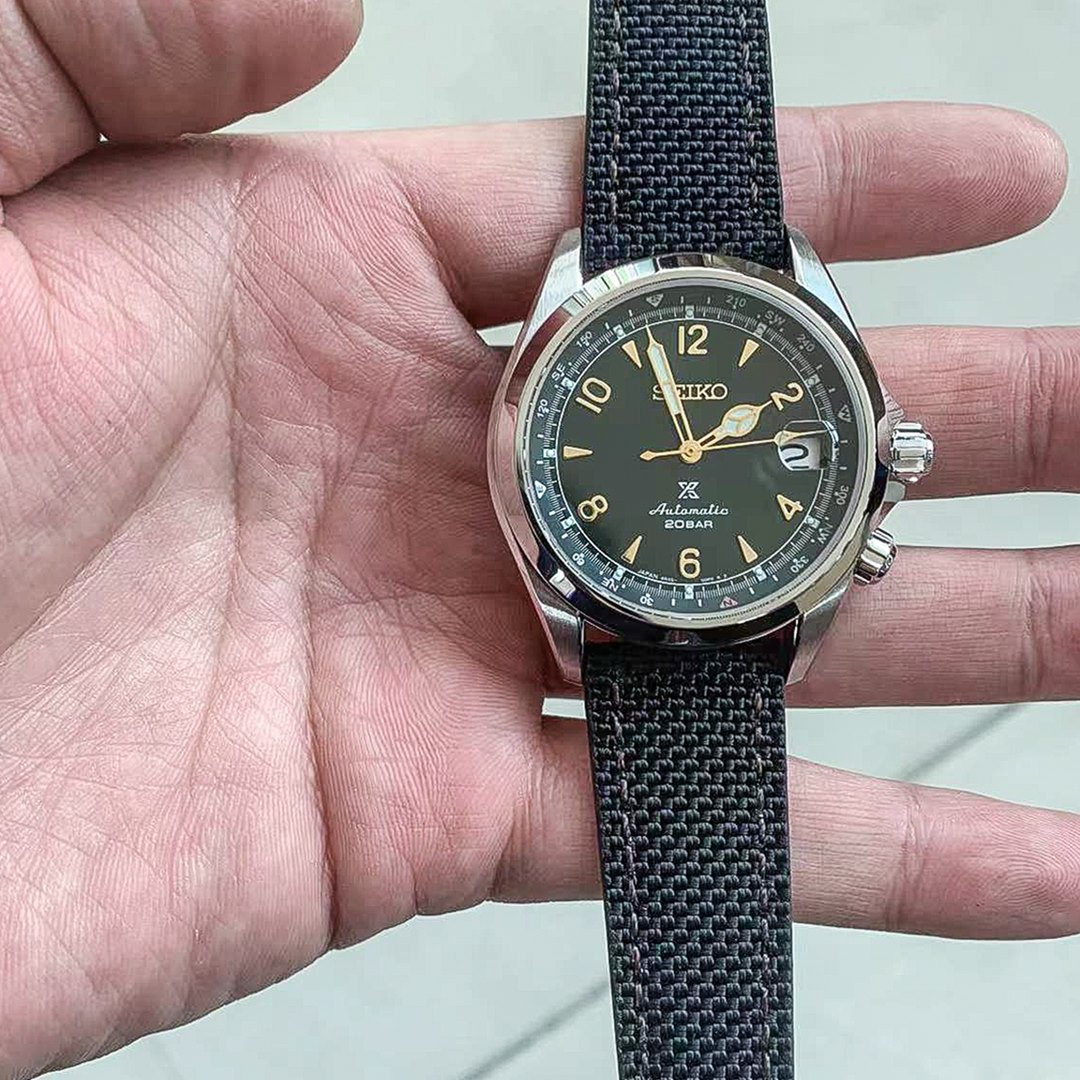 Cordura Fabric Nylon Watch Bands | Hemsut
Yes, Seiko watch bands can be changed according to lug sizes. For example, Seiko Alpinist is compatible with 20mm watch bands because its lug size is 20mm. Our quick-release watch bands collections allow you to exchange the straps in seconds without any tools.
Some content says that Seiko watch bands size can be identified from the watch back case, actually, it's not true. The number on Seiko's back cover only refers to the watch serial number and movement caliber number, there isn't any information about the strap size. The simple way to identify the strap size is to use a ruler to measure the lugs wide directly.
The length of the Seiko watch band has no different from others, you have to decide it according to your wrist size. The regular size of the two-pieces strap is 75*115mm, 80+120mm and 80+125mm, they can fit 90% customer's wrist, but if you have an extra-long wrist size, you need to contact the seller if they can offer an extra-long watch band.  For the width size of the Seiko watch band, most Seiko watches are compatible with 20mm watch band or 22mm watch band, like Seiko Alpinist, are with 20mm watch band; SKX175, SKX173, SHC029 are with 22mm watch band, but you still need to confirm the exact width before you determine which size.