A New Watch Strap Gets Hamilton Khaki Field Mechanical Bronze Tune-up
In the past few months, we have observed an interesting phenomenon in watches: stainless steel, with its algid and sterile beauty, is losing ground. From the top Maisons of the horology world to the mid- and entry-level players, we are assisting to the introduction of other materials for cases, bezels, and backs.
And one of the most used metals is - without a doubt - bronze. But why?
The main reason seems to be that bronze, contrary to stainless steel, has an organic feature and feel. In addition, it changes in time, developing a unique patina through its oxidization. So, while all stainless steel watches are created equal, bronze ones are not. Instead, each one is uniquely rendered and personalized by the time spent at its wearer's wrist. Which, in a way, is a comforting thought. So, this explains why bronze has been the choice of this new edition of the iconic Khaki Field by Hamilton.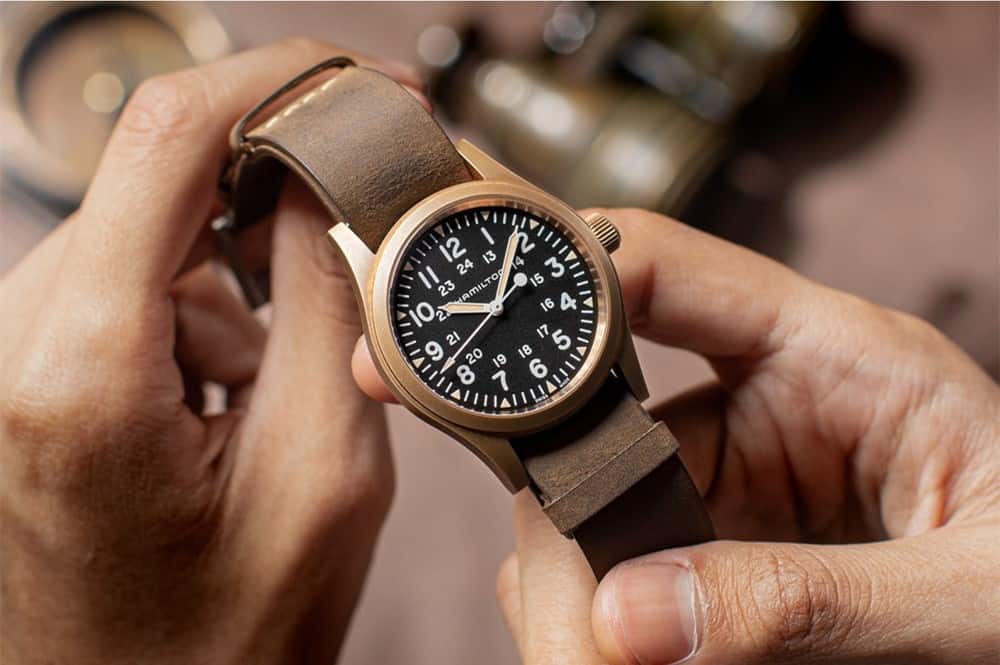 The Hamilton Khaki Field Mechanical Bronze
The match between these two iconic trends looks like it was made in heaven. The organic luster of the metal marries perfectly the iconic design of the Hamilton Khaki Field Mechanical Bronze and glorifies its wearable dimensions of 38 mm - similar to its previous incarnations.
Indeed, a simple, evident military style looks perfect with this subtly rusty color and underlines, even more, its legacy as the timepiece that British and American military forces wore during the Fifties and the Sixties. , Its simple matte black dial is the perfect background over which you find an evident set of markers and chunky Arabic numerals in white, dotted with several layers of pale yellow SuperLuminova to ensure its best legibility even in poor lighting conditions, and conserves that faded look that gives it its distinctive vintage look.
While this is not a diver's watch, its 50-meter water resistance puts the Hamilton Khaki Field Mechanical Bronze in safety from the occasional exposure to water, plus some limited dip. We would have preferred something more substantial than this, but we'll let this pass.
A vast choice of straps renders this watch very wearable
In line with its military character, the Hamilton Khaki Field Mechanical Bronze comes with a beautiful "worn" look NATO leather strap that complements well its design and overall looks. Still, it can quickly change its clothes to become whatever you want it to suit your mood. Its 20 mm lug width is one of the most used in the industry, and it accepts NATO and regular straps.
Installing an aftermarket strap with a vintage vibe such as one of this collection from Hemsut (click here) helps you to characterize the watch and preserve the original one untouched, which is a boon if you look at flipping the watch any time after your purchase.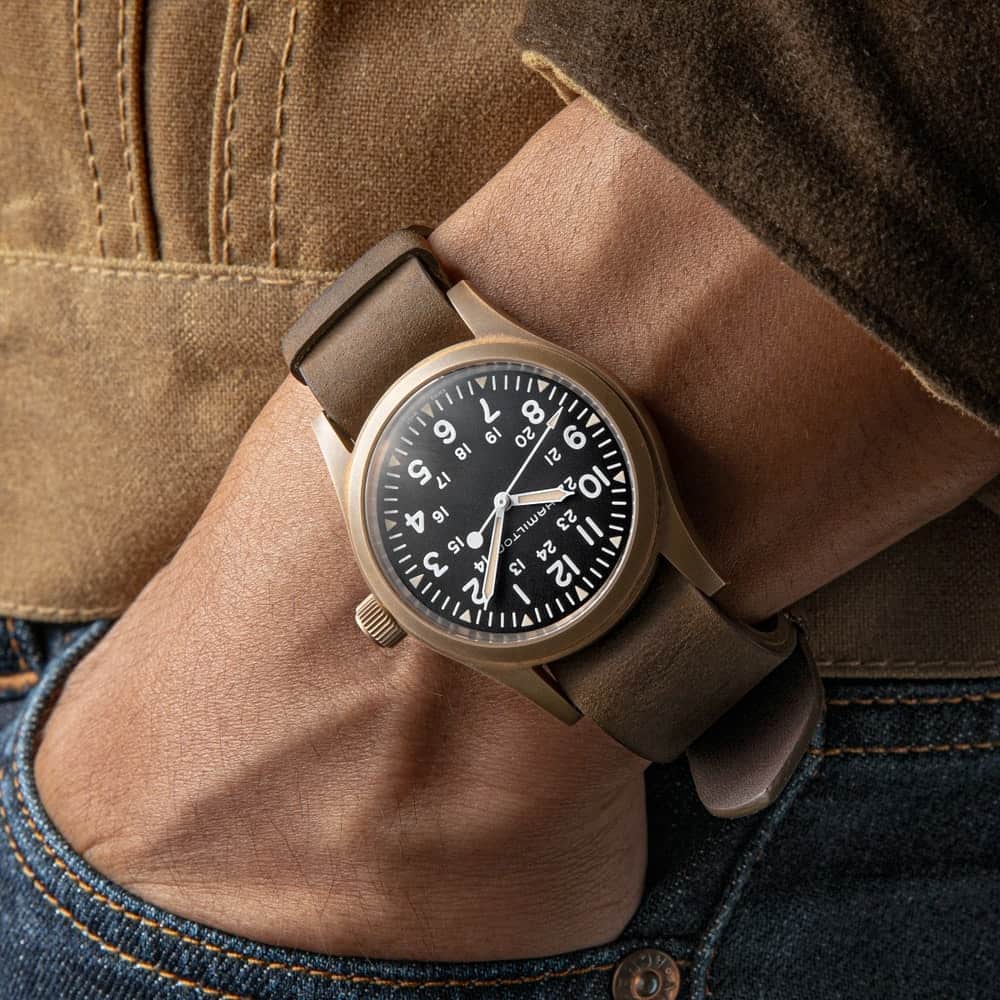 Two pieces NATO straps for Hamilton | Hemsut
An old movement with new features
The Hamilton Khaki Field Mechanical Bronze offers another excellent feature under its solid titanium back: its H50 watch movement, which provides an excellent 80-hours power reserve - that's three days between one recharge and the next.
The H50 caliber is based on the old ETA series 2800, a design initially developed in the 1970s - a no-nonsense, excellent workhorse caliber that has been suitably improved in time with the adoption of new technical solutions.
First of all, the balance is laser-regulated. It does not mount a lever regulator anymore - which is not bad, as the precision of its movement, while not COSC-material, is pretty sharp nonetheless, due to its optimized construction and the use of composite materials for the pallet fork. However, this would become somewhat more of an issue if you decide to service it outside of the Hamilton (that is, Swatch group) network.
A few might balk at the reduction of beats in this movement, giving its second hand a little more skittish character - but no one at all complained about the excellent 80-hours power reserve. Considering that few mechanicals - even much more expensive than the Hamilton Khaki Field Mechanical Bronze - reach this kind of performance, this is an outstanding achievement overall.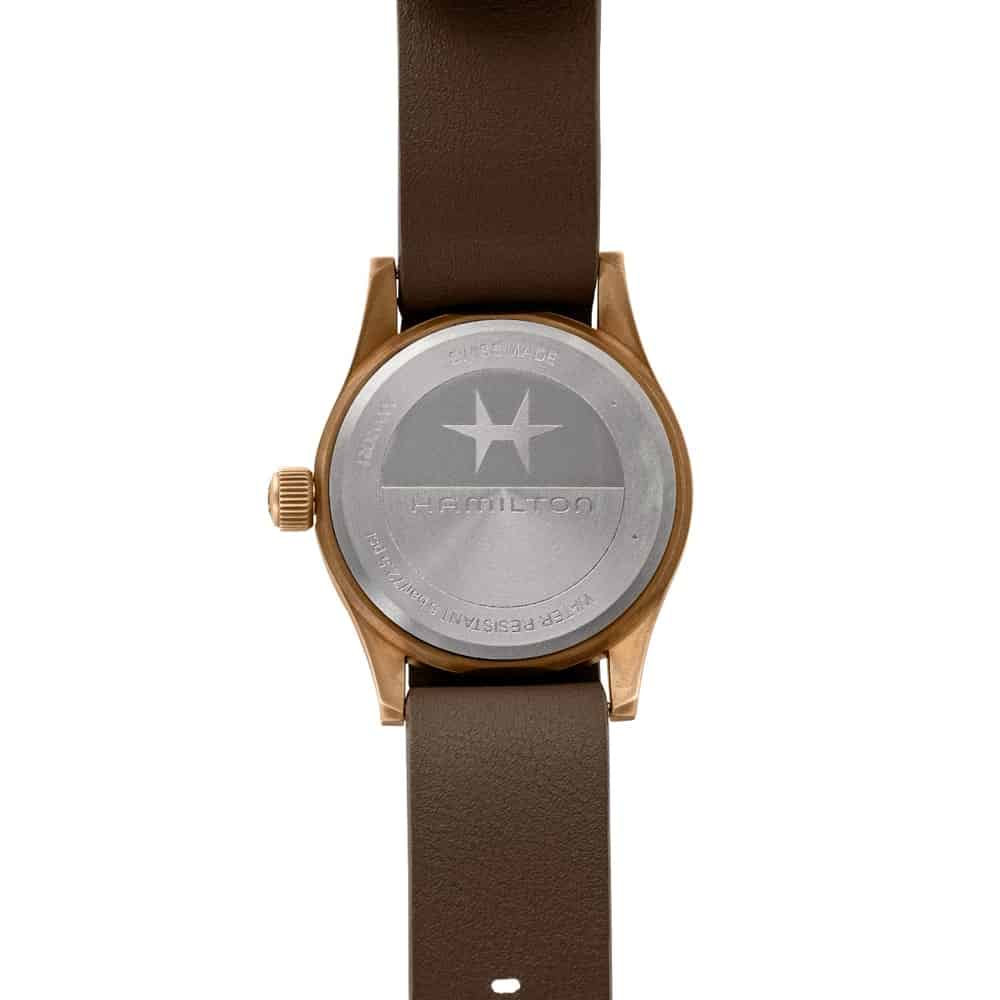 Considering its qualities, there is little doubt that this timepiece represents excellent value. The list price hovers around the US$ 800 value, so it is reasonable to assume that you might take it home for less.
This becomes much more interesting as we consider that the case is in bronze, rendering it one of the most affordable bronze timepieces around. So, we are convinced that it will represent a great addition to any collection, especially if you like the vintage military vibe that the Khaki Field line offers.