Recently, APPLE released the latest Apple WATCH ULTRA 2, for the new shelves, the public will inevitably compare the new and the previous style to see what upgrade place, whether it is worth buying. Today, we will introduce in detail the difference between APPLE WATCH ULTRA 2 VS  APPLE WATCH ULTRA.
Ⅰ. The Difference Between Apple Watch Ultra And Apple Watch Ultra2
Upgrade 1: The screen brightness is greatly increased
Apple Watch Ultra: Up to 2,000 nits
Apple Watch Ultra2: Brightness up to 3000 nits (down to 1 nit in dark scenarios)
Larger display area, edge display, exclusive dial, outdoor under the strong light line can also see the watch display content is very clear, which is brighter than most mobile phones on the market
Upgrade 2: Processor upgrade -- a new generation of S9 chips
The new S9 chip has 5.6 billion transistors, 60 percent more than the S8 chip, and has a 30 percent faster GPU performance and a neural engine that learns twice as fast as its predecessor.
Apple Watch Ultra: S8 SiP core with 64-bit dual-core processor; W3 wireless chip 9; U1 chip
Apple Watch Ultra2: S9 SiP chip with 64-bit dual-core processor; W3 wireless chip; Second generation ultra wideband technology chip. With a new chip, the watch can find an iPhone, while the Watch can display song controls when near the HomePod. The processor performance is 30% higher than the previous generation of Apple Watch Ultra, and the user experience is smoother.
Upgrade 3: Siri voice
Apple Watch Ultra: Siri
Apple Watch Ultra2: The device processes Siri requests
You don't need to be connected to the Internet to use siri to control access to health data and exercise records, this way is not affected by the network connection, can respond more quickly to demand.
Upgrade 4: Watch band
New carbon-neutral bands for Mountain, Trail and Ocean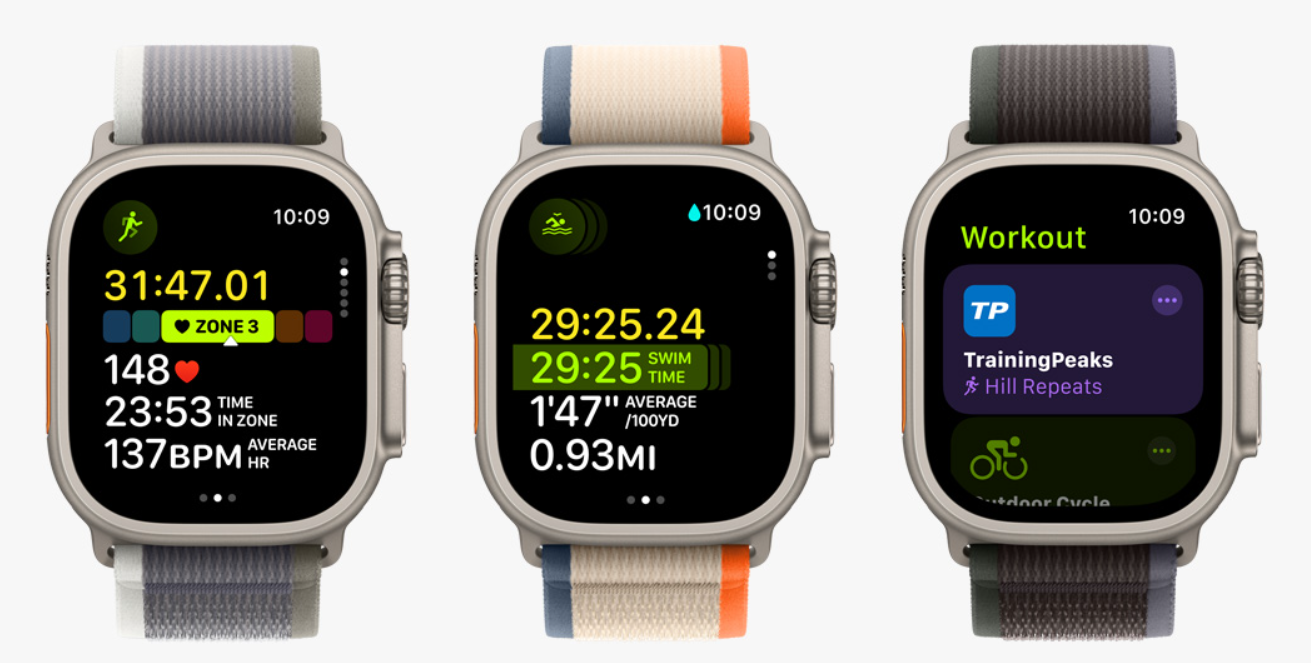 Upgrade 5: Battery life: Battery life is improved in low power mode
Apple Watch Ultra: 36 hours
Apple Watch Ultra2: Up to 72 hours in low power consumption and 36 hours in normal mode
Upgrade 6: Gesture Control: New double-tap gesture control
When Apple Watch Ultra2 users cannot touch the screen with their fingers, they can make and receive calls by pinching the index finger and thumb twice, turn off the alarm clock, start the countdown, start the playback, and tap with two fingers to answer the call, view messages, take a picture in a distance, and disable notifications. This kind of interaction is very practical when hands are occupied, for example, when the sweat of the hand affects the operation during exercise, you can answer the phone directly with gestures; When you can pause while cooking, you don't have to worry about your hands touching the screen. When you are woken up by the alarm clock, you can directly close your eyes and turn off the alarm clock with one hand to continue to enjoy sleep.
The AI algorithm for this function is still relatively powerful, and the data is modeled by detecting tiny movements and blood flow. In the end, it relies on the larger neural engine to control the watch, so the S9 chip is indispensable. The biggest difference from the S8 gesture function is the use of the bottom sensor function, so that small changes in blood flow can be detected
Upgrade 7: Memory capacity
Apple Watch Ultra: 32GB
Apple Watch Ultra2: 64GB
Ⅱ. APPLE WATCH ULTRA2 And ULTRA In Common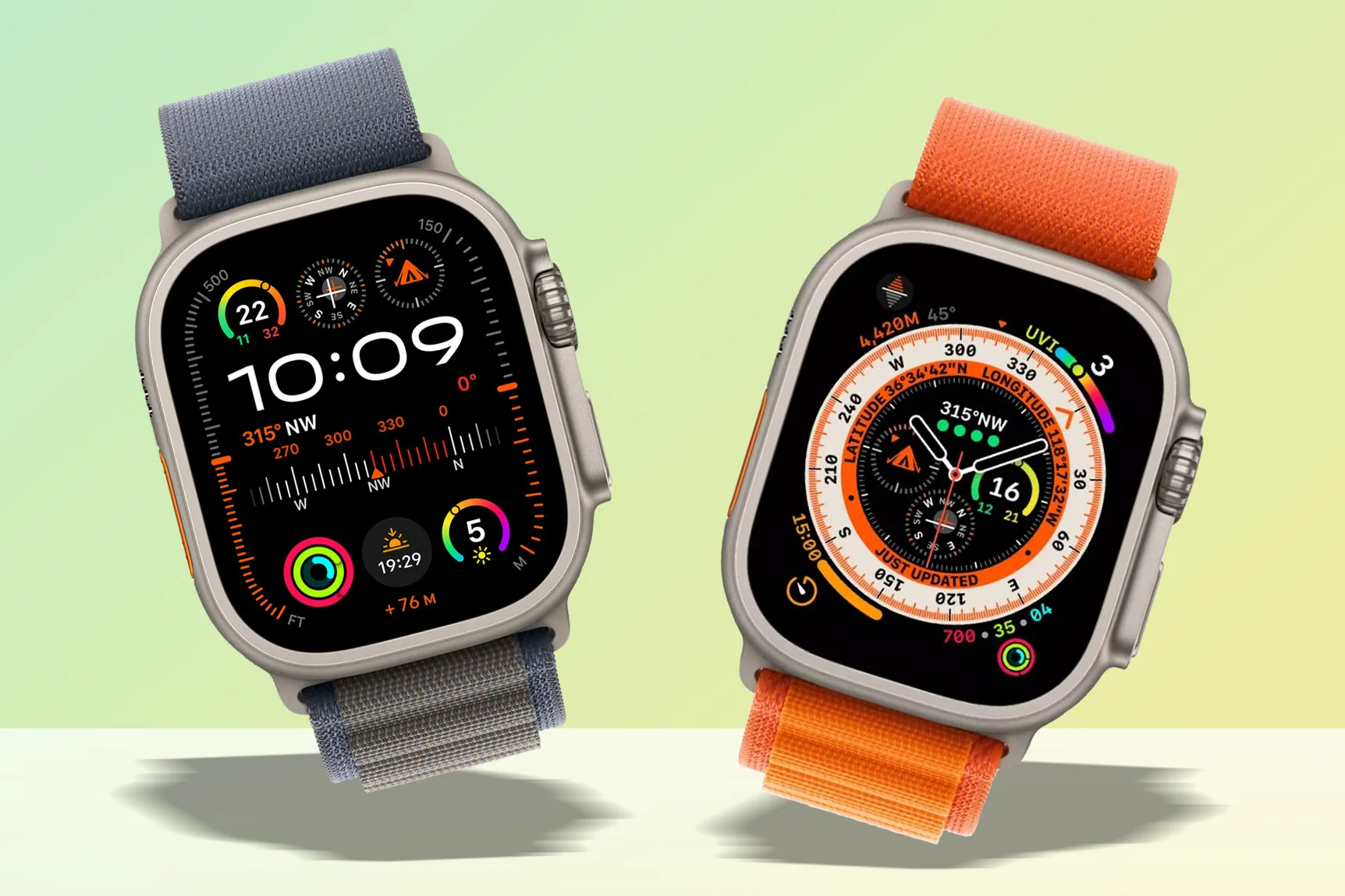 1.Apple Watch Ultra2 and Generation 1 both support GPS and cellular networks.
2. The Apple Watch Ultra2 and Generation 1 both come with 49mm titanium cases and flat sapphire glass mirrors, as well as dual speaker and triple microphone arrays and support for beamforming. There are also two kinds of ordinary strap and loop strap.
3. Apple Watch Ultra2 and the first generation of water and dust is the same, up to 100 meters of water resistance and IP6X dust resistance, and supports up to 40 meters of recreational diving.
4. Apple Watch Ultra2 and Generation 1 support period tracking, sedentary reminder, monitoring heart rate, blood oxygen, sleep, and can measure water temperature, water depth, car accident detection, fall detection, alarm and other functions. In addition to support a variety of sports types, including running, cycling, yoga, HIIT, swimming, tai chi, Pilates and so on. In addition: support to make/receive calls, send and receive text messages, message reminders, receive and send wechat, play music (need to connect Bluetooth headset), remote control mobile phone photos, etc.
5. Apple Watch Ultra2 and 1 generation support LTE and UMTS14, wireless LAN, Bluetooth 5.3 connection.
6. Dial Size&Color
The Apple watch ultra and Apple watch ultra 2 are both 49mm dial sizes.
The Apple watch ultra2 has a dark gray titanium color scheme, making it easier to match clothes and different colored bands.
The Apple Watch Ultra 2 is still a 49mm dial with a finely polished titanium case that is light and strong, with excellent corrosion resistance. The micro-rise design at the edge of the case effectively protects the sapphire glass mirror from impact, increasing the durability and service life of the watch. It presents a simple yet stylish look that is suitable for all occasions.
The upgrade of Apple Watch Ultra 2 compared to the previous generation is mainly the convenience of gesture interaction and voice interaction brought by the S9 SiP processor, whether it is "two-finger and two-tap" gesture operation, or Siri device operation to voice record and view health data. Make it easier for users to use the Apple Watch. In addition to the screen, storage, search and other features of the upgrade, the Apple Watch Ultra 2 is indeed more valuable than the previous product, if the price is similar, choose the Apple Watch Ultra 2 will be more worthwhile.
1, How To Change The Straps
I've just dropped a fun and informative video on YouTube all about switching up your Apple Watch bands! If you're ready to give your wristwear a makeover, don't miss it. Click the link below and let's dive into some watch band magic:  https://www.youtube.com/watch?v=Z0lAzeq4FfI
2, More Options For Straps
The official Apple Watch band is slightly more expensive, probably between $49 to $349, which can be a big burden if you want to match different styles and colors of bands according to your outfit every day.
Don't worry, though, third-party tables come to the rescue! They are not only affordable, most of the price in more than $20 , but also comparable to the quality of the official watch band. Moreover, the style of the third party strap is in full bloom, really, you can choose according to the mood, clothing, and even the season, and every day's strap can reflect your fashion taste.