In September this year, Amazfit brand brought you a new smart watch as scheduled, but not the GTR5 that we guessed, but the new Amazfit Balance, but everyone thinks that this is an upgraded version of GTR4, so it is inevitable that the two models will be compared.
The Amazfit GTR4 gives the public the greatest sense of experience is a high level of appearance, long battery life, focus on sports and health.
Amazfit Balance focuses on lightness, fashion, health and intelligence, because the upgrade is very strong, Amazfit decided to give this style a new name, meaning to help users achieve a balance between work, life and health.
In this article, I will compare the design, functions and differences of Amazfit Balance and Amazfit GTR4, and then give you some suggestions for Amazfit's third-party strap
I. Appearance and Price of Amazfit Balance & Amazfit GTR4
Here are some key appearance indicators:
Amazfit Balance:
Dimensions: 46*46*10.6mm
Weight: 35g (without strap)
Body Material: Aluminum alloy middle frame, fiber -reinforced polymer bottom shell
Screen: 1.5 inch AMOLED display
Strap Width: 22mm
Price: $229.99
In the round watch, the 46mm dial screen is 1.5 inches only Huawei watch 4, but the Huawei watch 4 screen proportion is 72%, and the Amazfit Balance screen proportion is 73.4%. And this time the balance screen brightness is also very high, up to 1500 nits, even more than the Ultra and Falcon, the screen is clearly visible under bright outdoor light.
Amazfit GTR4:
Dimensions: 46*46*10.6mm
Weight: 34g (without strap)
Body Material: Aluminum alloy middle frame, high-gloss sprayed PC bottom shell
Screen: 1.43 inches, AMOLED screen
Strap Width: 22mm
Price: $199.99
Amazfit GTR4 display resolution up to 466×466, all-weather display, clear, delicate color, built-in two sets of color schemes, natural mode and bright mode can be freely switched, is the first smart watch on the screen glass cover to do AG process, matte scale bezelage reveals low-key luxury.
II. Amazfit Balance & Amazfit GTR4 Specs Comparison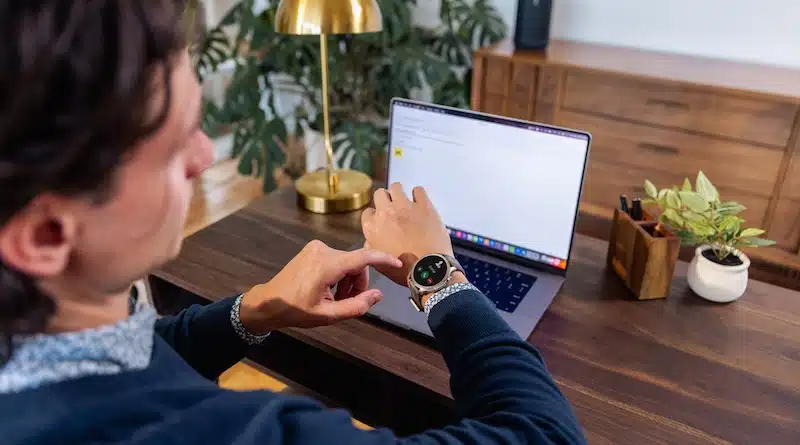 Amazfit Balance:
Balance work and life, overall health control. Support blood pressure measurement software, detection of 8 body components such as body fat, physical and mental readiness, with scientific and healthy data.
Physical and Mental Readiness:                                                                                               This function is a new health monitoring index launched by Amazfit, which can provide a comprehensive score of the body every day to help users plan today's rest and exercise. There are four important indicators that give a score of physical and mental readiness: resting heart rate, water surface HRV, breathing quality, and skin temperature. All you need is to wear Amazfit Balance while you sleep to get this new indicator, which is somewhat similar to Garmin's body charge, so now in addition to Garmin, there is a beautiful and inexpensive watch that can quantify your body recovery degree and health status according to the data you wake up every day.
Body Composition Measurement:                                                                                        Amazfit Balance can measure 8 body composition indicators including body fat, BMI, muscle, water, protein, basic metabolism, bone mass and skeletal muscle. However, the final data collected may be slightly different from the body fat scale.
Blood Pressure Measurement Software:                                                                                  blood pressure monitoring has always been Amazfit in the field of health monitoring a function, Amazfit Balance blood pressure measurement is achieved through the software algorithm, without affecting the overall design of the watch, appearance, texture of the case, to achieve the second class medical device registration certification, really surprising. It also has a heart rate sensor PPG5.0 with eight channels and dual LED lights.
Zepp OS 3.0:                                                                                                                      Adopt a new UI design, support double view, mesh layout and Apple and Huawei's new products similar, the overall list, can be more quickly direct. Support 100+ small program download, including medicine reminder, weight assistant, healthy diet recommendation, etc., both IOS and Android platforms support use.
Precise Positioning:                                                                                                             Amazfit Balance is equipped with Huami's self-developed 6-star positioning system including GPS, Beidou, GLONASS, Galileo, QZSS and Navic, which, combined with dual-frequency GPS, can provide accurate position information. With circular polarization antenna, track navigation, track import, support for third-party motion APP data access, support for 150+ motion mode, are comparable to professional GPS locator.
Amazfit Balance continues the classic design of GTR series, further upgrades the workmanship design, and also introduces new health indicators such as physical and mental readiness, using the new Zepp OS3.0 operating system. It also concentrated the functions of several Amazfit sports watches (Ultra, falcon, Cheetah pro), so there was a new Amazfit Balance, instead of Amazfit GTR5.
Amazfit GTR4:
Amazfit GTR4 is positioned as a business sports smart watch, supporting the blood pressure health research of the previous generation Pro version, including automatic screening at night, and in addition to being richer in health functions, the appearance design also has no small change, the introduction of racing competitive elements, and the design is biased towards the trend.
Intimate Health Consultant:                                                                                             Equipped with dual-tricolor light 4-channel BioTracker 4.0 high-precision biotracking sensor, to achieve more accurate health data acquisition capabilities. It also supports all-weather heart rate monitoring, real-time heart rate fluctuations can be viewed through the Zeep APP, and all-weather blood oxygen saturation monitoring, resting heart rate monitoring, all-day pressure monitoring, sleep quality monitoring.
Blood Pressure Monitoring:                                                                                              Equipped with PumpBeats blood pressure monitoring engine, it can record the changes and rules of users' blood pressure, and can automatically screen at night.
PAI Health Assessment System:                                                                                             Based on heart rate data, combined with daily activity intensity and personal physiological data multidimensional dynamic comprehensive evaluation, the personal physiological activity index PAI vitality index can show our daily physical state, so that you can systematically and comprehensively understand the recent physical health.
Zepp OS 2.0:                                                                                                                      Visual optimization of the system interface, built-in multiple sets of themes.
Accurate Positioning:                                                                                                              with dual-frequency circular polarization GPS antenna patent design, improve the positioning signal strength; At the same time, it has L1+L5 dual-frequency GPS technology to improve the positioning interference of the external environment on the watch; Spending six satellite positioning systems to provide more accurate positioning; Support real-time track, track import, track return, new playground lap mode, strength training action recognition. PeakBeats™ Professional motion algorithms also make motion data more professional.
Wearing such a watch in life, not only can provide a full range of intelligent convenience, but also in the health monitoring of detailed, targeted sports, while high appearance level without losing fashion sense and business style, Amazfit GTR4 is definitely a cost-effective choice. Remove your dazzling jewelry, remove your heavy tourbillon, and add a smartwatch that shines with technology to your wrist. Why not?
III. 3rd-party Amazfit Strap Recommendation
Choosing a third-party strap is like adding a new set of clothes to your watch, and this new set of clothes can give your watch a different charm for various occasions.
Third-party straps can provide more selectivity and design diversity, enabling you to customize and decorate your watch according to your own personality and needs.
Third-party straps are often more competitively priced, and you can get high-quality alternatives more cost-effectively than original accessories.
In addition, some third-party strap manufacturers focus on design innovation and material diversity, which means that you can choose a strap that is more suitable for a specific event or occasion, enhancing the practicality and fashion of your watch.
So, explore the world of third-party watch bands to add a little creativity and personality to your watch!                                                                                                                                    The following two watch straps are third-party straps I recommend for the look and style of the Amazfit Balance and Amazfit GTR4.