1. Letsfit Smartwatch overview
Is Letsfit a good brand? While, Letsfit smartwatch ID205L are no doubt to be one of the best beginner level smartwatches and fitness trackers that you can get. It costs about $25-$35 which may be just a price for breakfast to someone, but it does offer a series excited function that you need for your sport and gym. Letsfit ID205L got over 42,300 reviews from customer at Amazon, the average rating is 4.2, which means most of customers are satisfied with their shopping. To be honestly, as a $30-buckes smartwatch, they do deliver what he can, but we also have to agree that they are not the most accurate model compare to the top items like Apple watch, Samsung or Fitbit.
Now Letsfit deliver 4 different series smartwatch and fitness tracker, they are EW1, IW1, ID205L and ID205S. All these trackers have a very accurate step counter, and they are water-resistant, and easy to use, with a fashion and very nice design. ID205L, their bestseller, is also quite easy to use, comfortable to wear, has a heart rate sensor, and has a very similar square design like Apple watch, Fitbit tracker and some other famous brand smartwatches.
2. How much is Letsfit smartwatch.
Order Letsfit from Amazon will be good price after discount, we suggest you the best price with link to Amazon or official store
1.
Letsfit Smartwatch function
Letsfit smartwatch deliver most of the necessary function for sport and body tracker even they offer the cheapest price. Take Letsfit ID205L as example, Letsfit ID205L accurately tracks your activities, workouts and sleeps, and provides deeper insights into your health, helping you understand your body and crush your goals.
Offer up to 9 sport modes such as walking, running, and Yoga. After link to your phone's GPS, you can see pace and distance when runs or rides a bike.
Large Touch Screen: 1. 3″ color touch screen gives you a better visual experience, you can check detailed fitness data reports such as your daily heart rate chart and calories chart on the watch without going to the app
10+ Days Playtime: With 210mAh large battery, just 2 to 3 hours charging enables more than 10 days playing so that you can play more and charge less. The activity tracker also tracks your exercise data in 9 sports modes
Heart rate and sleep monitoring, all-day activity tracking, breathing guide, sedentary reminder, music control, call and message reminder, reject calls on the watch, alarm clock, stopwatch & timing function.
Female Health Tracking: The watch reminds you of your important days like menstrual period and safe period so that you can understand your body on a deeper level and better decide what's good for your body during those times of the month
5ATM Waterproof: The fitness tracker smart watch is designed to resist water, sweat, rain, splashes, and dust. You can wear the fitness tracker when running in rains or washing hands
3. Video for Letsfit Smartwatch Fitness Activity Tracker Setup and Review!
4.Can you text or call on a Letsfit smart watch?
No, to be exactly speaking, you can receive notification of calls, text, emails and Facebook message after paired with your phones, but you can't text or make call with it.
5. How do I connect my phone to my Letsfit?
Download and install "Letsfit"app
Enable bluetooth on your smartphone.
Open the Letsfit app on your phone and go to settings page, tap "pair new device", your phone will start searching for devices.
Tap Model "ID205L" (or other model) smart watch to connect the watch to your phone
6. Letsfit smartwatch replaced watch band recommend (20mm watch bands for Letsfit)
6.1, Braided nylon watch bands
Black | Canvas Watch Straps Quick Release
The Black braided nylon watch bands fit very good for Letsfit Black version, actually included silver version. The breathable braided material also makes it very comfortable to wear, quick-release equipment is very easy to apply to the watch, this straps also fit perfectly in other Smartwatch, included Apple watch and Samsung watch. Check the above picture of the black watch band for Letsfit ID205L, it's unique and a different look to silicone watch band gives. Tired of always original silicone bands same as every one, try this one.
6.2, Black Nylon Orange Stitches two-piece Nylon Watch band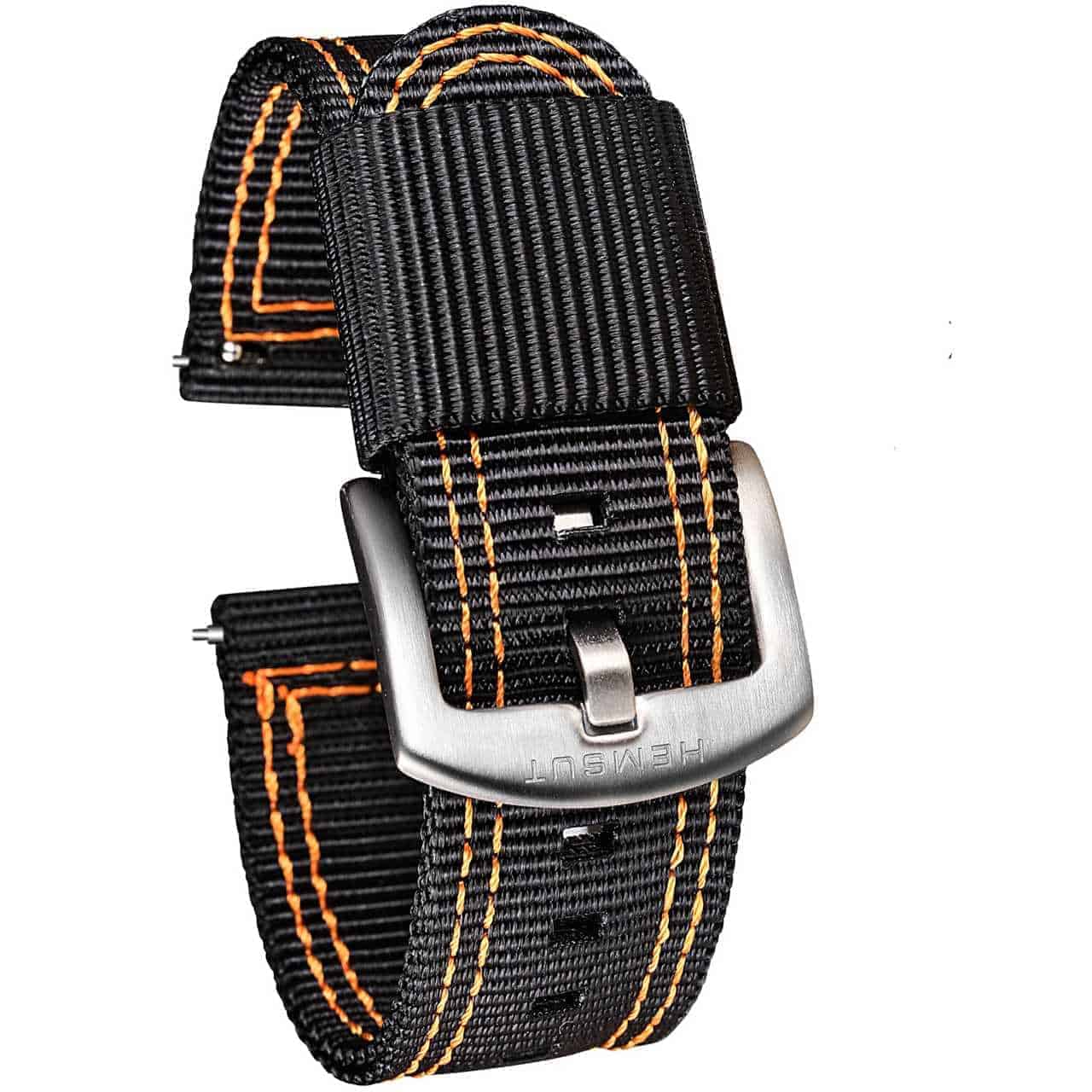 Premium Nylon Watch Bands | Hemsut
This two-pieces military Nylon watch Bands Black version with Orange stitches are a new collection from Hemsut. Black watch bands are always the right choice for all watches, the black give the watch a feeling of elegant and manly, the orange stitches give a feeling of young and fashion, they are very choice for sport watch and outdoor watch. There are 6 colors available including full black, black with orange stitches, black in white, blue, green and khaki. With this colorful strap, you are able to change your Letsfit smartwatch a unique look. Tired of always silicone bands same as every one, try this one.
6.3, Brown Horween Oil wax Leather watch band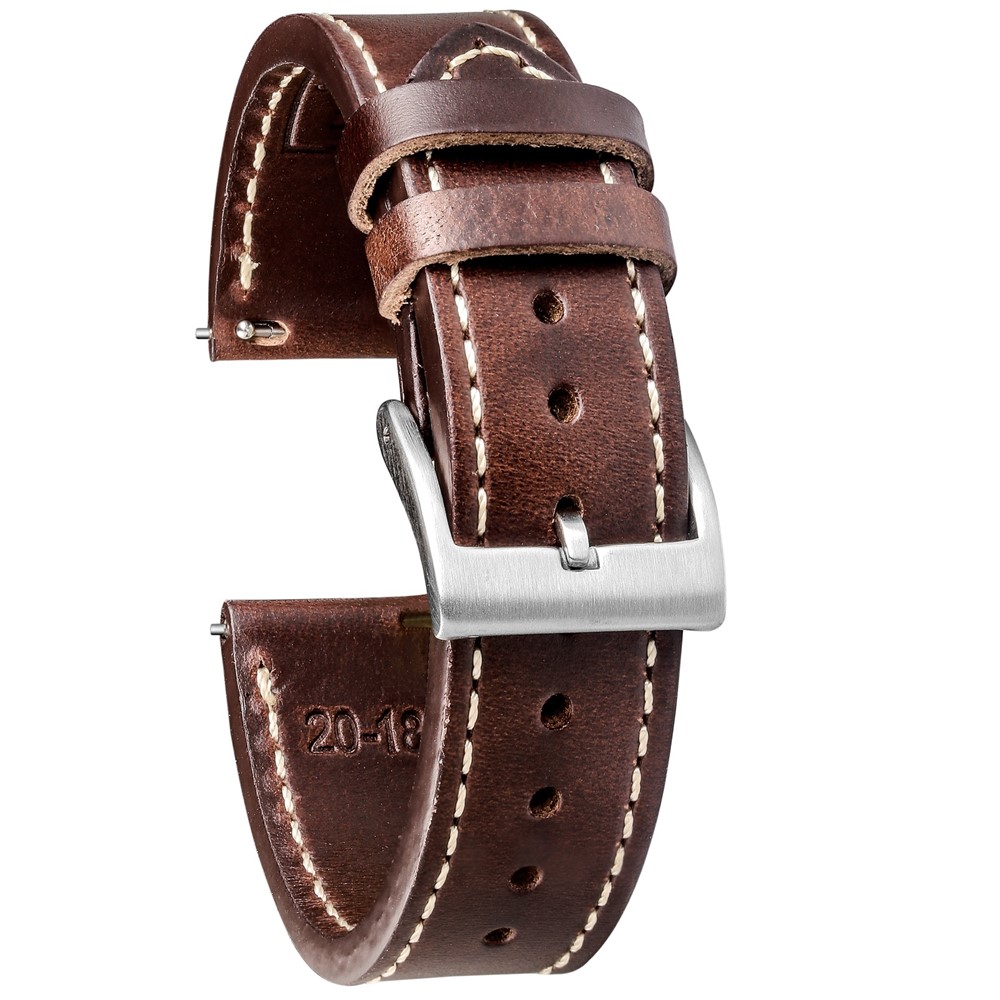 Brown Horween Leather Watch Band | Hemsut
Leather watch bands always deliver the watch dressy, elegant and comfortable to wear, maybe in summer, silicone watch bands are no doubt to be the best comfortable watch straps, but after when Winner comes, leather straps are always your first choice. This straps are made of oil wax leather of Chromexcial® which is from the Horween US. Company. If you are looking for an elegant feel for your Letsfit smart watch, you should consider this strap. Horween calfskin has been crafted to watch band and widely use in brand watch like Hamilton, watch fans are fond of its gradient feature and special leather smell. I have to say that some online watch band company define their watch band as Horween watch band, I can tell they were not Horween leather as soon as I saw the picture.
Retro design for this strap, but with the new fashion smartwatch, they really look special, comfortable to wear, easy to apply to your watch, this strap is absolutely worthy to have it a trial if you want to give your watch a different version to original one.
6.4, Black with White stitches Canvas watch band
Black in White | Canvas Watch Bands Quick Release | Hemsut
Canvas watch bands are always used on these watches with casual and sporty feature, which is just perfect for Letsfit smartwatches. Black canvas can be compatible to Letsfit Black version as well as white version, handmade white stitches are an unique design for this watch. This canvas watch band is crafted by premium weaved canvas, and in the bottom, it's hybrid with genuine leather which make it more comfortable to wear. Now many new watch companies announced their new collection with weaved fabric feature, included famous watch like OMEGA, IWC and Apple watch, so canvas watch band is really considered to add to collection.
Except this black and white stitches color, this watch bands also comes with other 6 color, including black, blue, coffee, green, white and grey, all colors are available in 20mm size for Letsfit. Tired of always silicone bands same as every one, try this one now.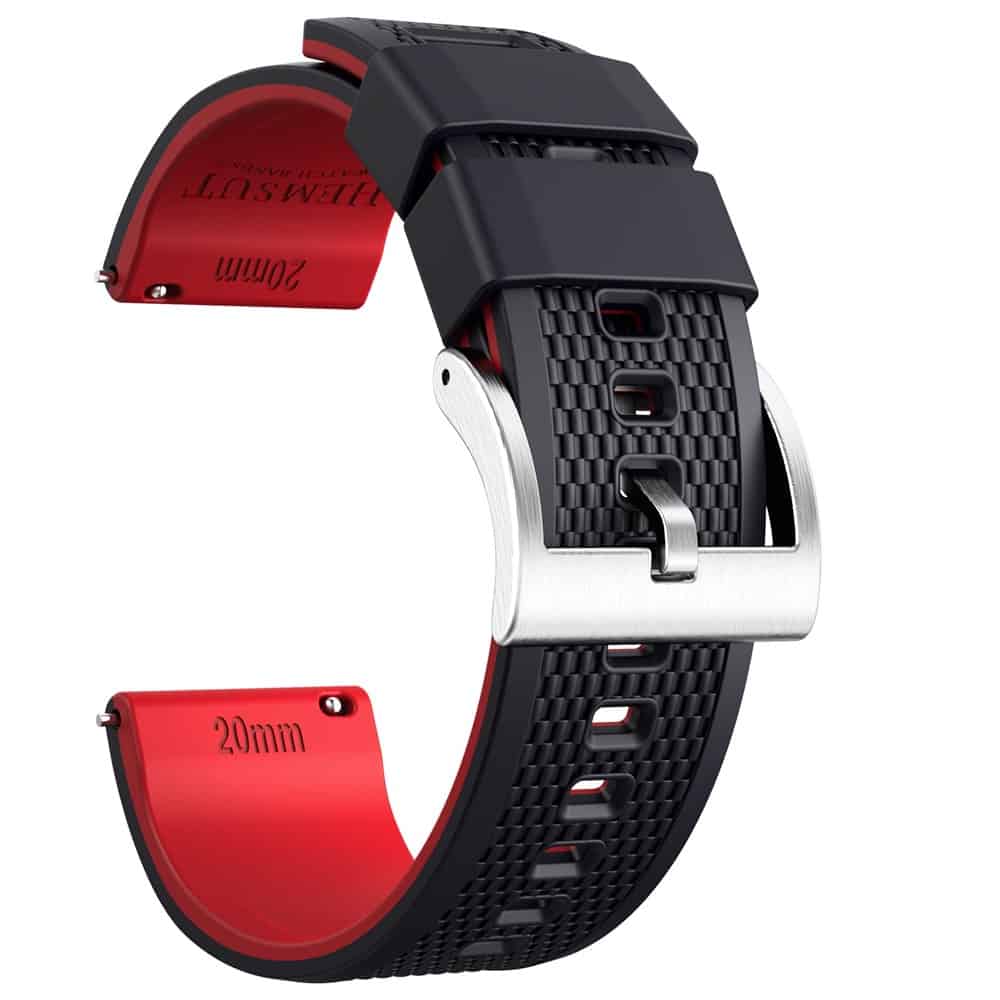 Jelly Silicone Watch Bands | Hemsut
Talking about replacing the watch band for smartwatch, no matter what model it is, silicone straps won't go wrong. This strap is made with a comfortable jelly silicone which is skin-friendly; available in 10 colors (Click here to check all available colors). people who love the comfort of silicone and prefer the style pattern of a leather band must opt for this one. After trying different colors, I personally like the Camouflage one, because it's not just a unique military pattern, but also makes your Letsfit lightweight and comfortable to wear. Are tired of always silicone bands same as everyone, try this one new now.
Silicone watch bands are always featured with soft, comfortable, and water-resistant. These silicone straps are made of top material that ensures skin-friendly and long-lasting life. Plus, the texture looks grand for women or men. Hunting for a wonderful replacement band?  Here it is the best option!
Letsfit is also a good choice you are shopping on a budget, it's a nice design and comfortable to wear, but some features may not function as expected. If you have the budget, an iPhone watch series 6 or SE will give you a better experience on wearing a new technology smartwatch. After you have your own watch, maybe you would consider a bulk collection of unique watch bands to make your Letsfit smartwatch more special.